Elizabeth Warren Raises $24.6 Million, Trailing Only Bernie Sanders
A very successful fundraising quarter for Senator Elizabeth Warren caps off a quarter that has seen her surge in the race for the 2020 nomination.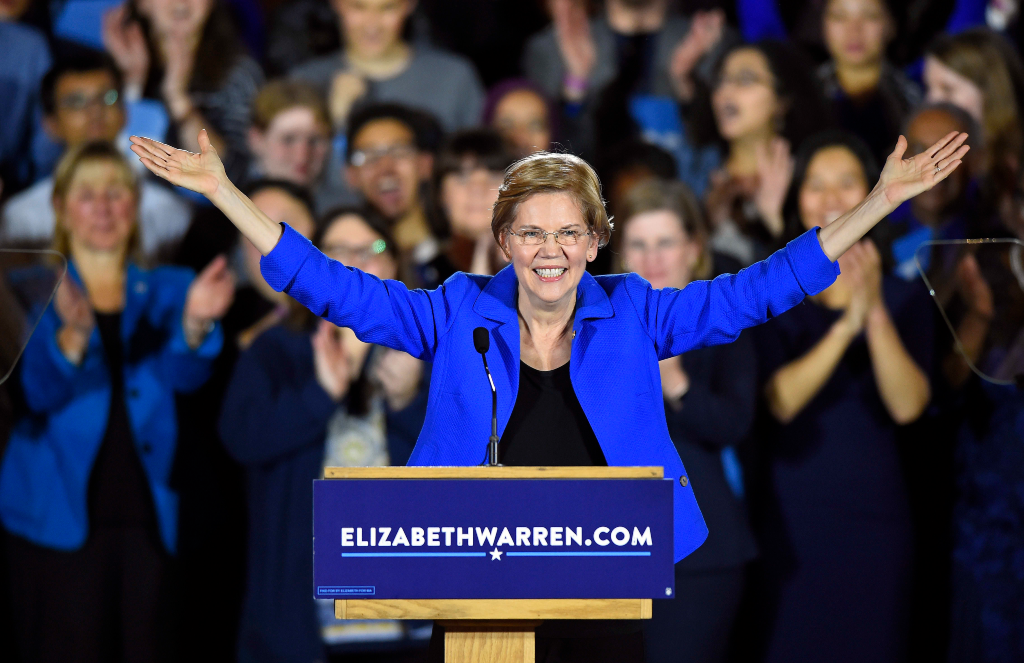 Massachusetts Senator Elizabeth Warren became the last of the top tier candidates for the Democratic nomination to announce her third-quarter fundraising numbers, and she came in with a number that puts her in some rather impressive territory:
Sen. Elizabeth Warren's presidential campaign said Friday it raised $24.6 million in the third quarter and has $25.7 million cash on hand, further solidifying her rise to the top tier in the Democratic primary.

The haul bests the $19 million Warren raised last quarter but trails progressive rival Sen. Bernie Sanders, whose third-quarter total of $25.3 million is the biggest one so far from the Democratic presidential hopefuls. Despite neither candidate holding traditional high-dollar fundraisers, Warren and Sanders both significantly outraised former South Bend, Ind., Mayor Pete Buttigieg ($19.1 million), former Vice President Joe Biden ($15.2 million) and Sen. Kamala Harris ($11.6 million).

Warren's team was alone among those campaigns to disclose its exact cash on hand. Harris' campaign said it has nearly $10 million in the bank.

"Celebrate. Say 'woo-hoo!' (quietly, if you need to, depending on where you're reading this)," Warren campaign manager Roger Lau wrote in an email to supporters Friday sharing the fundraising numbers. "Close your eyes and picture Wall Street bankers scowling into their catered breakfast."

Lau wrote that Warren added over 300,000 new donors in the third quarter, bringing her total to about 750,000 donors over the course of the campaign. Sanders' campaign said in September that it had accrued more than 1 million donors.

Warren and Sanders out-fundraising rivals — without holding traditional fundraisers — has disrupted the traditional presidential campaign model heading into 2020 and defied expectations of many political strategists.

Rivals have fumed that both Warren and Sanders had the advantage of transferring unused millions from past election funds, when they did hold some fundraisers.

Still, both the progressive candidates have kept up their fundraising and outpaced opponents without holding high-dollar events.
It's also worth noting that while Warren, in particular, has upheld her pledge not to attend any high-dollar fundraising events, that has not stopped such events being held for her benefit at which significant amounts of money have been raised. That being said, there's no denying the fact that Senator Warren's third-quarter haul, which put her just behind Senator Sanders, and ahead of Pete Buttigieg, Joe Biden, Kamala Harris, and Andrew Yang, who are the only candidates to have raised $10 million or more, is quite impressive.
This report from Warren's campaign comes at the time she has continued to surge in nationwide polling, as well as polling in some early states such as Iowa, New Hampshire, and California. These polls show Warren coming in a close second, or in some places, leading former Vice-Presiden Biden and it is yet another piece of good news for a campaign that, as of yet, has not really suffered through a bad news cycle in the manner that several other candidates, including most notably Biden and Harris, have since the campaign started in earnest at the start of the summer. It also comes ten days prior to the next debate, which will take place in Ohio on October 15th. Assuming Warren does well in that debate, we could be looking at a very different race by the end of the month.