Andrew Yang Raises $10 Million In Third Quarter
An unexpectedly big fundraising quarter for an unlikely candidate.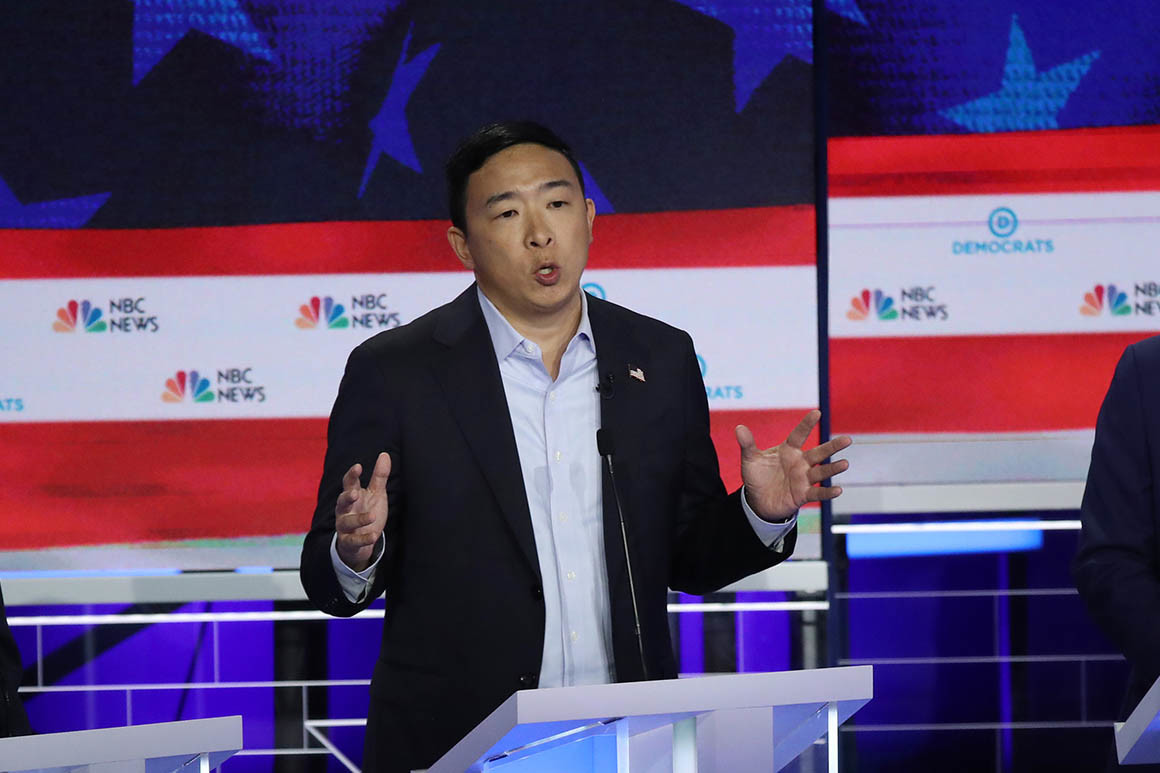 Andrew Yang, the entrepreneur who has made his name as a Presidential candidate most notably due to his plan to pay every American a basic national income but who has also wallowed near the bottom of the polls, raised more than $10 million in the third quarter of the year:
Businessman Andrew Yang raised $10 million in the third quarter of the year — a huge jump in support for the outsider Democratic presidential candidate.

The haul is more than triple the $2.8 million Yang raised in the second quarter, as he has started to outpace sitting senators and other elected officials in polls. Yang finished September with more than $6 million in the bank, his campaign said.

Yang's third-quarter fundraising finished ahead of Sen. Cory Booker — who announced Tuesday that he raised more than $6 million in the quarter — but behind Sen. Bernie Sanders; South Bend, Ind., Mayor Pete Buttigieg; and Sen. Kamala Harris, the other three major presidential candidates who have announced their totals.

But Yang's cash haul puts him firmly amid the top fundraisers in the Democratic field, likely cementing his place in the campaign through at least the first caucuses and primaries next year. He is just the sixth Democratic candidate to break the eight-figure mark in a quarterly fundraising period this year, joining Sanders, Buttigieg, Harris, former Vice President Joe Biden and Sen. Elizabeth Warren. Biden and Warren have not yet announced their third-quarter fundraising totals.

The Yang campaign said nearly 300,000 supporters have contributed so far, almost double the donor threshold required for candidates to qualify for the November debate.

"Andrew Yang is the only contender showing exponential growth in the third quarter, more than tripling his fundraising number from last quarter," campaign manager Zach Graumann said in a statement. "This grassroots fundraising total, with $6 million-plus in the bank, ensures this campaign will have the funding to compete and outperform expectations through Super Tuesday and beyond."
Yang, who remains a relatively unknown candidate, has managed to make a name for himself largely due to his principal campaign plank of providing every American with a universal basic income of $1,000 per month, a program that he touts as being designed to help alleviate income inequality. He also made a name for himself at the third debate by announcing a contest to give ten families that same income, presumably from campaign funds, a move which may or may not be legal. Beyond that, Yang comes across as a fairly standard Democrat in that he reflects at least some of the ideas of the progressive wing of the party while not fully swinging over to that side.
Despite all of this press and his fundraising success, Yang has only seen mild success in the polls so far. At the national level, he has managed to fight his way up from the crowd of candidates getting less than 1% support to the point where he is averaging 3.3% according to RealClearPolitics, a number that places him ahead of Cory Booker, Beto O'Rourke, Amy Klobuchar, and Tulsi Gabbard. At the state level, Yang still has a way to go to make an impact. He's averaged 2.3% in Iowa, 2.8% in New Hampshire, 2.3% in Nevada, but at only 1.0% in South Carolina. Of all the early states, the one where he is currently performing the best is California, where he's averaging 5.3% according to RealClearPolitics. In all honesty, while Yang is an interesting candidate I don't see him improving much on these numbers. Stranger things have happened, though.