Andrew Yang Raises $16.5 Million In Fourth Quarter
Andrew Yang had an impressive fourth quarter when it comes to fundraising, but it appears unlikely to help his campaign at all.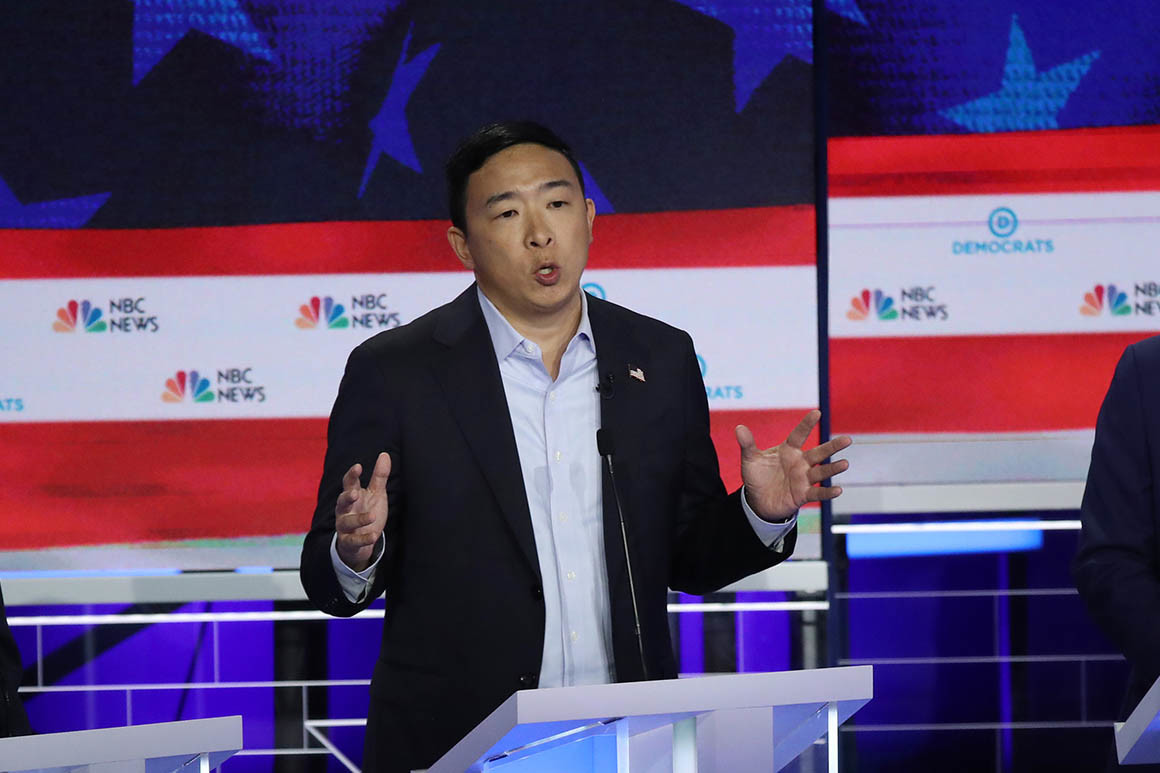 The campaign of businessman Andrew Yang, who has managed to hang on in the race for the Democratic Presidential nomination despite the fact that his poll numbers remain fairly disappointing announced yesterday that it had raised more than $16 million in the final quarter of 2019:
Entrepreneur Andrew Yang announced he raised $16.5 million in the last quarter of 2019, a total that's expected to put him toward the upper half of the Democratic field.

His campaign said Thursday he has a cumulative 400,000 donors, with more than 1 million contributions. The campaign said his average donation was $30. The $16.5 million total marked Yang's strongest fundraising quarter to date.

"At every turn in this race, Andrew Yang continues to exceed expectations whether it's in terms of grassroots fundraising, making the debates, early state polling, or the ability to draw big crowds," Nick Ryan, his campaign chief, said in a statement. "What we have achieved together to date through the humanity first values of this campaign, now sets us up to compete through the early-state primaries, Super Tuesday, and beyond."

The Yang campaign did not say how much cash it has on hand. His previous best quarter was just under $10 million during the third quarter of 2019.

His team also said he raised $1.3 million on New Year's Eve, the single best fundraising day of his campaign. His previous single-day record was $750,000, set on Nov. 30.

Yang's fundraising haul will likely be toward the top of the pack, trailing just the four candidates who have led in polling either nationally or in the early states: Joe Biden, Pete Buttigieg, Bernie Sanders and Elizabeth Warren.
Yang, who remains a relatively unknown candidate, has managed to make a name for himself largely due to his principal campaign plank of providing every American with a universal basic income of $1,000 per month, a program that he touts as being designed to help alleviate income inequality. He also made a name for himself at the third debate by announcing a contest to give ten families that same income, presumably from campaign funds, a move which may or may not be legal. Beyond that, Yang comes across as a fairly standard Democrat in that he reflects at least some of the ideas of the progressive wing of the party while not fully swinging over to that side.
Despite all of this press and his fundraising success, Yang has only seen mild success in the polls so far. At the national level, he has managed to fight his way up from the crowd of candidates getting less than 1% support to the point where he is averaging 3.4% in national polling according to RealClearPolitics, a number that places him ahead of Cory Booker, Amy Klobuchar, and Tulsi Gabbard among other candidates. At the state level, Yang still has a way to go to make an impact. He's averaged 2.3% in Iowa, 4.7% in New Hampshire, 3.0% in Nevada, but at only 2.0% in South Carolina. Of all the early states, the one where he is currently performing the best is California, where he's averaging 4.6% according to RealClearPolitics. While some of these numbers are improvements over where he stood three months ago, they still are not very impressive. Additionally, as things stand right now, Yang's polling numbers are not good enough to get him into the next debate on January 14th. He has until January 10th to qualify, but if he doesn't that's likely to mean that these fundraising numbers are meaningless.