Andrew Yang Boycotting MSNBC Over Debate Speaking Time
Andrew Yang is upset about the fact that he's largely being ignored at the Democratic debates. He's right, but that's at least partly his fault.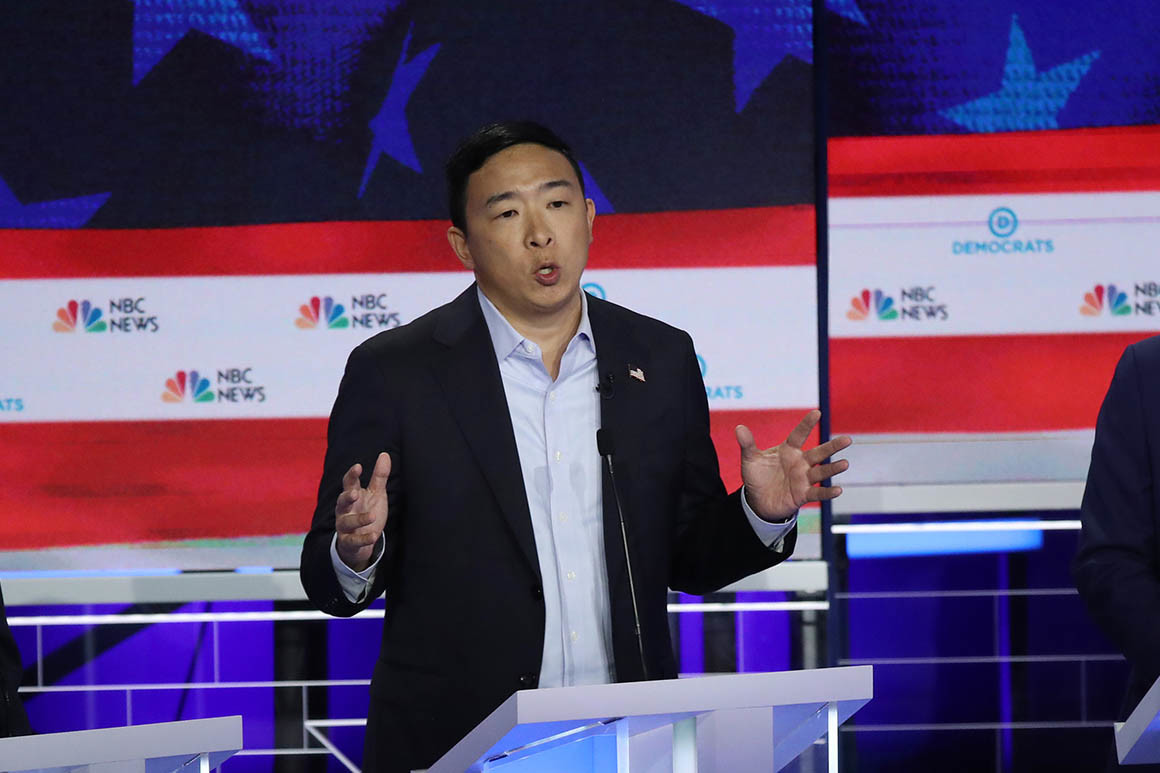 Andrew Yang isn't very happy with the way he was treated in last week's debate on MSNBC, and he isn't being quiet about it:
Andrew Yang thinks MSNBC has it out for him.

The entrepreneur-turned-presidential candidate has spent the better part of a week accusing the network of "systematic bias" against his campaign after he had the least amount of speaking time at last week's debate. And he kept up the drumbeat in an interview with POLITICO on Monday.

MSNBC is trying to suppress and minimize my campaign because there are certain other candidates that they might favor," Yang said, declining to elaborate.

On Saturday, Yang campaign aides had a conference call with network officials to address his complaints about his speaking time at the debate and its overall coverage of him, according to sources with knowledge of the call. Yang spoke for just under seven minutes during the debate, the least of all 10 candidates, according to The Washington Post, which hosted the event with MSNBC.

Yang is in sixth place nationally in the primary, according to RealClearPolitics' polling average. He's ahead of Sens. Cory Booker and Amy Klobuchar, Rep. Tulsi Gabbard and billionaire activist Tom Steyer, who all spoke more than Yang.

(…)

A network source said Saturday's call was initiated by the network and that MSNBC offered a broad apology to the campaign while reiterating he has a standing invitation to come on shows.

MSNBC officials would not comment on the record about the call. Yang disputed the claims in a tweet saying, "MSNBC did NOT apologize to the campaign and did not initiate the call. Don't let them spin it otherwise."

Yang's complaints go beyond debate speaking time. His supporters have been calling out MSNBC for months for not including Yang in debate and fundraising graphics shown on air. In September, the network referred to him in a chyron as "John Yang;" the show apologized on air and Twitter.

"I've been very patient. I think most people know that I'm not like a highly reactive guy," Yang said in the interview. "You have to call it like you see it. "

On Twitter over the weekend, Yang said he was "asked to appear on MSNBC this weekend," but declined. He said he won't go on the network unless it apologizes publicly and agrees to bring his campaign's surrogates on air more often.

MSNBC has not commented publicly about Yang's complaints or demands.


At least looking at the raw numbers, Yang arguably has a point. Taking into account that last week's debate lasted roughly two hours, or 120 minutes, one would expect that equal time would mean that each of the ten candidates would receive roughly twelve minutes each. The reality, though it seems obvious that the actual result is going to be different and that it's likely that the top candidates would end up getting the most time. Based on this chart from CNN, that's exactly what happened: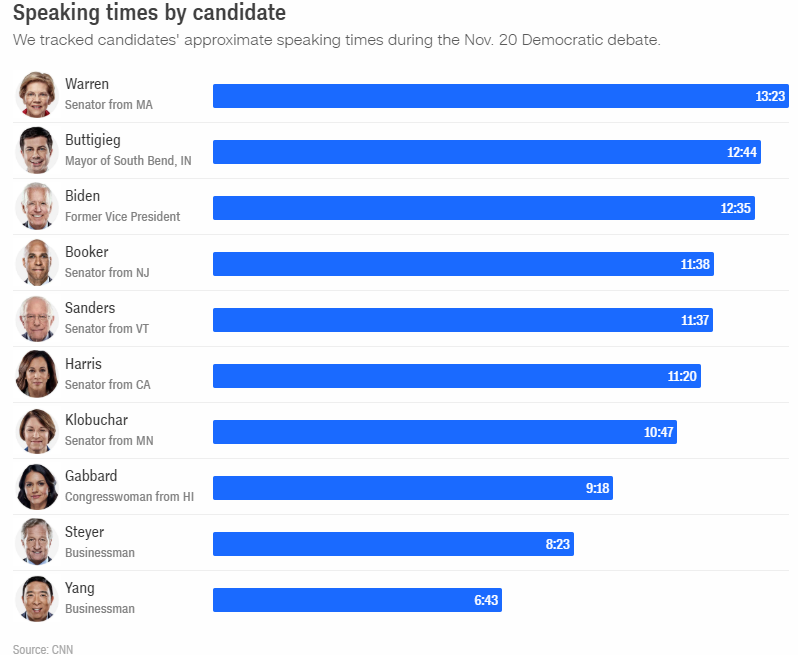 As the chart shows, the largest amount of speaking time went to Elizabeth Warren, followed by Pete Buttigieg, and Joe Biden, all of whom received more than the average amount of speaking time you'd expect over the course of the two-hour debate. These three candidates are followed by Cory Booker, Bernie Sanders, Kamala Harris, and Amy Klobuchar, all of whom received ten or more minutes of total speaking candidates. The remaining candidates all received less than ten minutes of total time, with Yang at the bottom of the list at six minutes, 43 seconds, which amounts to just about half the amount of time that Elizabeth Warren received.
What pops out about this list is that, by and large, the list of the candidates with the most speaking time coincides with the candidates at the top of the polls at both the national and state levels and the candidates who are at the top of the list when it comes to fundraising. The exceptions to this rule are Cory Booker and Amy Klobuchar, but that may be due to the fact that both of these candidates have demonstrated in the past that they have no problem with interjecting themselves into an exchange going on between other candidates.
Yang, on the other hand, has generally been more laid back, waiting for the questions to come to him. This generally runs counter to how a candidate for office ought to be acting in these multi-candidate debates if they want to get their message out, but Yang is a business executive not a politician so it's perhaps understandable that this does not come naturally to him. This is most likely probably at least part of the explanation for why Yang generally doesn't get the same amount of speaking time as other candidates.
In another examination of debate speaking time that includes all five of the Democratic debates, Business Insider compares the actual amount of time that candidates have received compared to what would be expected given their position in the polls: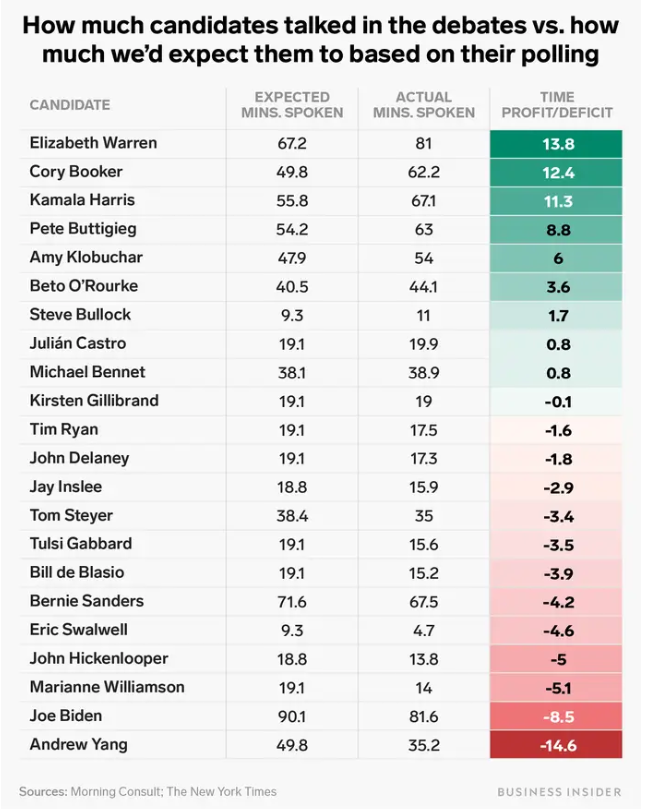 Several of the candidates on this list, such as Beto O'Rourke and John Hickenlooper, have dropped out of the race, but for the most part the list is interesting to the extent that it shows the amount of time candidates have gotten and the amount of time they would be expected to get if the time-division were "fairly" divided based on polling levels. As with the previous chart, this study does seem to confirm that Yang has gotten far less time than might be expected given his polling position, but that is likely due to the factors I cited above. What is probably more surprising is the fact that former Vice-President Biden is also in a deficit, but that may be because Biden's lead in the polls has been so large that the fact that he has had slightly more speaking time over the course of five debates (81.6 minutes) than Elizabeth Warren (81 minutes) is offset by the fact that he has been far enough ahead in the polls that he "should" have gotten more time.
So, yes, it does appear that Andrew Yang does have a point that he's gotten less speaking time at not only last week's debate but at every debate that has been held since June. As I noted, though, there are several reasons why this might be the case ranging from his relative position in the polls to the fact that he isn't being as assertive as candidates like Booker and Klobuchar. This doesn't mean, though, that MSNBC or any of the other networks that have sponsored debates to date have been biased against him. While the person moderating a debate should strive to see that each candidate gets a chance to speak, they are under no obligation to seek out specific candidates for a reaction if they aren't asserting themselves. If Yang wants more attention in future debates, assuming he is included in them, he needs to be more assertive about getting his voice heard.
The final point, of course, is that there's only so much time available during a debate with ten candidates. Like it or not, that means that the candidates who are leading the field and making the headlines, or who are aggressive about putting themselves out there are going to get more coverage than those, like Yang, who don't. Finally, while he seems like a nice, interesting, and smart guy who would arguably make a good fit for a Cabinet position in a Democratic administration, as Secretary of Commerce for example, the fact of the matter is that he is not going to be the Democratic nominee. For that reason alone, it's not surprising that he's not receiving as much attention as those who actually have a chance of winning.