Washington Monument, National Cathedral Damaged By East Coast Earthquake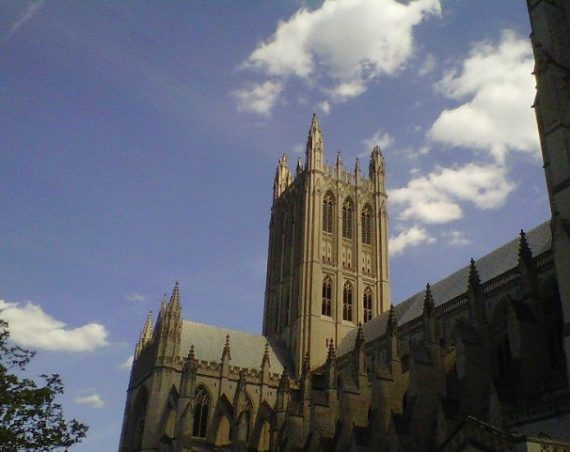 Damage assessment is still ongoing in Virginia and the D.C. area from yesterday's earthquake, but it's already apparent that two of Washington, D.C.'s most recognizable landmarks have been impacted. On the National Mall, the Washington Monument is closed indefinitely after the discovery of cracks near the top of monument by the Park Service:
The earthquake didn't cause widespread damages or injuries, but it did put a crack in the Washington Monument.

After unconfirmed reports suggested the monument was tilting, parks officials said Tuesday night that the 550-foot obelisk suffered a crack in the 5.8-magnitude rumble centered in Mineral, Va., near Charlottesville.

Inspections found a crack "at the very, very top" of the monument, park service spokesman Bill Line said, and the monument and plaza surrounding the structure will be closed indefinitely as it is examined.

Though it suffered damage, the monument isn't leaning, the park service said.
The report that the Monument was leaning spread through social media yesterday afternoon, even though live television footage clearly showed that everything appeared to be okay. In any event, the Park Service has apparently closed off a 1000ft circle around the monument until they've determined that everything is okay.
Further into Northwest, D.C., the Gothic masonry of the Washington National Cathedral suffered more serious damage that could take time to repair:
The central tower on the Washington National Cathedral—the highest point in Washington, D.C.—suffered serious damage from the 5.8-magnitude earthquake that shook the East Coast Tuesday. No one was injured.

The earthquake knocked off the cross-shaped finial stones on three of the four pinnacles that jut out from the top of the tower. The top of one pinnacle is leaning inward. Yellow police tape was roped across trees in front of the Cathedral and a steady trickle of gawkers stared up at the damaged 300-foot tower.

(…)

The inside of the cathedral—a national monument that has been the site of major events such as the state funerals for presidents Ronald Reagan and Gerald Ford—doesn't appear to have suffered any serious damage.

However, there was some minor structural damage around the entire cathedral. Some smaller pinnacles fell off the west front towers. Cracks also appeared in the flying buttresses on the east end, but the buttresses supporting the central tower seem to be sound, said Cathedral spokesman Richard Weinberg.
The Central Tower is the highest point in Washington, D.C. and the stonework is incredibly delicate so it's not surprising that there's be some damage up there. Hopefully, it's nothing serious.