Second Major Earthquake Hits Southern California
The ground shook overnight in Southern California for the second time in two days.
Less forty-eight hours after a 6.4 earthquake hit an area northeast of Los Angeles, another, more powerful, quake struck the same area overnight causing power outages, fires, property damage, and no small degree of worry:
SAN FRANCISCO — A 7.1-magnitude earthquake rattled Southern California on Friday night, one day after the strongest recorded quake there in 20 years struck — and seismologists warned that further episodes are expected.

The United States Geological Survey reported that the latest earthquake's epicenter was in the Mojave Desert, 11 miles from Ridgecrest, Calif. — near where a 6.4-magnitude quake had hit about 36 hours earlier. Since Thursday's earthquake, the area had been jolted by a series of rolling aftershocks, including one of a 5.4-magnitude that roused Californians on Friday morning.

"Hold on, it's going again," Jade Alexander, the manager of the Rodeway Inn & Suites in Ridgecrest, said in a phone interview following another aftershock on Friday night. She said the aftershocks were coming every five minutes.

Although the area where the earthquake struck is sparsely populated, the navy has a weapons testing facility just outside Ridgecrest, the Naval Air Weapons Station China Lake.

"It's constant," said Ms. Alexander, whose hotel in Ridgecrest is less than a five-minute drive from the naval station. "My anxiety level is over the limit."

"The floor is cracked," she added, saying that bookshelves, lockers and televisions were thrown to the ground.

The quake, which struck at about 8:20 p.m. local time, was felt across a much wider area than Thursday's, with reports of power failures in Los Angeles, and of some damage in San Bernardino County. It was also felt in Las Vegas, though the Nevada Highway Patrol had received no reports of damage to roads or bridges.

Mick Gleason, the supervisor of Kern County, which includes Ridgecrest, said that some people had been injured but that no deaths had been reported. There were at least two fires, including one at a mobile home park, he told CNN. One big concern was gas leaks. Kern County Fire Chief David Witt said that it appeared that no buildings had collapsed.

Lucy Jones, a seismologist, said during a Friday night briefing by the United States Geological survey that there would be more aftershocks. "It is clearly an energetic system," Dr. Jones said.

Leena Panchal, a manager of Americas Best Value Inn & Suites, another hotel in Ridgecrest, about 150 miles northeast of Los Angeles, said people rushed outside because they felt unsafe being indoors.

"It was so bad," she said of Friday's earthquake and its aftershocks. "I am scared. I have two children and no one is taking care of us."

Ms. Panchal was seated during the earthquake but said that the shaking was so violent, it would have been impossible to stand up. "It was very strong," she said. "I'm still feeling dizzy." Standing lamps were thrown to the ground.

The electricity was cut during the earthquake but came back on afterward, Ms. Panchal said.

At 8:21 p.m. local time, the Los Angeles Fire Department issued an earthquake alert from its Twitter account.

"Prepare For Aftershocks," the tweet said. "When Shaking Starts: DROP, COVER, HOLD ON!"

In Los Angeles, fire officials reported localized power failures and wires down in several city neighborhoods, but said that no major damage to infrastructure had been identified.

In San Bernardino County, fire officials said that there was more damage from the Friday night earthquake than there was from the one the day before. The officials reported that homes had been shifted, foundations had been cracked and retaining walls had collapsed.

Tom Heaton, an earthquake expert at the California Institute of Technology, said the earthquake Friday night appeared to have taken place northwest of Thursday's earthquake. The rupture was about 10 to 15 miles long, and the duration of the earthquake was around seven seconds. Friday's earthquake was much larger than Thursday's; the total energy released was about eight times greater.

For now the earthquakes appear to be localized. There is "no plausible connection" between these earthquakes and the San Andreas, the larger and potentially more destructive fault that runs from the Gulf of California to well north of San Francisco, Dr. Heaton said.

"But in this business I don't like to ever say things can never happen," Dr. Heaton said.

The region where both Thursday's and Friday's earthquakes struck is characterized by a complex set of faults that have helped form geological features called basins and ranges.

"I like to tell people that earthquakes are very social in the basin and range; they don't like being alone," Dr. Heaton said. "I would be surprised if this thing just stopped."

The largest known earthquake in the area occurred in 1872 and was a magnitude 8, one of the largest in California.

Friday night's earthquake came during the fourth inning of the Dodgers home game against the San Diego Padres in Los Angeles, where camera footage shows the stadium shaking. The game was not interrupted. But in Las Vegas, where an N.B.A. summer league game took place between the New York Knicks and the New Orleans Pelicans, the action was halted because of the quake.
More from The Los Angeles Times:
A magnitude 7.1 earthquake struck Southern California on Friday night, the second major temblor in less than two days and one that rocked buildings across Southern California, adding more jitters to an already nervous region.

The quake was centered near Ridgecrest, the location of the July Fourth 6.4 magnitude temblor that was the largest in nearly 20 years. It was followed by an aftershock first reported as 5.5 in magnitude. Scientists said the fault causing the quakes appears to be growing.

Friday night's quake caused some fires and other damage in and around Ridgecrest and Trona, two Mojave Desert towns shaken by both quakes, said Mark Ghilarducci, director of the California Governor's Office of Emergency Services. The quake was felt as far away as Phoenix, Las Vegas, Baja California and Reno, according to crowd-sourced data logged into the U.S. Geological Survey's Did You Feel It? website.

About 3,000 residents in Ridgecrest and the surrounding areas are without power after the earthquake, according to Southern California Edison. In Los Angeles, there were no immediate reports of major damage to buildings and infrastructure, according to the Los Angeles Fire Department.

In Trona and Ridgecrest, residents answered their phones frantically and in fear.

"They're saying the ground split," said Winter Wilson, who was driving home to Trona from Bakersfield, her voice shaking. "They made me promise not to come."

Trona resident Ivan Amerson said he had heard reports from neighbors there was "significant damage" to the town, with houses knocked off their foundations. Amerson evacuated with his family after the first quake and was unsure he could quickly get back, given reports that roads to the town were impassable. New cracks and rockslides closed Highway 178 between the two towns, after damage had been repaired following Thursday's quake, Caltrans reported.

Ghilarducci said Trona, home to about 2,000 people, reportedly sustained collapsed buildings and gas leaks. Power and communication are out, and the outages have made it difficult for first responders to determine the extent of the damage. "We know that as day breaks, we'll be able to get a better assessment of the total damage," he said.

Ghilarducci added that priorities will be to provide support for medical and firefighting needs, as well as trying to get power back on. Maj. Gen. David Baldwin, adjutant general of the California National Guard, said a joint task force that will include 200 security forces and military aircraft will be sent to assist.

The 7.1 quake that struck at about 8:20 p.m. Friday night was about 10 times larger than the one on Thursday morning, Caltech seismologist Lucy Jones said.

The Friday quake occurred on the same fault system as the 6.4 temblor. It was farther away from Los Angeles, though still in the Owens Valley.

"This happened at the end of the zone that moved previously," Jones said, adding that the fault is now likely to be 25 to 30 miles long.

"The fault is growing," she said.

Given its size, it's likely to be followed by more shaking that will be felt in Los Angeles.

"The largest aftershock, on average, to a 7.1 would be a magnitude 6," Jones said. That means that another quake on the order of Thursday's 6.4 temblor "would not be surprising to anybody."

Or it could be even bigger.

Jones said she could not recall a pattern of earthquakes in California where a 6.4 foreshock was followed by a 7.1 event, only to be followed by an even bigger quake.

But that doesn't mean it can't happen, she cautioned.

"It is clearly a very energetic sequence, so there's no reason to think we can't have more large earthquakes," she said.

Thursday's 6.4 foreshock triggered shaking in Ridgecrest of intensity 8. With Friday's 7.1 quake, the shaking intensity reached a 9, Jones said.
Gov. Gavin Newsom issued a statement late Friday.

"On behalf of all Californians, I offer my heartfelt support to those affected by tonight's earthquake near Ridgecrest," the governor said."The state of California will continue to offer support to aid residents in the region." He added that he had requested an emergency declaration from the White House and had activated the State Operations Center in Mather, Calif., to its highest level.

Kern County Fire Chief David Witt said his department had responded to multiple structural fires, but there were no reported fatalities. He said there had been many ambulance calls and inspectors were checking the condition of Isabella Lake Dam above Bakersfield, and would continue to investigate. His department has requested assistance from L.A. city and county fire departments and the Orange County Fire Department.

The plan now is to conduct a systematic search in the Ridgecrest area. Helicopters are also assisting.

(…)

When the earlier temblor hit Thursday, scientists had warned that it could lead to an even larger quake. Ridgecrest has been rattled by more than 17 magnitude 4 quakes and at least 1,200 aftershocks since Thursday. A magnitude 5.4 aftershock occurred earlier Friday morning — strong enough to awaken Los Angeles residents about 125 miles away.

"This is an earthquake sequence," Jones said. "It will be ongoing."
Friday's quake was larger in magnitude than the destructive 1994 Northridge quake, which measured 6.7 magnitude. But that temblor occurred in an urban area, while this week's huge quakes occurred 100 miles from L.A.

A 7.1 quake in 1999 hit the Hector Mines area of the Mojave Desert. Because of its distance from Los Angeles, it did not cause major damage or injuries.

The Fourth of July earthquake had ruptured along a length of fault 10 miles long, from a remote point northeast of Ridgecrest, Calif., a city of 29,000 people, and continued southwest almost all the way to the city limits, scientists said.

The aftershocks will probably "go on for months, if not years," Caltech seismologist Egill Hauksson said earlier Friday.
This map gives a good idea of where the two quakes occurred relative to each other and relative to the Greater Los Angeles area: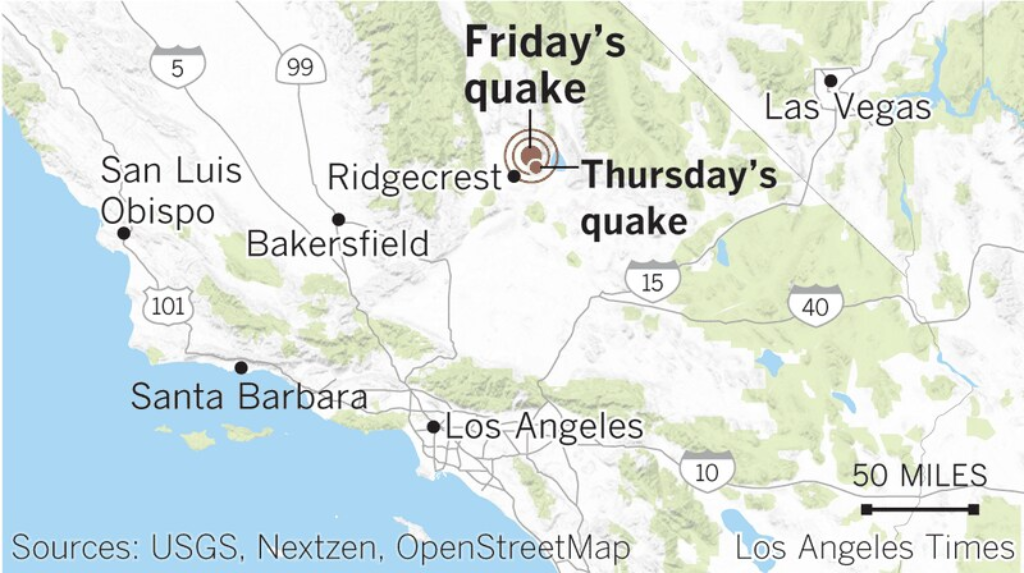 After the 6.4 magnitude earthquake on Thursday, there were dozens of aftershocks, according to one count more than 70, that occurred throughout the day on Thursday and into Friday. Some of those aftershocks were as high as 5.0 on the Richter Scale, and seismologists warned at the time that there could be many more strong aftershocks for days, weeks, or months to come. They also said at the time that there was a slim possibility that there could be a more powerful earthquake that would hit in the wake of the July 4th quake. As we saw overnight, that slim possibility turned out to be the reality and the same seismologists are now suggesting that the Thursday quake may have been just a precursor to last night's much bigger event. In any case, there have been dozens of aftershocks in the hours since the second quake hit, and it seems likely that this area is going to be much more seismologically active in the days, weeks, months, and potentially years ahead.
This earthquake occurred along a fault line unconnected to the much larger San Andreas Fault that runs virtually the entire length of California from the Gulf of California in Mexico to the San Francisco Bay area. That fault, of course, is most famously associated with the 1906 quake that devastated San Francisco and is the area where the long-expected "big one," an earthquake that could exceed 7.0 or even 8.0 on the Richter scale and hit some of the most heavily populated areas of the Golden State, is virtually guaranteed to occur at some point in the future. Indeed, a seismologist with the U.S. Geological Survey said in a report on Friday that estimates believe there is a 70% chance of a 7.0 or greater quake hitting somewhere along the San Andreas before 2030. As a result, the earthquakes that have taken place this week have done nothing to reduce the likelihood of a major San Andreas quake or reduce the strain that continues to build up along that fault
In any case, since the latest event took place as the sun was setting damage assessments are unclear and will likely not be fully known until the sun rises several hours from now. For the moment, though, there are reports of multiple fires, gas leaks, structural collapses, and cracks in highways that will likely make them impassable at least until safety evaluations are done. There will also likely have to be evaluations of highway and railway bridges, as well as gas lines and parts of the electrical infrastructure. Obviously, conducting inspections like this while aftershocks continue to hit the area won't be easy.
So, stay safe California, and be sure to check on family and friends in the vicinity of the recent quakes. And if you do happen to be a resident of the area where these two earthquakes hit, feel free to share your story in the comments.