Earthquake In Pakistan Creates New Island In Arabian Sea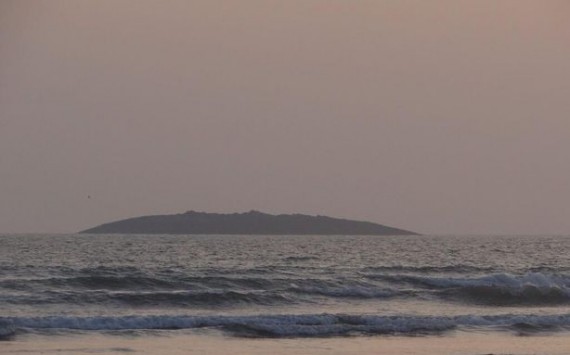 A massive earthquake in Pakistan has resulted in the birth of a new island:
A major earthquake struck southwestern Pakistan earlier today killing over 100 people; injuring thousands more; collapsing building and houses; and, incredibly, causing a small island to form in the sea off Pakistan's coastline.

The U.S. Geological Survey said the quake that hit Pakistan's Baluchistan province early Tuesday morningwas a 7.8 magnitude. Officials recently said that at least 150 people died during the quake, with that number expected to rise as the Pakistani military continues the clean up. Many one-level houses in the impoverished area where the quake hit collapsed on the people inside.

In addition to the physical damage, the power and force of the quake was underscored by the small, visible island that rose off the coast of Gwadar in the Arabian Sea. Reuters reports "a crowd of bewildered people [gathered] on the shore to witness the rare phenomenon." Pakistan's Geo News reports "the island's altitude is 20 to 40 feet and width around 100 feet," and that the island is roughly 350 feet off shore, citing deputy inspector general Moazzam Jah. Arif Mahmood, the head of Pakistan's meteorological department, says they're planning to investigate further.

The new island is certainly interesting because most earthquakes rarely have such a drastic effect on the world surface. The last time an earthquake caused such a drastic change, according to i09's Annalee Newitz, was when an 8.8-magnitude quake in Chile altered the country's coastline.
While this is fascinating, it's worth noting, as the linked article goes on to note, that there is a good possibility that the death toll from today's quake, currently around 100, could rise substantially as the extent of the damage becomes clearer.