Washington State Football Coach Fired Over Vaccine Refusal
Nick Rolovich's request for a waiver based on unspecified religious objections was denied.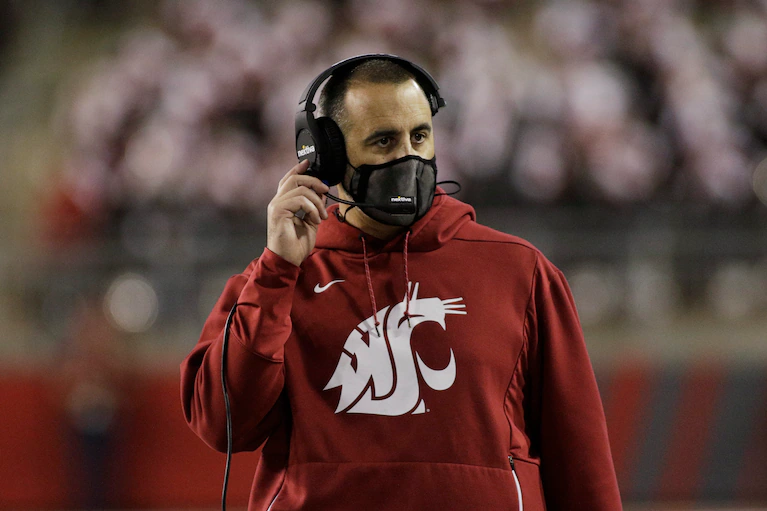 WaPo ("Washington State football coach Nick Rolovich fired after failing to comply with vaccine mandate"):
In perhaps the most striking case to date of a public employee being terminated because of a coronavirus vaccine mandate, Washington State football coach Nick Rolovich was dismissed Monday, the school announced, after not adhering to a statewide order issued by Gov. Jay Inslee (D) in August. He was the state's highest-paid employee at $3.2 million per year, and he had remained unvaccinated up to the state's vaccination deadline of Monday.

"Nick is not eligible to be employed at Washington State University, through noncompliance," Athletic Director Pat Chun summarized Monday night.

Four assistants — Ricky Logo (defensive tackles), John Richardson (assistant head coach/cornerbacks), Craig Stutzmann (co-offensive coordinator/quarterbacks) and Mark Weber (offensive line) — also lost their jobs, the school said. Defensive coordinator Jake Dickert will serve as acting head coach as Washington State prepares to welcome BYU on Saturday.

[…]

A committee had been slated to review his request for a religious exemption, a request he had kept silent until a mentor, retired coach June Jones, revealed it in an interview with USA Today this month. The outcome of Rolovich's request was uncertain; even if the committee had cleared him for the exemption, he would have faced more arduous mandate hurdles, including the need to demonstrate he worked in a job without extensive up-close human interaction.

"While much has been made of the relatively small number of university employees who are not complying with the governor's mandate, we are immensely gratified that nearly 90 percent of WSU employees and 97 percent of our students are now vaccinated," WSU President Kirk Schulz said in Monday's announcement. "… I am proud of all those members of our community who have set the example and taken the steps to protect not just themselves, but their fellow Cougs."

[…]

"People had a choice, and they had months to make that choice," Schulz said. "This wasn't something that just all of a sudden popped up." He said that at a university with a medical school and a bent for science, he had listened to "a lot of frustration with such a prominent employee refusing to be vaccinated," and he said of the various science departments on campus, "That particular group has been pretty strident." He noted that Washington State had been the first Washington school with its own vaccine mandate, including one for students set in April. He said "certainly less than 50" of all Washington State employees had made choices similar to those of Rolovich and his coaches "out of an employee base of 10,000."
Rolovich, 42, was in one of the most coveted jobs in his profession, a prominent Power 5 program. He was making $3 million a year. That he chose to throw that all away over a vaccine that nearly four billion people have already gotten simply baffles me.
While I object to the very idea of religious exemptions for vaccine mandates, on the notion that personal beliefs can't be allowed to override legitimate public health concerns, I understand that our traditions in this regard are complicated. But it's noteworthy that no significant religious denomination opposes this vaccine. One further presumes that Rolovich is otherwise compliant with the state's mandates for non-COVID vaccines. So, refusal on religious grounds simply makes no sense.