We Won't Have Marco Rubio To Kick Around Anymore
Marco Rubio is ruling out a return to politics, at least for now.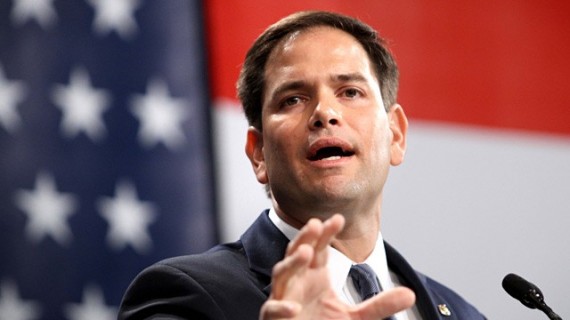 Marco Rubio told reporters that he's done with electoral politics for now:
WASHINGTON — He was once described, for better or worse, as the Republican Barack Obama — a fresh-faced first-term senator who just might walk away with his party's presidential nomination. Instead, Senator Marco Rubio of Florida returned to his day job on Thursday.

Two days after a disappointing second-place finish in his home state prompted him to bow out of the presidential race, Mr. Rubio was back at the Capitol, falling once more into the routine of roll call votes and conference lunches.

He questioned State Department officials about arms-control issues during a Senate Foreign Relations Committee hearing. He voted for a resolution holding the website BackPage.com in contempt for being complicit in sex trafficking. He attended a weekly Republican luncheon. And now that his run for president is over, he made it clear that he had no interest in several rumored backup plans.

"I'm not going to be vice president," he said. "I'm not interested in being governor of Florida. I'm going to finish up my term in the Senate over the next 10 months. We're going to work really hard here, and we have some things we want to achieve, and then I'll be a private citizen in January."

It had been several weeks since Mr. Rubio had been spotted in the halls of Congress. In early February, he and Senator Ted Cruz of Texas, then a rival for the nomination, flew in to vote for a bill imposing strict sanctions intended to derail North Korea's nuclear ambitions. It passed, 96 to 0.

Mr. Rubio is the third Republican senator to return to the Capitol after bowing out of the race, joining Rand Paul of Kentucky and Lindsey Graham of South Carolina. Mr. Graham garnered a few headlines of his own on Thursday with the revelation that he will attend a fund-raiser next week for Mr. Cruz. Just two months ago, Mr. Graham said that choosing between Mr. Cruz and his rival Donald J. Trump was like a choice between being shot or poisoned.
While lacking some of the dramatic finality of Richard Nixon's press conference after losing the 1962 California Governor's race to Pat Brown just two years after losing the 1960 Presidential election, it also isn't entirely surprising. When he entered the Presidential race last year, Rubio had made clear that he would not be simultaneously running for re-election to the Senate even though Florida election law would have allowed him to do so. This has created a race for an open Senate seat in one of the most high-profile states in the nation that is sure to draw much media attention as the year goes on, but it also meant that the race for the White House, either as President or Vice-Presidential running mate, was the only means by which Rubio would be staying in politics for the foreseeable future. With his Presidential campaign over and Rubio himself ruling out the idea of being anyone's running mate, his options for 2016 are effectively closed.
As for the Florida Governor's race in 2018, that is an option that has really been nothing more than the subject of speculation by political analysts in recent week, especially as it became apparent that Rubio was not going to win the Florida primary. Indeed, many reports had those close to Rubio, as well as others, suggesting that Rubio should drop out before the primary so as to maintain his political credibility inside the Sunshine State for such a run. For whatever reason, though, Rubio was obviously not interested in that idea. Now, with his having been positively trounced in the GOP Primary on Tuesday, the prospect of his running statewide again in two years is pretty much out the window. The same would seem to be true about challenging incumbent Democratic Senator Bill Nelson when his term next comes up in 2018. The statewide trouncing among Republicans that Rubio received this week would seem to preclude any real possibility that he'd be able to build an effective campaign for either seat in time to mount a successful 2018 campaign.
Of course, just like Nixon's "final" press conference after losing that Governor's race in 1962 was far from his final foray into politics, it's entirely possible that this is far from the end of Marco Rubio in American politics. He's only 44 years old, younger than Nixon was in 1962, and for all the faults of what was, in the end, a poorly focused campaign that seemed to lack a clear plan for victory, still possesses the many positive attributes that made him an attractive candidate in the first place. Assuming he decides he wants to return to politics in the future, it seems that there would be several paths open to him. If the GOP does indeed suffer the fate that many believe it will in November, especially with Donald Trump at the top of the ticket, then he could be among those who attempt to restore the party heading into 2020 and beyond as a candidate for President once again, or he could end up back in Florida politics at some point and use that as a springboard for a return to national politics. For the time being, though, he'll likely end up taking a position at some top law firm in Florida and perhaps showing up as a commentator on news shows. Don't be surprised if we see Marco Rubio again, though. After all, it was just 18 months after seemingly retiring from the public eye that Nixon was already working on his comeback.