Wealthiest Woman In Britain Tries To Get Poverty Funds
Apparently, riding in a gilded carriage with footmen does not preclude one from seeking welfare funds in the United Kingdom.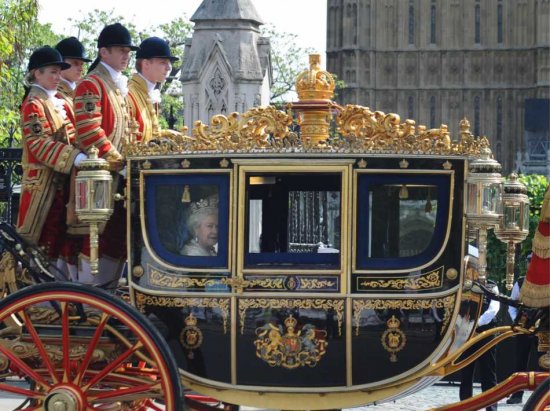 Once again, the United Kingdom proves that breaking away from the British Crown was the smartest thing the United States ever did:
The Queen asked ministers for a poverty handout to help heat her palaces but was rebuffed because they feared it would be a public relations disaster, documents disclosed under the Freedom of Information Act reveal.

Royal aides were told that the £60m worth of energy-saving grants were aimed at families on low incomes and if the money was given to Buckingham Palace instead of housing associations or hospitals it could lead to "adverse publicity" for the Queen and the Government.

Aides complained to ministers in 2004 that the Queen's gas and electricity bills, which had increased by 50 per cent that year, stood at more than £1m a year and had become "untenable".

The Royal Household also complained that the £15m government grant to maintain the Queen's palaces was inadequate.

In search of more money-saving schemes, the Queen's deputy treasurer wrote to the Department for Culture, Media and Sport to ask whether the Royal Household would be eligible for a grant to replace four combined heat and power (CHP) units at Buckingham Palace and Windsor Castle.

He asked: "Community Energy can fund up to 40 per cent of the capital costs of implementing a community heating scheme… Since we are already grant-in-aid funded [the Queen receives £15m a year for the upkeep of her palaces] we would like to know whether the Household [would] be able to benefit from these grants. I look forward to your comments."

Under this scheme administered by the Environment department, schools, hospitals, councils and housing associations have been awarded £60m for heating programmes which benefit people on low incomes.

Taxpayers already contribute £38m to pay for the Royal Family. Yet some of the buildings which would have benefited from the energy grant were occupied by minor royals living in grace and favour accommodation on the royal estates. Surprisingly the Government offered no resistance to the proposed application and cleared the way for the Queen to take advantage of the handout.

But by August 2004 the documents show that Whitehall officials had changed their minds and poured cold water on the whole idea. In an email sent to the Palace it was diplomatically explained that the funds were aimed at people on "low incomes".
Gee, do you think ?
Perhaps a British reader can explain to me why the taxpayers sit back any subsidize a family that doesn't really seem to have anything to do other than cut ribbons and wave. Because I just don't get it.
Then again, if they had to get real jobs I suppose most of them would be in a bit of a bad spot, wouldn't they ?