Website That Promotes Affairs Puts Up Mark Sanford Billboard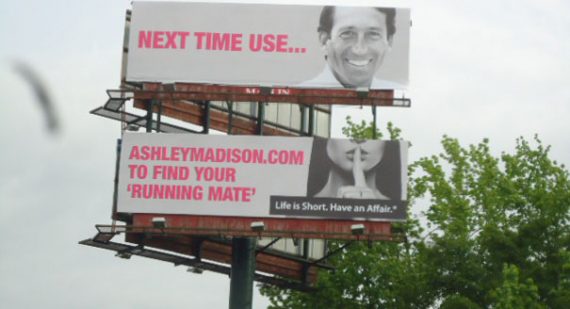 AshleyMadison.com, which bills itself as a website where married people can meet online to have extramarital affairs, has put up a billboard that references Mark Sanford's past problems:
This is not the kind of billboard Mark Sanford wants to see in his home state.

AshleyMadison.com, a website that connects users looking to have casual (and often extramarital) affairs, is putting up a billboard in South Carolina that features the former Republican governor's mug alongside the text: "Next Time Use AshleyMadison.com To Find Your Running Mate."

The message, a not-so-subtle dig at Sanford's "Appalachian Trail" moment years back, goes up Monday on Interstate 26 in Columbia, S.C., and the billboard cost the website $6,000.

The website's founder doesn't think they'll get a lot of grief for it.

"Flak? Heck no, we expect to hear some horns honking in support," AshleyMadison Founder Noel Biderman told POLITICO. The website says that I-26's westbound traffic gets nearly 60,000 cars a day.
This news comes the day after the one and only debate between Sanford and his Democratic opponent Elizabeth Colbert Busch in which Sanford found that his past was a prime topic of conversation:
Elizabeth Colbert Busch and Mark Sanford traded jabs on stage last night at the first and only general-election debate before next Tuesday's special election in South Carolina. Then the Democrat—and current front-runner—threw an uppercut. "When we talk about fiscal spending and we talk about protecting the taxpayers, it doesn't mean you take the money we saved and leave the country for a personal purpose," Colbert Busch said in an obvious reference to Sanford's use of state funds to fly to Argentina to visit his then mistress (who is now his fiancee).

The line drew cheers from the clearly pro-Colbert Busch crowd and prompted one debate moderator to offer, "She went there, Governor Sanford." The Republican, however, either didn't hear the dig or simply played deaf. "I couldn't hear what she said … What was the question?"
Here's the video:
Polling continues to show Colbert Busch leading Sanford, but given that this is a Special Election and the 1st Congressional District is a Republican District it's still possible that Sanford could pull out a victory. Whether he wins or not, though, stuff like this is a good example of why he'll never really be able to live down one of the most bizarre incidents in recent American political history.