West Point Casualties in Post-9/11 Conflicts Historically High
West Point graduates account for nearly one in fifty deaths in the wars in Iraq and Afghanistan.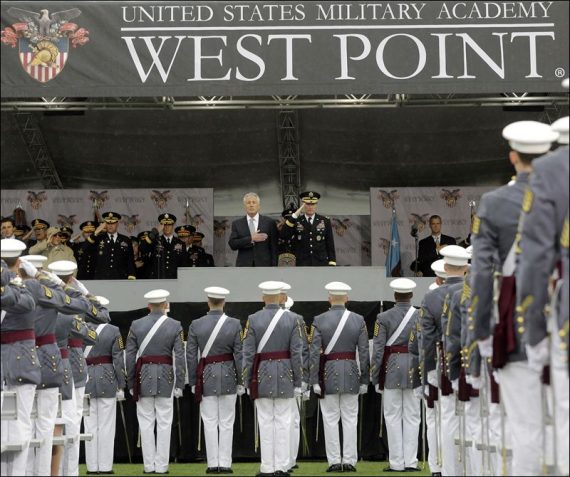 West Point graduates account for nearly one in fifty deaths in the wars in Iraq and Afghanistan.
Army Times ("West Point Combat Casualties Are High In Post-9/11 Era"):
West Point graduates have accounted for a higher percentage of U.S. military combat deaths in the post-9/11 war on terrorism than in all but one major American conflict since the academy's founding in 1802.

As of Monday, 5,293 American troops have been killed in action in operations Iraqi Freedom, New Dawn and Enduring Freedom, according to Defense Department data. Ninety-four casualties, about 1.8 percent, have been former cadets, an academy spokeswoman said.

[…]

The cadet-death ratio in the Iraq and Afghanistan conflicts is nearly seven times greater than in the War of 1812, in which 0.3 percent of the total combat deaths were West Point grads; 42 times greater than among Union forces during the Civil War; nearly 11 times greater than in World War II; nearly four times greater than during the Korean War; more than three times greater than in the Vietnam War; and nearly three times greater than during the Persian Gulf War, where the percentage was 0.7 percent. That data is from the Naval History and Heritage Command.

The only major conflict on the other side of the ledger is the Mexican War, which ended in 1848 after claiming former cadets at a proportional rate 56 percent higher than during the war on terrorism.
Mostly, this a function of the changing nature of conflict and shape of the force.
"Those other wars were fought by mass armies with many officers who were citizen-soldiers, not military professionals," said USMA history professor Dr. Clifford Rogers in an email. "So the West Point presence was more 'diluted.' "

Other historians credit a decreasing ROTC presence within the officer corps for the rising percentage of combat casualties represented by former cadets.

"West Point is just a larger portion of the officer corps than it's been in the course of the 20th Century," said West Point history professor Dr. Samuel Watson. "The gap between the growth in Officer Candidate School and decline of ROTC has been felt by West Pointers. Anything else would be coincidental."

Fully 80 percent of male USMA graduates, who become second lieutenants upon graduation, must go into combat arms, Watson added. Candidate school and ROTC graduates, on the other hand, may choose either infantry or another career path within the Army.

The war on terrorism has been characterized by counterinsurgency, a warfare tactic that has put more pressure on junior officers in general, Crane said.

"COIN is a small-unit fight — not big units," said [retired Army Colonel Conrad] Crane, who graduated from West Point in 1974. "Whether you win or lose depends on how much risk the junior leaders and people at the point of spear are willing to take."
That 94 West Pointers have died in wars with such relatively low casualties is somewhat astounding. Until you look at the baselines.