What Bristol Palin Tells Us About Sarah Palin's Fans
Bristol Palin's success on Dancing With The Stars is apparently due largely to the fact that she is Sarah Palin's daughter. That tells us much more about Sarah Palin's supporters than it does either Sarah or Bristol.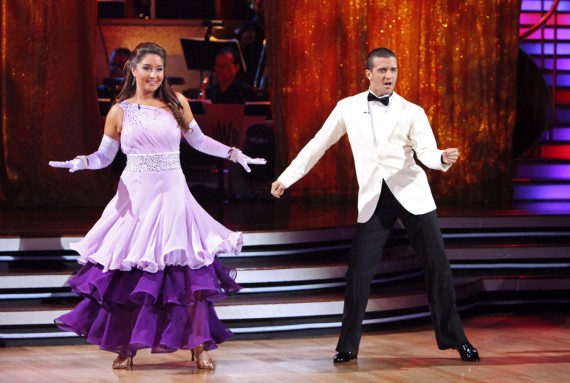 Bristol Palin appears to be advancing in her quest for reality show stardom on Dancing With The Stars based not so much on how well she's dancing, but on who her mother is:
Bristol Palin survived another elimination round on ABC's "Dancing With the Stars" as fans including Tea Party supporters mustered enough votes to overcome low scores from the talent show's judges.

Palin, the daughter of former Alaska Governor Sarah Palin, will return for the ninth week of the Walt Disney Co. network's show, after her tango with partner Mark Ballas tied for the judges' worst score. Former NFL quarterback Kurt Warner was eliminated yesterday, based on the lowest combined tally.

"There's a strong popular movement behind Sarah Palin at the moment and she's receiving a lot of support from the Tea Party," Conrad Green, executive producer of the program, said in a Nov. 4 interview. "It's entirely possible some of those people are behind Bristol for political reasons."

During the taping of the Nov. 8 show, the 20-year-old Palin wore a Tea Party t-shirt while rehearsing.
MSNBC also took note of the phenomenon:
From the start, the 11th season of "Dancing With the Stars" was not going to be like any other. The ensuing weeks have lived up to that promise, thanks in large part to the dogged persistence of Sarah Palin's daughter Bristol, who has survived week after week despite not being considered a very skilled dancer.

"We like to get some people on the show who are unusual, and we thought Bristol would be interesting," said executive producer Conrad Green. "We haven't had someone quite like her before. She's in that strange position of being a celebrity by association, having it thrust upon her rather than her seeking it. Dancing doesn't come naturally to her, but week by week, she's become more confident as a performer."

(…)
Yet Bristol's continued ability to dodge elimination comes with a ripple effect. Her fame (or notoriety, depending on your perspective) is based in just two facts: She's a teen mom, and she is Sarah Palin's daughter. That means whatever spotlight she grabs invariably reflects back on her mother, while her mother's popularity likely has something to do with her surprising ability to avoid elimination each week.
"I can say with certainty that if you're a fan of Sarah Palin, you're going to vote for her daughter," said Galinsky. "'Dancing' is a healthy, wholesome show. We are seeing people think, 'Wow, Bristol Palin has all these great traits, so her mom must have these qualities, too.' Two years from now, people may not remember a dance routine, but they'll remember she's a risk-taker. "
Politically partisan sites around the Web have taken up the call, exhorting readers to vote for Bristol. Of course, plenty of non-partisan sites get created or co-opted each season to generate bloc voting for other contestants, but in this case there's a sense that the survival of a less-talented but enthusiastic Bristol will provide ballast to the views and opinions (and possibly the later political success) of her mother.
Now, I frankly couldn't care less who wins, loses, or gets sent home on a "celebrity" "dancing" show, although I will note that apparently many people do considering that the show remains one of ABC's most highly rated. This does strike me as a somewhat fascinating social and political phenomenon, though. What we appear to have here is a case where one person's supporters are so devoted to her that they are apparently motivated to engage in campaigns to keep her daughter on a reality show regardless of whether or not she's actually talented.
It's a measure, I would submit, of just how devoted some of Sarah Palin;s biggest fans actually are, which is one of the main reasons why a Palin run for the GOP nomination in 2012 should not be discounted. One of the keys to success in primaries is a motivated, devoted base that will do the grunt work of the campaign and, most importantly, get out and vote. Apparently, it's also the key to success on a dancing show.
You can reach your own conclusions about people who would follow a political figure with such devotion that their fandom would be transferred to that person's daughter when she appears on a crappy talent show.