What Can't The Government Mandate?
What are the limits on government power?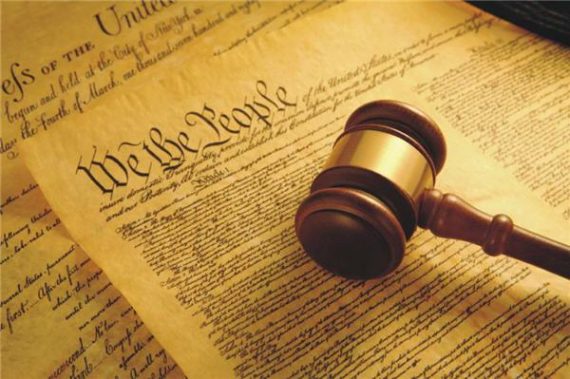 With tongue firmly planted in cheek, The Wall Street Journal's Allysia Finley suggests that the Federal Government's decision to mandate that individuals purchase insurance, and more recently that employers provide insurance coverage for contraceptives, raises the question of what else the government should mandate:
• Fitness club memberships. Most doctors agree that exercising is one of the best ways to prevent disease. However, gym memberships can run between $240 and $1,800 per year. Such high prices force us to choose between exercising and buying groceries. While we could walk or jog outside, many of us prefer not to. Therefore, employers should be required to pay for workers' gym memberships. Doing so might even reduce employers' health costs, which is why many companies already subsidize memberships. Those that don't are limiting our freedom to exercise.

• Massages. Stress raises the risk of heart disease, obesity, depression and a host of other maladies. About one half of Americans say they're stressed, and studies show that health costs for stressed-out workers are nearly 50% higher than those for their chilled-out counterparts. According to the Mayo Clinic, a great way to reduce stress is to get a massage. However, since few of us can afford massages, it is imperative that employers be required to cover weekly massage treatments or hire in-office masseuses. Think of the millions of new jobs this mandate will create in the therapeutic field, too.

• Yoga classes. Like exercise and massage, yoga reduces stress and can relieve back pain, osteoarthritis and even menopausal symptoms. Yoga is also one of the best exercises for pregnant women since stress raises the risk of birth defects, which in turn increase health costs. While we could practice yoga with the aid of a DVD or Web video, classes offer social benefits that enhance our psychological well-being.

• Coffee. Studies show that coffee can ward off depression, Alzheimer's disease, type 2 diabetes and sleepiness—which makes it one of the most powerful preventive treatments. Workers who drink java are also more productive and pleasant. While many offices have coffee makers, some employers—most notably those affiliated with the Church of Jesus Christ of Latter-day Saints—continue to deny workers this essential benefit. All employers should have to provide workers with freshly brewed coffee. Oh, and workers must also be able to choose the kind of coffee regardless of the price.

Republicans might argue that requiring Mormon charities to serve coffee is a violation of "religious liberty" since the Mormon church's doctrine proscribes coffee, but this argument is a red herring. Leading medical experts recommend drinking coffee. Moreover, 99% of adults have drunk coffee at one point in their lives (including most Mormons).

• Salad bar. Studies also show that eating a lot of salad helps people maintain a healthy weight, which is key to preventing diabetes, heart disease and hypertension. Admittedly, mandating that employers include a free salad bar in their cafeterias would primarily benefit healthy eaters (women like myself) and raise prices for workers who subsist on junk (most men). However, such a mandate is necessary to expand our access to healthy food. Nanny-state conservatives who oppose this mandate merely want to ban salad and control what we eat.
And we can expand it beyond there. There have been numerous studies supporting the health benefits of moderate alcohol use, so can the government force my employer to subsidize my purchase of red wine, or force me to purchase it? A daily aspirin has been shown to reduce the risk of heart attacks and strokes, so why can't we mandate that employer-provided health insurance include full reimbursement for aspirin purchases, which I will of course be required to purchase. To borrow an example that has come up during the course of the litigation over the PPACA's health insurance mandate, could the government force every family in America to purchase a specific quota of vegetables and fine them if the failed to do so?
These may all sound like silly questions and, admittedly, some of them are. However, they go to the core of the question that the Supreme Court will be dealing with when it begins hearing oral argument in the PPACA litigation two weeks from today. The Constitution grants the government a specific set of powers. Over the past 223 years there has been much debate and disagreement about exactly what falls within the scope of those granted powers, and there will continue to be such a debate for as long as the United States of America continues to exist. However, the principle remains the same. Unless it's covered by one of the powers explicitly granted to Congress under Article I, Section 8 (or one of the amendments) then Congress cannot do it. It doesn't matter if it's a really good idea. It doesn't matter how popular it is. The entire idea of a Constitution that limits the power of  government is that government cannot exceed those powers, unless the Constitution is amended and that power is explicitly granted to Congress. We can argue about where those limits lie, but we can at least agree that there are limits, right?
Some might argue that the scope of Congressional power should be decided by what the majority wants to do, but that strikes me as completely missing the point. The entire idea of limiting the power of Congress is centered upon the principle that the Constitution exists to prevent majorities from getting everything they want. Just because the majority wants to do something, doesn't mean that Congress can do it, or should do it.
This is the issue that the Supreme Court will be faced with in two weeks. What are the limits of Congressional power? And. if there are no limits, then does the Constitution even mean anything anymore?  So that's the question that the ObamaCare lawsuits actually present, if the government can mandate that all of us purchase insurance, and that our employers not only provide us with insurance but that said insurance policy must cover specific items, then what can't it do?