When Reading 140 Characters is too Big a Strain
It only seems fair to take an entire tweet, lengthy though it may be, into account when reacting.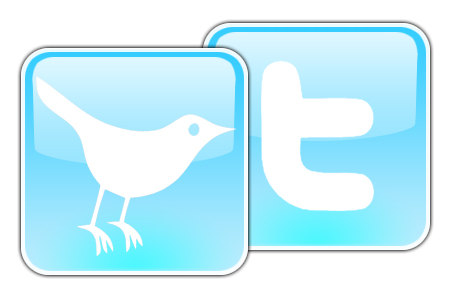 Apparently, tweets can be arduous reading.
Thursday was Iranian President Mahmoud Ahmadinejad's birthday.  In acknowledge of said event, US Assistant Secretary of State for Public Affairs, Philip J. Crowley tweeted the following:
Now, one can question the efficacy of such a tweet, but the tone is clearly, as Steve Benen notes, sardonic and was decidedly not a heart-felt b-day greeting for the Iranian chief executive.  It was, rather, a plea for the release of political prisoners and a way to keep said prisoners in the public discussion.
However, Sarah Palin apparently only read the first 34 characters and tweeted the following: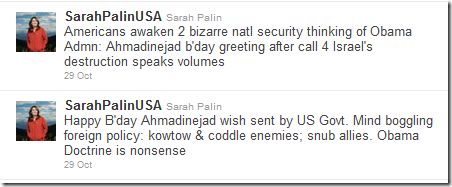 Now, I actually don't think that she didn't read the whole tweet nor do I think that she couldn't comprehend the meaning and tone of Crowley's tweet.  Rather it seems that she is deliberately misstating its meaning and actively disseminating into the public—something that is far worse than misapprehension.
The reason I think that it is noteworthy is that I suspect that the notion that the Obama administration is "kowtow[ing]" and "coddl[ing]" Iran via sincere birthday greetings will probably become a meme on Fox News and on talk radio–the further dissemination of false information.  This is unfortunate.  It is one thing to have a different perspective on how to deal with a problem, quite another to make things up.
I may be wrong about my prediction of the development of the meme (although if anyone has heard or seen it, I would be interested to know about it), but I am not wrong about the essence of what Palin did.