Where Does Europe End?
An idea, not a continent.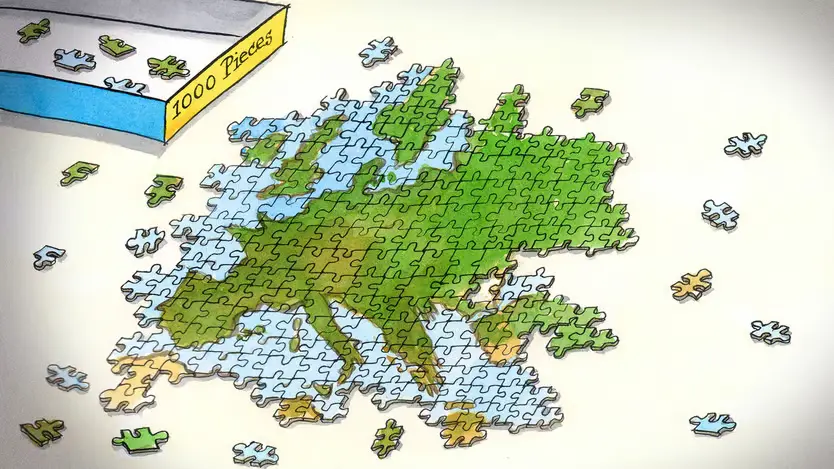 Stanley Pignal, the Economist's Brussels bureau chief and Charlemagne columnist, observes "The definition of Europe has always been both inspiring and incoherent."
Curiously, the only continent to have united under a moderately effective form of multinational government is not actually a continent. English-speakers may call Europe "the continent", but that is because their language evolved on an island off its coast. In fact it is simply a convoluted promontory of Eurasia. This sets geographers a puzzle: where does Europe end? The eastern border especially is fuzzy. The current consensus holds that it runs through Russia along the Urals, gets vague for a while and then follows the Caucasus mountains' watershed to the Black Sea. That makes demi-Europeans of not just Russia, Turkey and Georgia but also Kazakhstan and perhaps Azerbaijan. It puts Armenia outside Europe, though many Armenians would disagree.

Clearly, geography is not all people mean by Europe. But other definitions also lead to confusion. If Europe is wherever European powers hold sway, colonialism has ensured it spans the globe. Cross the westernmost land border of the Netherlands and you step directly into France, because you are on the Caribbean island of Saint Martin, which they split. Define Europe culturally, meanwhile, and you will notice that polka music sounds more like Mexican norteño than like Spanish flamenco, and that Greek ouzo and Lebanese arak are the same drink. Go with political values and you find many democracies outside Europe qualify, while some quasi-dictatorships inside might not. Use religion or race, and you are engaging in bigotry—nowadays seen as un-European.

All this might seem academic, were it not that the question of what defines Europe is vital for countries who want to join the European Union. Of the current serious applicants—six countries in the western Balkans, plus Georgia, Moldova and Ukraine—most sit well inside the physical continent. They have not yet got into the eu because they have not met its accession criteria. But those criteria themselves are in part a product of centuries of debate over what it means to be European. And eu voters' gut sense of who belongs in the club is shaped by history.

The idea of Europe started with the ancient Greeks, who contrasted it with despotic, barbarian Asia. After the Roman Empire fell, the dream of reunifying Europe recurred periodically. In the Middle Ages that meant uniting Christendom against Islam. In the 17th and 18th centuries, as religious and imperial wars raged, secular ideas were floated. In 1712 the Abbé de Saint-Pierre called for a "European Union", and in 1795 Immanuel Kant proposed something similar in his "Perpetual Peace". Unfortunately the fellow who was busy trying to unite the continent at the time used bloodier means, until he was stopped at Waterloo.

The Enlightenment sense of who belonged in Europe rested on Europeans' alleged rationality and cosmopolitanism. The 19th century added the idea of intrinsically European cultures and peoples—or, most dangerously, races. Such nationalism meant more wars and, in their guilty aftermath, calls for European unity. The modern European movement started after the first world war. Some of its founders saw it as a way for Europe to compete with America and the Soviet Union. That implied that Russia could never join. Nor, some thought, could Britain, which identified more with its empire than with Europe. (They were right that this was an issue.)
He follows this with several paragraphs of musings about EU expansion, which will ultimately sort itself out. But the notion that "Europe" is a social construct is really more interesting to me.
It's of course right. Indeed, it's probably true of all the continents save Australia, which is bounded, and Antarctica, which is essentially uninhabited and is an afterthought on standard world maps.
Asia shares a landmass with Europe so, almost by definition, its beginning and end are just as murky.
Africa would seem pretty cut and dried but I personally don't think of the Arab states of Northern Africa as "African" but rather part of the Middle East.
The Americas are connected by the Central American isthmus and, while Mexico is generally considered part of North America but the United Nations and others consider it part of Central America. And, for that matter, many in Latin America think of the Americas as a single continent, not two.