Who Is Thursday Night's Mystery Convention Speaker?
"To Be Announced" has a prime speaking slot late in the Thursday program.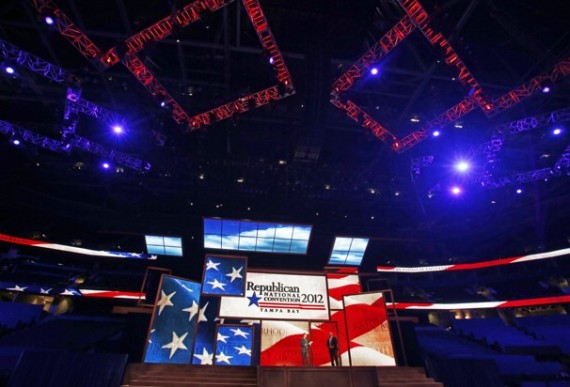 The Wall Street Journal notes something interesting in the updated convention schedule:
TAMPA, Fla. – Republican convention planners appear to have a surprise planned for those tuning in Thursday night.

Buried deep in the convention schedule released Monday is a vague reference to a mystery speaker scheduled for the event's final evening. "To Be Announced" has a prime speaking slot late in the Thursday program.

By then, speakers from Mitt Romney's church will have taken the stage that night. The co-founder of Staples office-supply chain will have spoken about working with Mr. Romney during his time at Bain Capital. State officials from Massachusetts will have talked about the former governor. Olympians will have already thanked the presidential candidate for leading the 2002 Winter Games.

The only other speakers to follow "To Be Announced" will be Sen. Marco Rubio of Florida and Mr. Romney himself, suggesting that the unnamed guest may appear during the 10 p.m. hour when the networks all will be broadcasting the convention.

Convention planners have spread the announcement of the speakers for this week's gathering across a few weeks, slowly revealing the names of those who landed coveted slots. But until Monday, it appeared that all the blanks had been filled in, as most high-profile Republicans already had speaking roles or had explained their absence from the convention.
The Journal lists some possibilities at the end of the article, many of which, such as Ted Nugent, David Petreaus, Chelsy Sullenberger, and Nancy Reagan, seem rather far-fetched. They also list Zell Miller, but I don't see any reason why he'd be given a prime time spot on what's likely to be the most watched night of the convention. The other name? Sarah Palin. Would the GOP fly Palin down from Alaska for what would be an appearance that would last mere minutes? I don't know, but I do know the list of potential high profile Republicans who would be likely to fill that spot is fairly short.