Why Americans Stink at Math
School.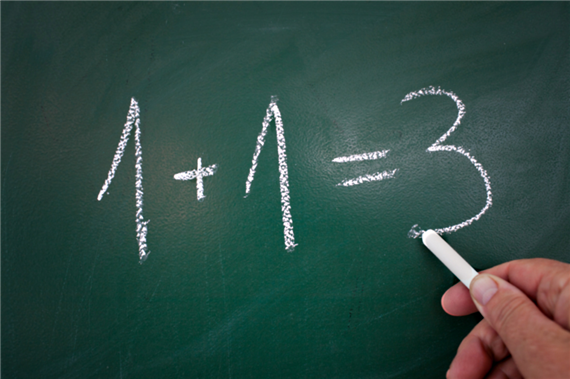 In a New York Times Magazine feature, Elizabeth Green asks, "Why Do Americans Stink at Math?" It's complicated, of course, but the short answer is: school.
In the 1970s and the 1980s, cognitive scientists studied a population known as the unschooled, people with little or no formal education. Observing workers at a Baltimore dairy factory in the '80s, the psychologist Sylvia Scribner noted that even basic tasks required an extensive amount of math. For instance, many of the workers charged with loading quarts and gallons of milk into crates had no more than a sixth-grade education. But they were able to do math, in order to assemble their loads efficiently, that was "equivalent to shifting between different base systems of numbers." Throughout these mental calculations, errors were "virtually nonexistent." And yet when these workers were out sick and the dairy's better-educated office workers filled in for them, productivity declined.

The unschooled may have been more capable of complex math than people who were specifically taught it, but in the context of school, they were stymied by math they already knew. Studies of children in Brazil, who helped support their families by roaming the streets selling roasted peanuts and coconuts, showed that the children routinely solved complex problems in their heads to calculate a bill or make change. When cognitive scientists presented the children with the very same problem, however, this time with pen and paper, they stumbled. A 12-year-old boy who accurately computed the price of four coconuts at 35 cruzeiros each was later given the problem on paper. Incorrectly using the multiplication method he was taught in school, he came up with the wrong answer. Similarly, when Scribner gave her dairy workers tests using the language of math class, their scores averaged around 64 percent. The cognitive-science research suggested a startling cause of Americans' innumeracy: school.

Most American math classes follow the same pattern, a ritualistic series of steps so ingrained that one researcher termed it a cultural script. Some teachers call the pattern "I, We, You." After checking homework, teachers announce the day's topic, demonstrating a new procedure: "Today, I'm going to show you how to divide a three-digit number by a two-digit number" (I). Then they lead the class in trying out a sample problem: "Let's try out the steps for 242 ÷ 16" (We). Finally they let students work through similar problems on their own, usually by silently making their way through a work sheet: "Keep your eyes on your own paper!" (You).

By focusing only on procedures — "Draw a division house, put '242' on the inside and '16' on the outside, etc." — and not on what the procedures mean, "I, We, You" turns school math into a sort of arbitrary process wholly divorced from the real world of numbers. Students learn not math but, in the words of one math educator, answer-getting. Instead of trying to convey, say, the essence of what it means to subtract fractions, teachers tell students to draw butterflies and multiply along the diagonal wings, add the antennas and finally reduce and simplify as needed. The answer-getting strategies may serve them well for a class period of practice problems, but after a week, they forget. And students often can't figure out how to apply the strategy for a particular problem to new problems.
What's interesting here is that, as Green points out, American mathematicians have been at the forefront for decades of innovative ways to teach the subject that are successfully being applied elsewhere—including Japan and China. But, for a variety of reasons, our own attempts to implement these methods are short-lived, inevitably reverting to the way described above that we know doesn't work.
I went to grade school in the middle of the "new math" craze that was widely lampooned in the media. Yet it actually worked. While there was some rote memorization, particularly of the multiplication tables, the use of set theory, various "base" systems, and learning of the various "properties" (associative, commutative, and distributive) were enormously valuable to me, allowing me to do basic math in my head.
By the time I got to junior high and high school, we were doing "I, We, You." I remained a solid student, getting decent grades, but learned very little. We were essentially taught to treat math like a recipe to be followed—a series of steps to be applied in a certain order. That was fine so long as the cookbook was available. I could solve the problems every time, so long as I had the recipe in front of me or, as in the case of an exam, had committed said recipe to short term memory. But, not intuitively understanding what I was doing, very little of what I "learned" then is of any use to me.  (I can do basic algebra and geometry in the same way the unschooled in Green's piece do, by reckoning my way through it. But I've long since lost most of the formulas.)
Yet, for some reason, we disdain teaching understanding. Looking up the "properties" to make sure I wasn't missing one, I stumbled on a math tutorial site that positively sneers at the concept:
There are three basic properties of numbers, and your textbook will probably have just a little section on these properties, somewhere near the beginning of the course, and then you'll probably never see them again (until the beginning of the next course). My impression is that covering these properties is a holdover from the "New Math" fiasco of the 1960s. While the topic will start to become relevant in matrix algebra and calculus (and become amazingly important in advanced math, a couple years after calculus), they really don't matter a whole lot now.

Why not? Because every math system you've ever worked with has obeyed these properties! You have never dealt with a system where a×b did not in fact equal b×a, for instance, or where(a×b)×c did not equal a×(b×c). Which is why the properties probably seem somewhat pointless to you. Don't worry about their "relevance" for now; just make sure you can keep the properties straight so you can pass the next test. The lesson below explains how I kept track of the properties.
What's hysterical about that passage is that it's wrong on virtually every count.
First off, as already noted, understanding those properties makes it easy to do everyday math in your head. A few years back, I positively flummoxed a cashier at a dry cleaners by calculating my bill, including tax, when his register wasn't working. So, I explained that I just converted the problem to two simpler problems and how it worked. He still thought it was some kind of magic.
Second, the fact that every math system obeys those properties is rather precisely the point!
Now, it's true that remembering what their names are—and which is which—is unimportant. The key is understanding how to simplify problems so that they make sense to you.