Why Are So Many Republicans Running?
Are they bored? Delusional?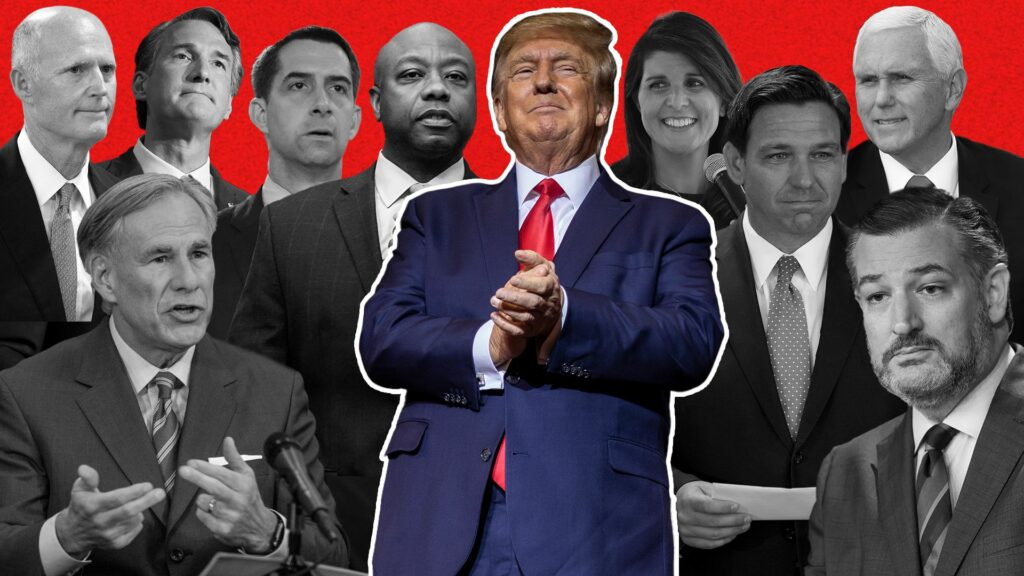 Dave Weigel is asking the same question many of us are ("Rise of the 'One percenters': Why so many Republicans think they can crash the Trump/DeSantis party"). He spends several paragraphs detailing all of the Republican politicians who are running for the 2024 nomination or at least have their toe in the water. In order, he lists South Carolina Senator Tim Scott, former Arkansas Governor Asa Hutchinson, former Vice President Mike Pence, North Dakota Governor Doug Burgum, ex-Michigan Representative Mike Rogers, Miami Mayor Francis Suarez, former New Jersey Governor Chris Christie, New Hampshire Governor Chris Sununu, ex-U.N. Ambassador Nikki Haley, businessman Vivek Ramaswamy, and Virginia Governor Glenn Youngkin. I don't believe I've even heard of Burgum and had never heard of the 37-year-old Ramaswamy before he announced his improbable bid.
Weigel's analysis:
It's called a "collective action problem" for a reason. Plenty of Republicans think they'd win a general election that Trump would lose; plenty think DeSantis is unready for the big stage; and some think DeSantis is too similar to Trump to justify rallying behind as an alternative. They've also heard from would-be allies who've seen Trump win over a divided field before and worry they're reproducing the same mistakes as 2016.

"If there's five, six, seven real conservative outsider candidates, Donald Trump will win with a plurality because nobody else will come close," ex-White House press secretary Ari Fleischer told reporters seven months ago, at a post-election meeting of the Republican Jewish Coalition. "If there's only one or two, it's a fair fight."

It's obvious now there won't be "one or two" non-Trump candidates. Scott, Haley, Hutchinson, and Vivek Ramaswamy are already running, along with a variety of fringe candidates who have attracted less attention. Publicly, Trump is pleased, posting on Truth Social yesterday that the race was "rapidly loading up with lots of people" and that Scott was "a big step up from Ron DeSanctimonious."

The wider-than-expected interest in a 2024 campaign is mostly about DeSantis, not Trump. It doesn't matter that he'd start a race with more than $100 million. The attitude I've heard from strategists is that DeSantis is competing for the same voters as Trump — social conservatives and MAGA nationalists — and that there's a deep, wide pool of economic conservatives and electability-minded Republicans who nobody's made the sale to. And with the Florida governor off to a creaky start, they're feeling even less pressure to stand aside.

Are they right? On the trail with Scott and Hutchinson on Monday, I was struck by how many people who'd taken time out of their day to meet the candidates were already thinking in terms of Trump or DeSantis nominations.

[…]

If polling is to be believed, the two front-runners basically satisfy most GOP voters, who give them each high marks on favorability. Meanwhile, the campaign for vice president, which no candidate claims to be competing in, is real for many voters — just as it was in 2019, when many Black Democrats said that Kamala Harris should run for the number two job, and got their wish.

[…]

This part of the GOP base, a dominant faction in many midterm primary contests, isn't crying out for more candidates. But some big donors are — Oracle's Larry Ellison got a shout-out from Scott at his launch rally — and they, along with the candidates and consultants, are still casting around for a savior.

Ex-Maryland Gov. Larry Hogan abandoned his idea of a center-right Trump challenge in March, driving away in what turned out to be a one-car parade. "I made the decision to not enter the race in order to avoid a multi-car pileup like 2016 that enabled Trump," Hogan told The Messenger over the weekend. "A lot of folks seem to have made a different calculation."
Honestly, I think this is overthinking it. People are running for the Republican nomination because there's not an incumbent Republican President. It's what people who have been vice presidents, governors, and senators do.
Part of it's ego, to be sure. You don't get to one of those jobs and not have a big ego. These people really think they're the best person to run the country.
I don't know that anyone actually runs for Vice President. It's a consolation prize, not something worth months of pretending to care about Iowa farmers and New Hampshire breakfast patrons. But it's still a step up for a small state governor or a governor who's been term-limited out of a job. (I'd personally rather be a Senator but it's hard to turn down the offer if the party's nominee makes it.)
I have no idea what motivates people like Ramaswamy. Maybe he has a message he wants to get out. Maybe it's a lark.