Why Congress Won't Stop the Drone War
My latest for World Policy Review, "Oversight or Not, Drones Are Here to Stay," has posted.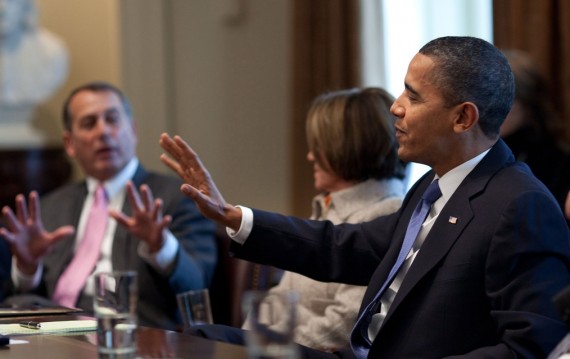 My latest for World Policy Review, "Oversight or Not, Drones Are Here to Stay," has posted.  An excerpt:
 In "The Imperial Presidency: Drone Power and Congressional Oversight," Michael Cohen argues persuasively that the U.S. Congress has abdicated its constitutional and statutory responsibility to reign in the executive branch in matters of national security policy. Then again, few who have been paying attention this past decade — some would say, the past several decades — need much convincing on that point.

Yet, while I agree with Cohen that we desperately need Congress to do its job here as a matter of principle, it's far from clear that it would change our policy.

Cohen cites the extraordinary decision to kill American citizens Anwar al-Awlaki and Samir Khan in a Predator strike in Yemen last September as particularly troubling. While Cohen and I both find risible the administration's claim that its internal deliberations over the assassination of U.S. citizens qualify as their constitutionally guaranteed right to  "due process," it's pretty clear that we're in the minority.

In the immediate aftermath of the raid, President Barack Obama earned effusive praise across the political spectrum.

Rep. Peter T. King, the Republican chairman of the House Homeland Security Committee, issued a statement declaring, "The killing of al-Awlaki is a tremendous tribute to President Obama and the men and women of our intelligence community."

Mitt Romney, already the Republican frontrunner in the race to unseat Obama, called the killing "a major victory in our fight against Islamist terrorism and proper justice for the numerous attacks and plots [Awlaki] inspired or planned against America."

Obama's fellow Democrats were similarly effusive.

Meanwhile, a June survey by the Pew Research Center found that these strikes were equally popular with the American public, with 62 percent approving, "including most Republicans (74 percent), independents (60 percent) and Democrats (58 percent)." And a February ABC News/Washington Post poll found even stronger support. The Post write-up drolly noted, "83 percent of Americans approve of Obama's drone policy, which administration officials refuse to discuss, citing security concerns."
The full article is behind a subscription gateway but it should be available for free to those following the link from OTB.