Why Did Russia Start Oil Price War?
There are two theories, neither of them good.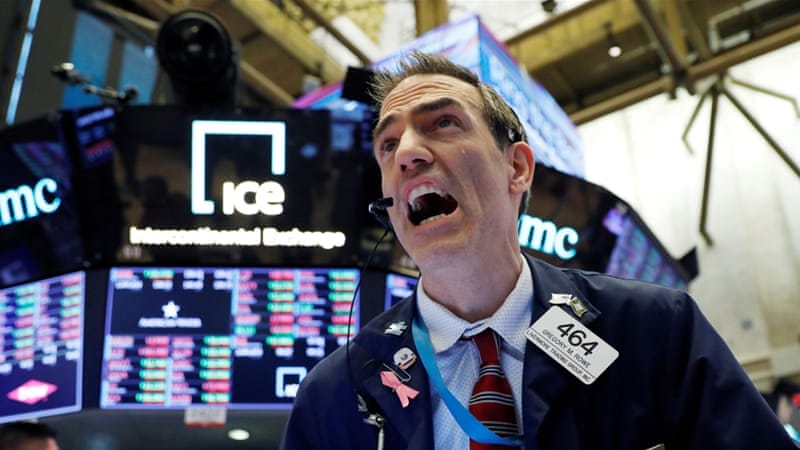 The collapse of a deal between Russia and OPEC to prop up petroleum prices led the Saudis to ramp up production, sending global markets that were already reeling from the coronavirus pandemic into a tailspin.
One nefarious explanation was floated by Bloomberg reporters Ilya Arkhipov, Will Kennedy, Olga Tanas, and Grant Smith ("Putin Dumps MBS to Start a War on America's Shale Oil Industry"):
The Kremlin had decided that propping up prices as the coronavirus ravaged energy demand would be a gift to the U.S. shale industry. The frackers had added millions of barrels of oil to the global market while Russian companies kept wells idle. Now it was time to squeeze the Americans.

[…]

For over three years, President Vladimir Putin had kept Russia inside the OPEC+ coalition, allying with Saudi Arabia and the other members of the Organization of Petroleum Exporting Countries to curb oil production and support prices. On top of helping Russia's treasury – energy exports are the largest source of state revenue – the alliance brought foreign policy gains, creating a bond with Saudi Arabia's new leader, Crown Prince Mohammed bin Salman.

But the OPEC+ deal also aided America's shale industry and Russia was increasingly angry with the Trump administration's willingness to employ energy as a political and economic tool. It was especially irked by the U.S.'s use of sanctions to prevent the completion of a pipeline linking Siberia's gas fields with Germany, known as Nord Stream 2. The White House has also targeted the Venezuelan business of Russia's state-oil producer Rosneft.

"The Kremlin has decided to sacrifice OPEC+ to stop U.S. shale producers and punish the U.S. for messing with Nord Stream 2," said Alexander Dynkin, president of the Institute of World Economy and International Relations in Moscow, a state-run think tank. "Of course, to upset Saudi Arabia could be a risky thing, but this is Russia's strategy at the moment – flexible geometry of interests."
This explanation strikes me as bizarre. World oil prices were already shaky, both because of the radical increase in production from shale that made the US—not Saudi Arabia or Russia—the world's top exporter but especially the decreased demand from China and elsewhere caused by the coronavirus.
While Russia is apparently better positioned to absorb a short-term hit in oil prices than are the Saudis, both economies rise and fall with oil prices. Low prices hurts them both rather substantially. The US, meanwhile, has an incredibly diversified economy.
Secondarily, we're in an election year. Moscow has made no secret that it prefers to keep Donald Trump in office. A weakened economy makes a Biden presidency more likely.
To be sure, a bad economy means more turmoil and perhaps less appetite for cooperation with our NATO allies against Russian expansionism. But it could backfire.
Vox' Alex Ward put out a long explainer on "The Saudi Arabia-Russia oil war" yesterday afternoon and the experts he talked to are also skeptical.
They told me if smaller US companies go bust during this time, bigger American firms like ExxonMobil will just buy their assets. There will be more consolidation — fewer companies in the shale oil industry, perhaps — but America's production won't go away. Russia's play, then, would be doomed to fail.

Which leads to the second and more convincing theory: that Russia decided to make a play for more power in the global oil market. It couldn't do that by agreeing once in a while to cut production with the Saudis. After all, Russian firms still make money if those companies export in even at a time of low prices. The profit margin will be thinner, but they'll still gain customers and some revenue.

"It's all about regaining market share," says [Emily] Meierding[, a Naval Postgraduate School expert on international oil cooperation], and both countries are now in a price and production war.

The problem is that Russia's play and the Saudi response may end up hurting them both. Shares in their national oil companies — Rosneft and Saudi Aramco, respectively — have already dropped. And unlike in 2015-2016 during which China bought up a lot of oil during a period of low prices, there aren't really any buyers like that to pick up the slack right now, as demand is dropping worldwide, Ellen Wald, an oil market expert at the Atlantic Council think tank in Washington, told me.

That makes Russia's decision likely an ill-advised one. It's going to lose revenue in its bid to compete with America while not necessarily gaining strength in the energy marketplace. Saudi Arabia is hoping that lowering prices, which also hurts its own bottom line, will get Moscow to realize that and start cooperating again.
Indeed, there seems no scenario in which this is a smart play by Russia.