Wisconsin Judge: Collective Bargaining Law Not In Effect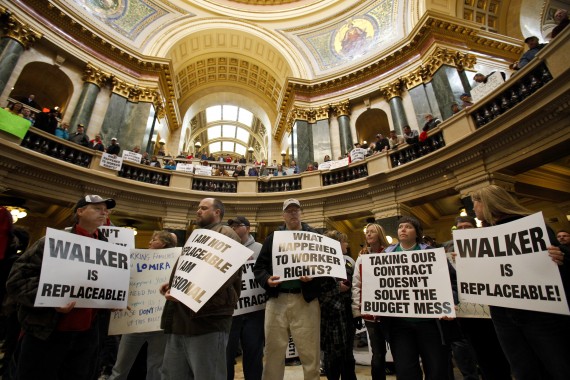 Wisconsin state judge Maryann Sumi has ruled that the state's hotly contested collective bargaining law is not in effect and cannot be implemented:
Wisconsin's new collective bargaining law has not been published and is not in effect, a judge has ordered.

Judge Maryann Sumi ordered Thursday morning that the law "has not been published within the meaning" of Wisconsin law and "is therefore not in effect."

A spokesman for Gov. Scott Walker had no immediate comment, and Senate Majority Leader Scott Fitzgerald, R-Juneau, could not be reached immediately for comment.

But Assembly Speaker Jeff Fitzgerald, R-Horicon, repeated his previous statements that the judge "wants to keep interjecting herself into the legislative process with no regard to the state constitution."

A spokeswoman for the state Department of Administration could not be reached immediately for comment.
Something tells me this isn't quite over yet.