Wisconsin GOP Will Ignore Injunction, Implement Collective Bargaining Law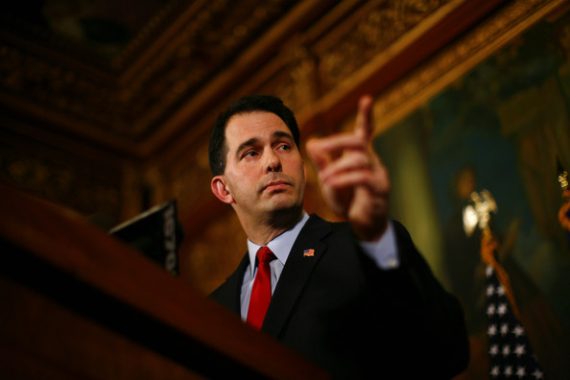 Wisconsin Governor Scott Walker and his Administration are setting themselves up for a showdown with the state's judiciary with their decision to implement the provisions of the recently passed collective bargaining law despite the fact that a state trial court judge has ordered that it not be implemented:
State officials have not stopped putting in place changes to collective bargaining rules for public employees despite a judge's order barring the law's implementation — and a threat of sanctions against anyone who violates it.

Department of Administration Secretary Mike Huebsch said Wednesday he has a legal obligation to implement all laws passed by the Legislature, signed by Gov. Scott Walker and published into law. Huebsch said the Department of Justice and his own legal counsel, a team of DOA attorneys, agree the measure has met those requirements "and is now effective law."

"It is my duty to administer that law," he said.

Huebsch's latest comments raise questions about whether he or others could face sanctions following a hearing Tuesday, when Dane County Circuit Judge Maryann Sumi said any further implementation of the law is prohibited under a temporary court order.

"Now that I've made my earlier order as clear as it possibly can be, I must state that those who act in open and willful defiance of the court order place not only themselves at peril of sanctions, they also jeopardize the financial and the governmental stability of the state of Wisconsin," Sumi said Tuesday.

(…)

Huebsch said the legal effect of Sumi's order on his ability to implement the law is "unclear." Changes under the law were being implemented this week, but public employees won't see them until their April 21 paychecks, with increases in health insurance premiums and retirement contributions, as well as a stop to automatic collection of union dues, Huebsch said Monday.

Huebsch pointed out that the DOA is not a party to the lawsuit and said Sumi's order fails to state the law is not in effect. "It is unclear how she can issue an order binding non-parties to a case who have not had their day in court," he said.
The letter of the injunction may give Huebsch some breathing room here, but it's quite apparent that any further implementation of the law would violate the spirit of Judge Sumi's ruling, and that she's likely to look unkindly on any effort to implement the law in defiance of her order.  This is likely to come up when Sumi holds another hearing in the case tomorrow, at which point she could end up expanding the scope of her injunction yet again, or sanctioning the Governor's attorneys for violating her order.
It strikes me that Walker and the GOP are playing with fire here. Rather than trying to openly defy a Court Order, with the inevitable consequences that are likely to result, it would be far more appropriate for them to challenge the TRO through the appellate process, which they are in fact already doing. Acting in this manner carries with it the risk of being held in contempt, and as Allahpundit notes, that would only serve to hand a huge strategic victory to their opponents.