Wisconsin Judge Issues Injunction Against Implementing Collective Bargaining Law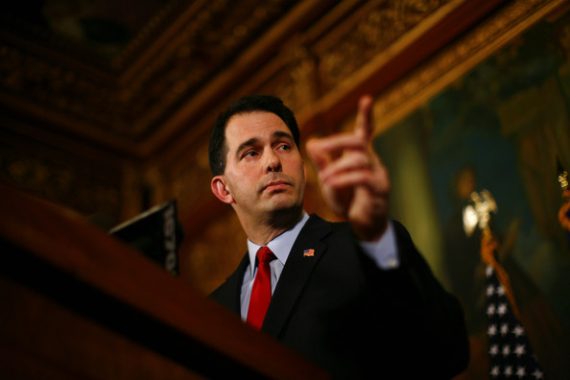 Not surprisingly given the disputes that had arisen over exactly what her original injunction actually covered, a Wisconsin Judge has issued a second injunction barring any aspect of the law from being implemented:
Madison – A Dane County judge Tuesday blocked the state from implementing Gov. Scott Walker's collective bargaining measure.

"Further implementation of the act is enjoined," said Dane County Judge Maryann Sumi.

Sumi noted her original restraining order issued earlier this month was clear in saying that the state should not proceed with implementing the law. The Walker administration did so after the bill was published Friday by a state agency not included in Sumi's earlier temporary restraining order.

"Apparently that language was either misunderstood or ignored, but what I said was the further implementation of Act 10 was enjoined. That is what I now want to make crystal clear," she said.

But minutes later, outside the court room, Assistant Attorney General Steven Means said the legislation "absolutely" is still in effect.

Assembly Minority Leader Peter Barca (D-Kenosha) balked at that statement.

"It's just startling that the attorney general believes you should not follow court orders anymore," he said.

The restraining order is in effect until Friday, when more testimony will be taken. At that point, Sumi could rule on whether the law should be suspended for a longer period.
I'll confess to being somewhat astounded that the Attorney General would think that the state can simply ignore this injunction without applying for further relief from an appeals court to get the order stayed. Additionally, what makes this entire episode even more odd is the fact that we're merely dealing with a Temporary Restraining Order here:
Sumi noted she has not yet found that lawmakers violated the open meetings law, but noted the Legislature could resolve the matter by passing the bill again. Andrew Welhouse, a spokesman for Senate Majority Leader Scott Fitzgerald (R-Juneau), said there are no plans to try to pass the bill again.
Additionally, the original TRO is currently under appeal. In the end, one wonders why Walker and the Wisconsin Republicans don't simply resubmit the bill and hold the meetings in compliance with the Open Meetings Law. In the end, nothing, not even a repeat of the runaway Senate Democrats, could stop them from passing the bill now that it's been stripped from the underlying budget bill (at least based on my understanding of the relevant rules in the Wisconsin Senate). Like I said, it's all just a very odd situation.