With Bad News Looming In New Hampshire, Clinton Looks To Reorganize Campaign
With Bernie Sanders likely to win New Hampshire tonight, Hillary Clinton is reportedly looking to reorganize her campaign.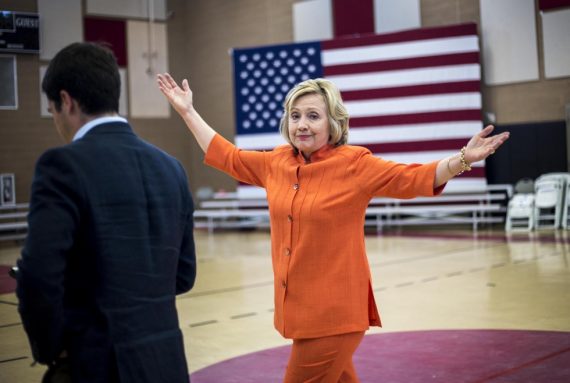 With New Hampshire voters seemingly set on delivering a big win to Vermont Senator Bernie Sanders in the Democratic Primary and a month in which her campaign has seemingly struggled to regain the footing it had lost with the start of the New Year, Politico reports that Hillary Clinton is considering a staff shakeup at the top of her campaign:
Hillary and Bill Clinton are so dissatisfied with their campaign's messaging and digital operations they are considering staffing and strategy changes after what's expected to be a loss in Tuesday's primary in New Hampshire, according to a half-dozen people with direct knowledge of the situation.

The Clintons — stung by her narrow victory in Iowa and shocked by polls showing her losing by as much as 20 percent here — had been planning to reassess staffing at the campaign's Brooklyn headquarters after the first four primaries, but the Clintons have become increasingly caustic in their criticism of aides and demanded the reassessment sooner, a source told POLITICO.

The talk of shake-up echoes what happened in 2008 — when Clinton was on the verge of sacking her campaign manager and several top communications officials — before her surprise win in New Hampshire bailed out her beleaguered staff. Over time, however she slowly layered over top officials, essentially hiring old hands — like Hillaryland stalwart Maggie Williams and pollster Geoff Garin — to run the campaign while the previous staffers were quietly relegated to subsidiary positions.

It's not clear whether that will happen again, but several people close to the situation said Clinton would be loath to fire anyone outright and more inclined to add new staff.

"The Clintons are not happy and have been letting all of us know that," said one Democratic official who speaks regularly to both. "The idea is that we need a more forward-looking message, for the primary — but also for the general election too. … There's no sense of panic, but there is an urgency to fix these problems right now."

In an interview with MSNBC's Rachel Maddow, taped shortly after the first version of this story was posted, Clinton denied that she planned to fire anybody — but said a reappraisal of the campaign was only natural as the primaries progressed.

"I have no idea what they're talking about or who they are talking to," said to Maddow, who dismissed the POLITICO report as "gossip" in asking the candidate about the story.

Still, Clinton added: "We're going to take stock but it's going to be the campaign that I've got. I'm very confident in the people that I have. I'm very committed to them; they're committed to doing the best we can. We're going to take stock, what works, what doesn't work. We're moving into a different phase of the campaign. We're moving into a more diverse electorate. We're moving into different geographic areas. So, of course it would be malpractice not to say, "OK, what worked? What can we do better? What do we have to do new and different that we have to pull out?"
To a large degree, of course, it's likely that these reports of an impending shakeup at the top of Clinton's Brooklyn-based campaign are meant to address the concerns that have no doubt built up among top Democrats and donors as they've watched Clinton's campaign seemingly flounder while while Bernie Sanders continues to do far better than most observers expected with a populist, 'progressive' message that has resonated quite strongly with many parts of the Democrats base. In addition to doing far better than many expected in Iowa, Sanders' double digit lead in the Granite State would seem to guarantee that he'll pull of a fair easy victory tonight, thus setting Clinton up with a near-loss and a loss to start off a race that many had thought would be hers walking away, especially given the fact that her primary opponent is someone who doesn't look like a viable General Election candidate for the 21st Century. While Clinton remains far better positioned than Sanders in the wake of New Hampshire and Iowa, the fact that she would essentially be fighting to regain the lead from behind and relying on voters in Nevada, South Carolina, and the SEC Primary states to save her. Additionally, campaign shakeups such as this aren't uncommon during the course of a campaign. Sometimes, things don't go as planned, the voters don't react to issues the way you thought they would, and an opponent proves to be more resilient than expected. For a campaign or a candidate not to respond to those changes would be the height of stupidity and arrogance.  It's a strategy that will probably work in the end, but it's far from ideal and it will require both few mistakes from a campaign that has already stumbled quite a bit and a Democratic donor and political base that is satisfied that the campaign has righted itself after two embarrassing defeats.
Shaking up the campaign may be just what Clinton needs to turn her campaign around going forward. As I've noted before, she stands on much firmer round in the upcoming primaries in Nevada and South Carolina, this isn't the first time that we've seen issue with a Hillary Clinton for President campaign. Eight years ago, Clinton appeared poised for history but ended up facing a stiffer than expected challenge in the form of Barack Obama. While Bernie Sanders is no Barack Obama and there are clearly identifiable reasons why he is resonating with the public, it does seem as though many of the same issues that plagued Clinton's campaign in 2008 are popping up again in 2016 even though there are different people at the top. All of this led David Axelrod, who was among Obama's top strategists in 2008 and 2012 but has stayed largely on the sidelines in 2016, to make this subtle point on Twitter:
When the exact same problems crop up in separate campaigns, with different staff, at what point do the principals say, "Hey, maybe it's US?"

— David Axelrod (@davidaxelrod) February 8, 2016
Many observers seem to be taking this as Axelrod criticizing Clinton as a candidate, and perhaps there is something of that going on here, but as the Politico article linked above notes, one of the most important points about the 2016 Clinton campaign is the manner in which it's organized. Unlike her 2008 campaign, where chief strategist Mark Penn stood more or less at the top as the final and sole 'buffer' between the staff and the candidate, there doesn't appear to be a single person at the top of Clinton 2016. In part, the decision to organize the campaign in this manner seems to have been in response to the criticisms of Penn during the 2008 campaign, This overcompensation is arguably hampering the campaigns ability to respond to daily development. Since the organization of the campaign is something the candidate is responsible for, Axelrod's comments are, arguably, a comment about the candidate herself more than they are about the campaign and the way it's being run. Of course, it's far easier to shuffle the deck chairs on a campaign than it is to change the fundamental nature of a candidate so that's the best they'll be able to do going forward. In the end, whatever reorganization Clinton does will probably end up being enough to hold off Bernie Sanders easily in the end, but the issues that all of this seems to raise when it comes to Clinton's ability to delegate decision making will not.