World Net Daily Pulls Jerome Corsi's Birther Book, Will Destroy All Copies [Or, Maybe Not]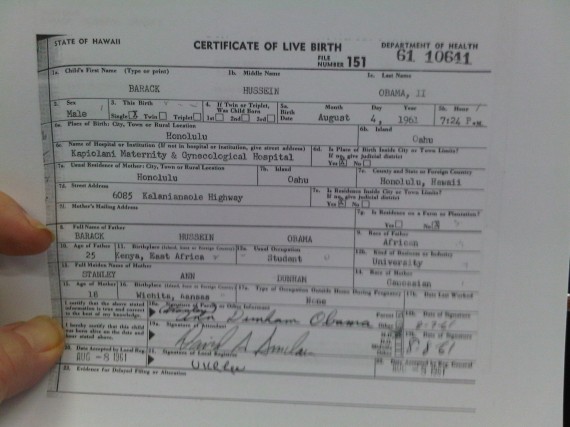 As Steven Taylor noted back in April, "investigative reporter" Jerome Corsi was to have come out this month with a book contending to prove that Barack Obama is not eligible to be President. Now, it's publisher, World Net Daily publisher Joseph Farah, has pulled the book and appears to be backing away from the entire birther story completely:
In a stunning development one day after the release of Where's the Birth Certificate? The Case that Barack Obama is not Eligible to be President, by Dr. Jerome Corsi, World Net Daily Editor and Chief Executive Officer Joseph Farah has announced plans to recall and pulp the entire 200,000 first printing run of the book, as well as announcing an offer to refund the purchase price to anyone who has already bought either a hard copy or electronic download of the book.

In an exclusive interview, a reflective Farah, who wrote the book's foreword and also published Corsi's earlier best-selling work, Unfit for Command: Swift Boat Veterans Speak out Against John Kerry and Capricorn One: NASA and the Great "Moon Landing" Cover-Up, said that after much serious reflection, he could not go forward with the project. "I believe with all my heart that Barack Obama is destroying this country, and I will continue to stand against his administration at every turn, but in light of recent events, this book has become problematic, and contains what I now believe to be factual inaccuracies," he said this morning. "I cannot in good conscience publish it and expect anyone to believe it."

When asked if he had any plans to publish a corrected version of the book, he said cryptically, "There is no book." Farah declined to comment on his discussions of the matter with Corsi.

A source at WND, who requested that his name be withheld, said that Farah was "rip-shit" when, on April 27, President Obama took the extraordinary step of personally releasing his "long-form" birth certificate, thus resolving the matter of Obama's legitimacy for "anybody with a brain."

"He called up Corsi and really tore him a new one," says the source. "I mean, we'll do anything to hurt Obama, and erase his memory, but we don't want to look like fucking idiots, you know? Look, at the end of the day, bullshit is bullshit."
Of course, this was BS long before April 27th but WND still fanned the flames.
Update: Given that the Esquire piece linked here is tagged "humor," it looks like its parody. My apologies