Would Subjecting Women To The Draft Make War Less Likely? Of Course Not
It's been suggested that subjecting women to a possible draft would make leaders less likely to go to war. Unfortunately, there's no reason to believe this is true.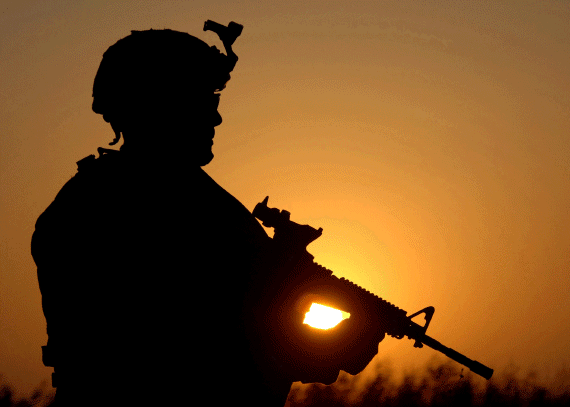 As I noted earlier, the Chiefs of the Army and the Marine Corps told Congress earlier this week that women should be required to register for the draft just like men, especially now that the military is in the process of opening combat roles to women physically able to meet the requirements of those roles. Taking that recommendation to heart, Sarah Feinberg at Rare argues that there could be a side benefit to making women potentially subject to the draft, namely that it might make political and military leaders less likely to take the nation to war to begin with:
As a female Marine who served in Iraq, I appreciate all the brave men along the way who told me that women should not be in the military and should certainly never be in combat. Making the Selective Service equal opportunity allows these men an opportunity to demonstrate their chivalry.

If these noble men don't want their wife, daughter, or sister sent to an unpopular war, they must volunteer themselves or vigorously oppose the military effort. It certainly changes the debate.

America faces real enemies and our citizens recognize those threats. Sometimes these threats require an expanded military force.

But when young mothers and college girls are sent against their will to serve in a war that cannot attract a volunteer force, our citizens and politicians may reconsider their commitment to that war. And that's a good thing.
The basic premise of this argument, of course, is that political leaders will somehow be more cautious about taking the nation to war if the possibility exists that it could potentially mean putting the lives of tens or hundreds of thousands of young women's lives as risk than they would be if all they have to worry about is putting the lives of men at risk. It's also a fairly clever argument because it takes the inherent sexism of those who argue against women serving alongside men in the military and turns it into an argument in favor of a more restrained foreign policy, thus in some ways exposing the absurdity of those who argue against women in the military in general, or combat roles specifically, for everyone to see. As I said in my first post on this topic, if women are able to meet the physical requirements of a combat role then there seems to me to be no reason why they should not be free to compete for those roles in the modern military. Moreover, even if you leave combat roles out of the equation, women have already been fully integrated into the modern military and regularly perform roles that have exposed them to combat and near-combat situations throughout the nation's most recent military engagements. One need only ask former members of the military such as Jessica Lynch and Congresswoman Tammy Duckworth, who served as a helicopter pilot in Iraq, a role that required her to go into combat zones on a regular basis and during which she was severely injured to the point of losing both her legs during a mission that encountered hostile fire. Feinberg's argument, obviously, is that if future military actions made cases like Lynch's and Duckworth's more likely in the future, then military leaders might be less likely to take the nation to war.
While this is an interesting point to ponder, there's simply no reason to believe that it's true, or that potentially subjecting women to the draft would have any significant impact on American foreign and military policy.
The first flaw in Feinberg's argument goes to a point I made in my earlier post, namely that the odds of a draft ever being implemented again in the United States are exceedingly low. The types of conflicts that the nation is likely to fight in the near future are not of the type that would require the kind of mass ground forces that a draft has traditionally been used for, and that is the only type of war that a draft is really well-suited for. Instead, future conflict will likely involve small, discrete forces as well as the use of technology such as drones and other equipment that requires extensive training that isn't appropriate or possible in a draftee context. Even a basic ground forces solider today makes use of equipment, techniques, and tactics that can't easily be taught in the amount of time that would be available to train draftees in the middle of an ongoing war. Indeed, when questioned on the matter in the past, military leaders have expressly ruled out the idea of returning to a draftee military for many of the reasons I mention here and also because the professionally trained, volunteer military has worked exceedingly well for the United States for the past forty-odd years. Finally, as a political matter it seems fairly clear that bringing back the draft would be a non-starter absent some kind of extreme national emergency that would likely lead many young men and women to volunteer for service in any case, just as many Americans did in the wake of the September 11th attacks. Given this, and given the fact that none of the nation's conflicts over the past forty years have come close to making a draft likely, the odds that extending registration to women would act as a significant restraint on foreign policy seem to be somewhere between minimal and non-existent.
What Feinberg's argument forgets, though, is the fact that we already have evidence to show that the possibility of putting young women at risk in combat or quasi-combat situations has not impact at all on the decision to take the nation to war or engage in military intervention around the world that falls short of war. For decades now, women have been serving in positions in the volunteer military that put them in or near combat situations on a regular basis. They have been injured, killed, and captured as prisoners enough times now that one would think that the nation's political and military leaders are well aware that their decisions are putting women and men, daughters and sons, mothers and fathers, at risk on a regular basis. Despite this, we've seen the nation engage in military action that has often been reckless, ill-advised, and even unjustified and unnecessary several times over the past forty years. Obviously, the potential threat to the America's female volunteer Marines, soldiers, sailors, and members of the Air Force was not a significant restraint on policy makers in those situations, so there's no reason to believe that this would change if women were suddenly required to register for the draft.
If the American people want their leaders to be more restrained and rational in their foreign policy decisions, they're going to have to be more careful about who they elect. A cosmetic change such as requiring women to register for the draft is unlikely to change anything at all.