Yearly Reminder: Dr. King Had A Lot More To Say Than That One Sentence
My (apparently) annual reflections on "The content of their character" day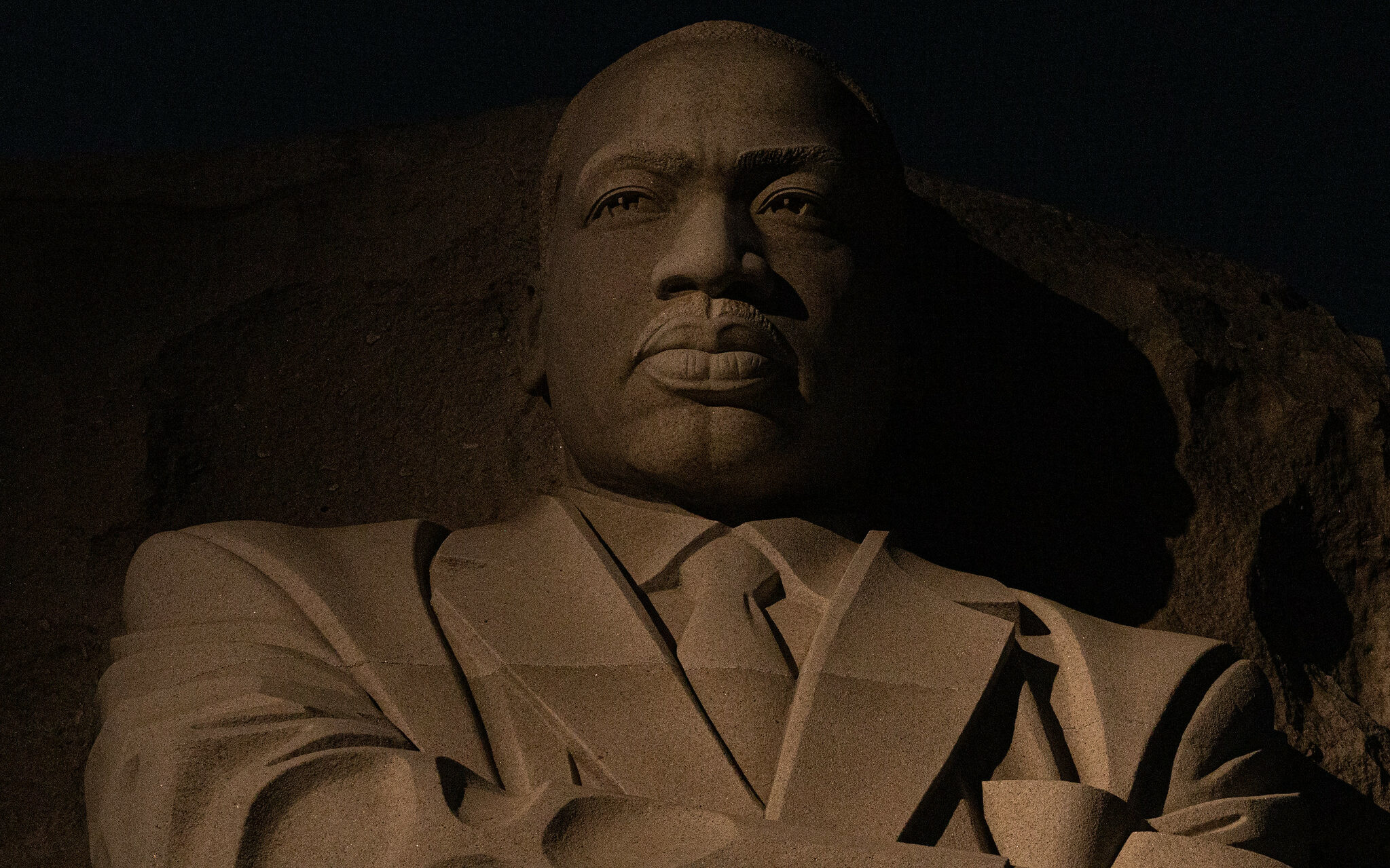 Another Dr. Martin Luther King Jr. day is upon us. And for me, this marks a bit of an anniversary as well. It was a little more than a year ago that our hosts were gracious enough to let me start contributing to OTB again. One of my first posts from that time addressed the pattern of right-wing and populist politicians celebrating their version of the great man's legacy; a legacy neutered and boiled down to one of the most famous English sentences of the twentieth century: "I have a dream that my four little children will one day live in a nation where they will not be judged by the color of their skin but by the content of their character."
My issue was not with the value or importance of that quote, but rather how decontextualizing it* from the rest of the "I have a dream" speech, let alone the rest of Dr. King's work, robs our memory of the revolutionary aspect of Dr. King and turns the man into a symbol to be claimed by people who would have resented his work then and most likely would resent the man today if he was still with us. Case and point, see this recent work by MAGA troll-painter Jon McNaughton: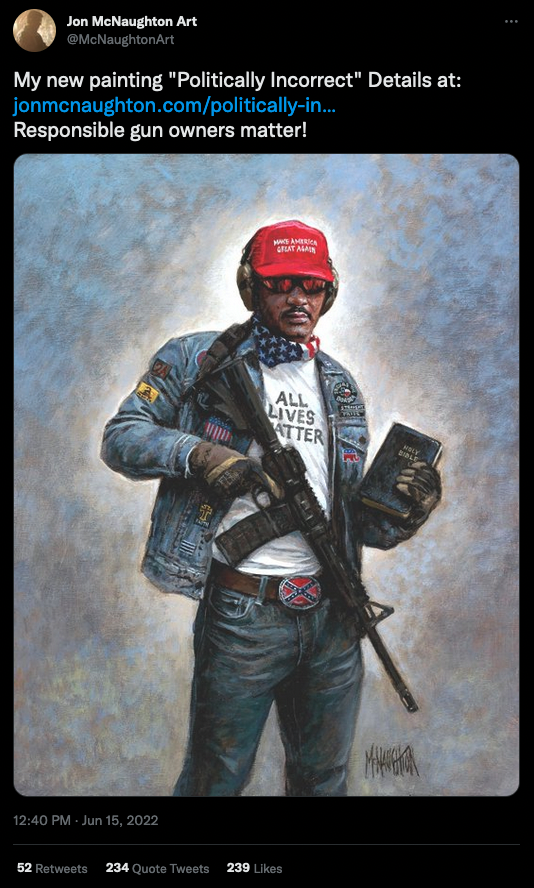 Yeah… I got nothing for this. Moving on.
Actually, before moving on from Twitter, I need to give it up for Ben Shapiro, of all people. The well-known galaxy brain took a step away from revolutionizing the field of political science to acknowledge (1) Dr. King in fact held a lot of revolutionary viewpoints, and (2) also that those viewpoints are intentionally memory-holed by most on the right because they don't fit their worldview:
You see, the right does celebrate his legacy, but only for the parts they like. Which just happens to be… checks notes… one sentence.
Yet, if we are being honest, those same revolutionary edges also create a lot of discomfort on the center-left too. Especially when his views are tied to "scary" (for some) concepts like Critical Race Theory (which definitely builds upon Dr. King's work). Many will point to historic moments that prove how far we have come since the March on Washington, in particular, Obama's historic presidency and now Hakeem Jeffries's position as the Minority Leader of the House. Surely those great leaps forward would moderate Dr. King's fire and he'd be ready to get onto the feel-good "character" part. Surely, Dr. King would reject CRT as it appears to run in direct opposition to that holy sentence.
I'm a firm believer that if one wants to play hypotheticals with an ancestor, it's best to look to their own texts for clues about what they might think of today's events. Amazingly, returning to the body of the "I have a dream" speech, one finds this passage that reminds us that despite how far we have come, how much work remains to be done:
There are those who are asking the devotees of civil rights, when will you be satisfied? We can never be satisfied as long as the Negro is the victim of the unspeakable horrors of police brutality. We can never be satisfied as long as our bodies, heavy with the fatigue of travel, cannot gain lodging in the motels of the highways and the hotels of the cities.

We cannot be satisfied as long as the Negro's basic mobility is from a smaller ghetto to a larger one. We can never be satisfied as long as our children are stripped of their selfhood and robbed of their dignity by signs stating: for whites only.

We cannot be satisfied as long as a Negro in Mississippi cannot vote and a Negro in New York believes he has nothing for which to vote.

No, no, we are not satisfied, and we will not be satisfied until justice rolls down like waters, and righteousness like a mighty stream.

https://www.npr.org/2010/01/18/122701268/i-have-a-dream-speech-in-its-entirety
H/T to Rabbi Danya Ruttenberg for calling out this passage in a recent tweet.
While some of these things have been addressed (thankfully there is generally no need for a green book anymore), some of those sentences are still very much at the center of our current discussions about the realities of being Black in America. Yes, there have been improvements, but Black Americans still are disproportionately impacted by the Criminal Legal System and, as of the 2020 census, trailing all racial groups in terms of intergenerational wealth building. And, then there are the efforts to suppress black voters across the county too.
So, call me crazy, but I tend to think that, while he'd acknowledge the very real progress made, were he with us today, Dr. King would still put all the focus on the work that was yet to be done. And I imagine that message might go a little like this:
"Now to be sure there has been some progress, and I would not want to overlook that. We've seen that progress a great deal here in our Southland. Probably the greatest area of this progress has been the breakdown of legal segregation. And so the movement in the South has profoundly shaken the entire edifice of segregation. And I am convinced that segregation is as dead as a doornail in its legal sense, and the only thing uncertain about it now is how costly some of the segregationists who still linger around will make the funeral. And so there has been progress. But we must not allow this progress to cause us to engage in a superficial, dangerous optimism. The plant of freedom has grown only a bud and not yet a flower.
…
It is now a struggle for genuine equality on all levels, and this will be a much more difficult struggle. You see, the gains in the first period, or the first era of struggle, were obtained from the power structure at bargain rates; it didn't cost the nation anything to integrate lunch counters. It didn't cost the nation anything to integrate hotels and motels. It didn't cost the nation a penny to guarantee the right to vote. Now we are in a period where it will cost the nation billions of dollars to get rid of poverty, to get rid of slums, to make quality integrated education a reality. This is where we are now."

MLK: The Three Evils speech: https://www.nwesd.org/ed-talks/equity/the-three-evils-of-society-address-martin-luther-king-jr/
Arguably, I think the one thing that might change about Dr. King's approach would be to make more efforts to tie the plight of Black folks to that of poor White folks.
During my late teens I worked two summers, against my father's wishes—he never wanted my brother and me to work around white people because of the oppressive conditions—in a plant that hired both Negroes and whites. Here I saw economic injustice firsthand, and realized that the poor white was exploited just as much as the Negro. Through these early experiences I grew up deeply conscious of the varieties of injustice in our society.

https://kinginstitute.stanford.edu/king-papers/documents/my-pilgrimage-nonviolence
Hat tip to OTB Commenter Gavin for this reference!
Dr. King was already taking steps towards that prior to his assassination, standing in support of organized labor unions. And being an astute politician and organizer, this would be a natural evolution (which was also signaled in the "Three Evils" speech as well). But despite that, I don't think forging those alliances would have greatly tempered the man's revolutionary aspirations. Because if we take it at face value that he dreamt of a world where his children might be judged for the contents of their character, then we must also take it at face value that in order to be satisfied that we reach that world justice must first "roll down like waters, and righteousness like a mighty stream."
And given that it's taken us generations to get where we are, some might say starting around 1619 (if not before), it's going to take us generations to heal those harms and make amends.
Still, all good work is generational, and working towards equity is indeed good work.
In the meantime, a contemplative Dr. Martin Luther King Jr day to all who observe it. And if you are looking for a good read, Responsible Statecraft has a provocative short essay on the continued relevancy of Dr. King's anti-war views.
(Or, perhaps just chuckle at the well-intentioned, if not executed, artistic celebration of the great man and his wife that just debuted in the city where they first met. It's a testament to "just because you can, doesn't mean you should" or "maybe someone should have mentioned when they cast the mold how at least from some angles it really doesn't look like what was intended.")
---
* – Reducing Dr. King to a sentence is not unique to the Right. As we were reminded in 2020, there are many of my fellow travelers on the more progressive end of the spectrum who seem to think that the thing he wrote was "In the final analysis, a riot is the language of the unheard. And what is it that America has failed to hear?"