In honor of MLK, some dubious tweets & a lesser-known speech
Once again, today marks a day where folks who would never have supported Dr. King decide they should praise him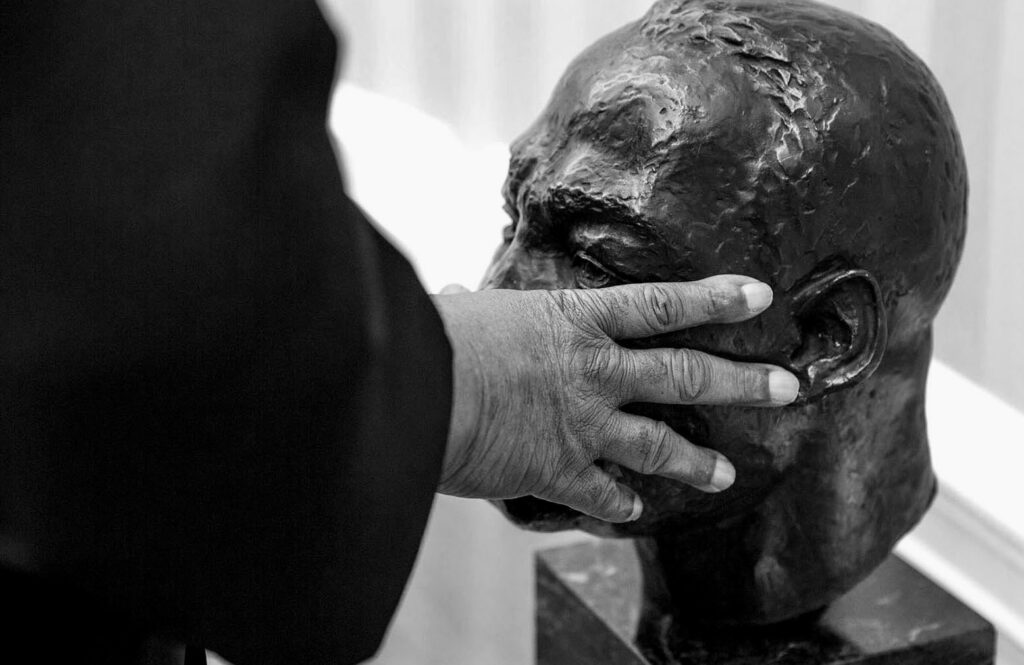 Another MLK day is upon us, and as usual, a lot of people who have taken positions antithetical to Dr. King are using it as a day to praise a man they most likely never would have supported during his life. As regular commenter Dude Kembro noted in today's open thread, it's important to recognize that Dr. King was a divisive future during his day. The last Gallup poll to measure public opinion on him found that, in 1966, it was 32% positive and 63% negative. To put that in context, a recent Civis poll on BLM found that 44 percent of respondents said they support the Black Lives Matter movement, 43 oppose it.
Let that sink in for a moment: BLM is more popular today than Dr. King was three years after the March on Washington and one year after the passage of the Voting Rights Act.1
The years since Dr. King's assassination have been far kinder to the man. In death, he has become a revered national figure. This brings us to the first Tweet I wanted to share:
First, I highly recommend anyone with a Twitter account follow Nicholas Grossman, who beyond being an international relations and terrorism expert, is an editor on the excellent Arc Digital publication. I also think he's entirely correct about this phenomenon. And here are a few Tweets2 and other media appearances as evidence to back it up.
To kick things off we have Senator Marco Rubio getting an "honorable mention" (seriously) for bucking the trend and quoting a section of the "I have a dream" speech that most Americans are unfamiliar with:
Devoid of its context, this excerpt seems to be a "feel-good" statement that applies to all Americans. However, it's actually setting up a gut punch. Here are the sentences that immediately follow:
"This note was a promise that all men, yes, black men as well as white men, would be guaranteed the inalienable rights of life liberty and the pursuit of happiness. It is obvious today that America has defaulted on this promissory note insofar as her citizens of color are concerned. Instead of honoring this sacred obligation, America has given its colored people a bad check, a check that has come back marked 'insufficient funds.'"

https://www.npr.org/2010/01/18/122701268/i-have-a-dream-speech-in-its-entirety
But that was 1966 you say, surely after the Voting Tights act was passed Dr. King would have seen his work as done. As we will see, Dr. King, even after the success of the Voting Rights Act, saw that debt as being far from paid in full (skip to the second half of this post for more on that). I'm not as confident that Rubio would agree that full passage or would think it continues to have policy implications today.
Still kudos to Rubio, or the staffer in charge of his Twitter account, for not going with the obvious line–they get points for the effort.
The same cannot be said for the new Governor of Virginia who kicked the birthday weekend on Fox News off by using that familiar passage from MLK's "I have a dream" speech to defend his banning of Critical Race Theory (CRT) in Virginia Schools:
"[I]n the immortal words of Dr. Martin Luther King Jr., we're called to judge one another based on the content of our character and not the color of our skin," Youngkin said. "And that's why there's no place for critical race theory in our school system, and why, on day one, I'm going to ban it."
As has been noted numerous times, the full text of the "I have a dream" speech would most likely fail most CRT bans (given its focus on racial inequality and discussion of structural racism). It, like many of MLK's writings and speeches, helped create a foundation for CRT.
Despite his hard stance on CRT, Govorner Youngkin still marked today praising Dr. King and his legacy on Twitter. I wonder if he knew that Dr. King once had the audacity to say: "White America must recognize that justice for black people cannot be achieved without radical changes in the structure of our society."
Here's another example of Grossman's argument via Senator Marsha Blackburn:
Blackburn, a fierce defender of the filibuster, might be surprised to learn that Dr King held a different position:
"I think the tragedy is that we have a Congress with a Senate that has a minority of misguided senators who will use the filibuster to keep the majority of people from even voting. They won't let the majority senators vote. And certainly they wouldn't want the majority of people to vote, because they know they do not represent the majority of the American people. In fact, they represent, in their own states, a very small minority."

https://www.washingtonpost.com/history/2022/01/04/mlk-filibuster/
Blackburn also as recently as two days ago tweeted out her anti-CRT opinions:
We've already covered that topic above. So let's move on to Texas Governor Greg Abbott:
In the last year, Abbott's state was apparently inspired by Dr. King's legacy to enact voting restrictions, audit the 2020 presidential election (to try to find malfeasance), and is currently facing at least 20 Voting Rights Act lawsuits (including one from the Justice Department). I suspect that Dr. King would have expressed some opinions on all of those actions.
However, this year, one Tweet rises above the pack for its tone-deafness. In fact, in terms of brashness, it might even top the moment, two years ago, when the Trump Administration chose MLK Day to release its "1776 Report". Without further ado, I give you:
I'm not sure anything could prove Grossman's point more than the agency that literally surveilled and harassed MLK during his lifetime–which internally branded him a domestic threat–celebrating him in death as an inspiration.
For me, beyond drafting this salty post, I'm celebrating today by revisiting one of King's last speeches: The Three Evils of Society. Given in 1967, less than a year before his death, the speech captured how his mission had evolved in the four years since the March on Washington. I also remain convinced, with its discussions of structural racism and an inherent social bias against Black folks it most likely would be banned by the current crop of CRT restrictions. Take for example passages like:
"There can be no gainsaying of the fact that racism is still alive all over America. Racial injustice is still the Negro's burden and America's shame. And we must face the hard fact that many Americans would like to have a nation that is a democracy for white Americans but simultaneously a dictatorship over black Americans. We must face the fact that we still have much to do in the area of race relations."
King does acknowledge progress, while clearly articulating it hasn't been enough:
"Now to be sure there has been some progress, and I would not want to overlook that. We've seen that progress a great deal here in our Southland. Probably the greatest area of this progress has been the breakdown of legal segregation. And so the movement in the South has profoundly shaken the entire edifice of segregation. And I am convinced that segregation is as dead as a doornail in its legal sense, and the only thing uncertain about it now is how costly some of the segregationists who still linger around will make the funeral. And so there has been progress. But we must not allow this progress to cause us to engage in a superficial, dangerous optimism. The plant of freedom has grown only a bud and not yet a flower. And there is no area of our country that can boast of clean hands in the area of brotherhood. Every city confronts a serious problem."
In fact King's words feel especially relevant today:
Now there are those who are trying to say now that the civil rights movement is dead. I submit to you that it is more alive today than ever before. What they fail to realize is that we are now in a transition period. We are moving into a new phase of the struggle. For well now twelve years, the struggle was basically a struggle to end legal segregation. In a sense it was a struggle for decency. It was a struggle to get rid of all of the humiliation and the syndrome of depravation surrounding the system of legal segregation. […] The new phase is a struggle for genuine equality. It is not merely a struggle for decency now, it is not merely a struggle to get rid of the brutality of a Bull Connor and a Jim Clark. It is now a struggle for genuine equality on all levels, and this will be a much more difficult struggle. You see, the gains in the first period, or the first era of struggle, were obtained from the power structure at bargain rates; it didn't cost the nation anything to integrate lunch counters. It didn't cost the nation anything to integrate hotels and motels. It didn't cost the nation a penny to guarantee the right to vote. Now we are in a period where it will cost the nation billions of dollars to get rid of poverty, to get rid of slums, to make quality integrated education a reality. This is where we are now.
At the time of the speech, "equity" was not being used in the same way it is today within the rights movement, but King's words, in particular those I emphasized above, are incredibly similar to today's understanding of the term. Those words, and others in this speech (not to mention his other speeches) also highlight the attention King payed to what we today term structural racism.
This was a dangerous speech to make then. It would still be a dangerous speech to make in many places of the US today. And that's before we got the the other two of King's Evils: poverty and war. You can find an abbreviated version of the speech at The Atlantic, the full text here, and a recording of the speech on Youtube (embedded below).
In the meantime, I'll leave you with the charge Dr King's left us with (also from the speech):
"We've never made any gain in civil rights without constant, persistent, legal and non-violent pressure. Don't let anybody make you feel that the problem will work itself out."
---
1 – There is an argument that can be made towards the success of Dr. King's work is that BLM at this moment is more popular than he was at the end of his life.
2 – Some eagle-eyed whatabouters will note that I didn't highlight any liberals engaging in similar behavior. There just weren't as many examples readily available today. However, that doesn't mean they don't exist. The left tends to secularize Dr. King and often doesn't talk about how deeply his mission was tied to his personal faith. Likewise, there has been a trend to use explanatory phrases like "a riot is the language of the unheard" in ways that often imply it was a moral justification for violence. That was never Dr. King's intent, and that is made clear in the original texts where the phrase is used.