You Can Have Your Own Facts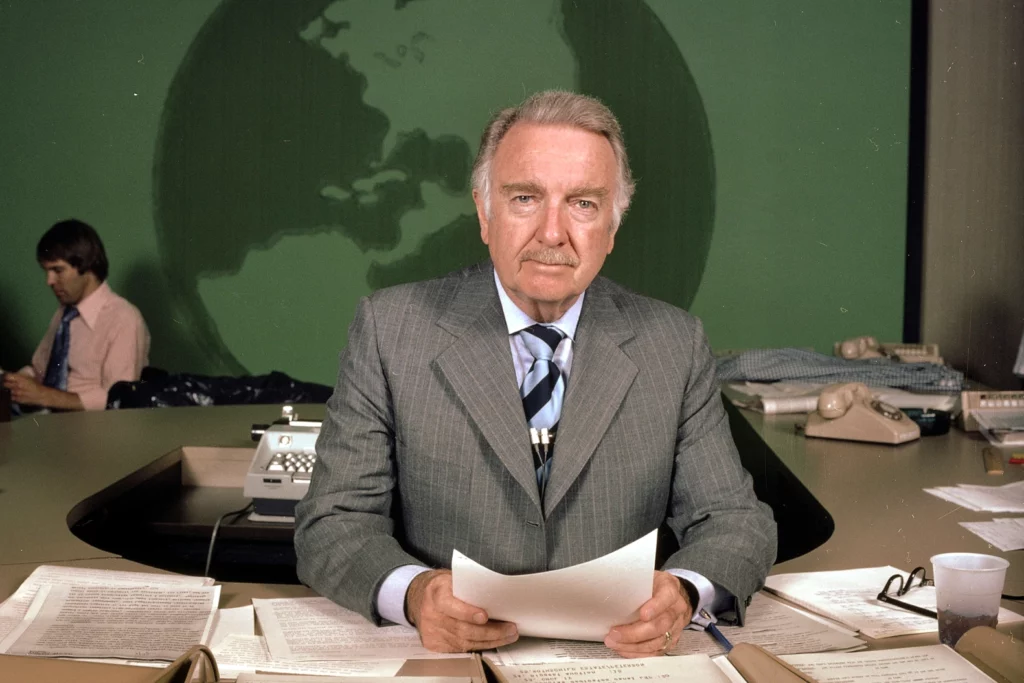 YouGov has released its annual Trust in Media survey. The takeaway:
The Weather Channel remains the most trusted news source among Americans overall. Americans are 53 points more likely to call The Weather Channel trustworthy as they are to call it untrustworthy. It's also the only outlet that YouGov asked about that more Democrats (+64) and Republicans (+47) trust than the shares who distrust it. The Weather Channel is just one of two outlets polled about that a majority of Republicans trust; the other one is Fox News (56% of Republicans trust it, with a net trust score among them of +41).

When it comes to the national rankings, The Weather Channel is followed by national public broadcaster PBS (+30), the U.K. news outlet BBC (+29), and The Wall Street Journal (+24) in national trust. This year's poll has the same group in the top four as last year's poll — even with the additions to this year's poll. 
The inclusion of The Weather Channel as a news outlet rather baffles me.
It's noteworthy that the survey was conducted April 3-9, a few days before Fox News' huge settlement with Dominion. Still, I doubt the needle moved much on that score. If you still thought Fox trustworthy then, you're likely to either be blissfully unaware of the settlement and its surrounding facts or simply not care.
The sheer polarity on all but the extremes is fascinating: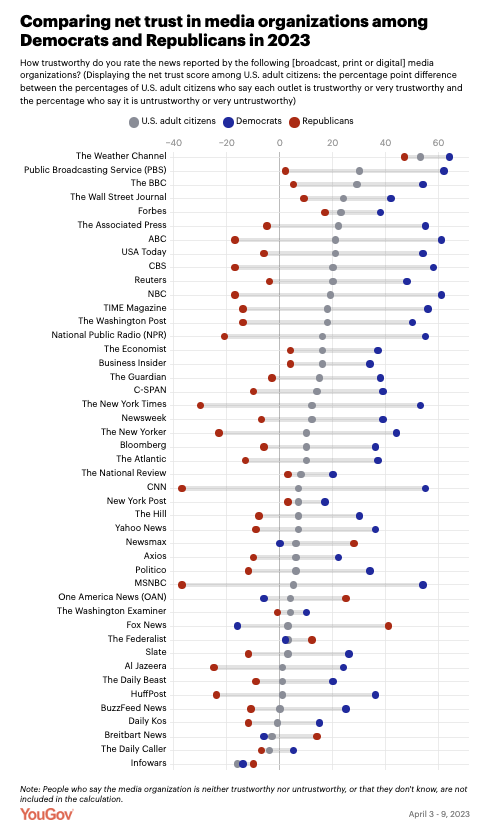 With the bizarre exceptions of TWC and Infowars, there's simply no agreement here. Anything Republicans trust, Democrats distrust—and vice versa.
The cable news outlet CNN is the most politically polarizing media source we asked about. There is a 92-point difference between Democrats' net trust (+55) and Republicans' net trust (-37) in CNN, a frequent target of former President Donald Trump.

The other outlets that have the largest chasm in trust between Democrats and Republicans — both of them trusted more by Democrats — are MSNBC and the New York Times. There is a 91-point difference between how Democrats (+54) and Republicans (-37) view MSNBC and an 82-point difference in how they view the New York Times (+53 vs. -30).
Interestingly, Democrats trust Fox News more than Republicans trust MSNBC. Even more oddly, more Democrats than Republicans trust the Wall Street Journal.
Republicans have a net distrust for virtually every significant news outlet. Oddly, two they do trust are state-sponsored PBS and BBC. Even more oddly, they trust PBS but strongly distrust NPR, despite their shared governance.
Democrats, meanwhile, on net trust all but the most wildly partisan/extremist outlets, with only Newsmax, OAN, Fox, Breitbart, and Infowars falling to the negative side. (I can only assume the Daily Caller numbers are reversed; it makes no sense that Democrats would trust Tucker Carlson's site more than Republicans.)
Regardless, the poll reinforces my longstanding concern: I see no way out of our divide if we don't share a common sight picture. Daniel Patrick Moynihan's forty-year-old* dictum, "Everyone is entitled to his own opinion, but not his own facts" hasn't been true in quite some time.
______________
*The column in which the quote appeared was published in the Washington Post on January 18, 1983. There are published variants of the idea tracing back to at least 1946.