You Got Your X-Men in My Avengers!
Fox and Disney are in a legal fight over movie rights to a minor comic book character.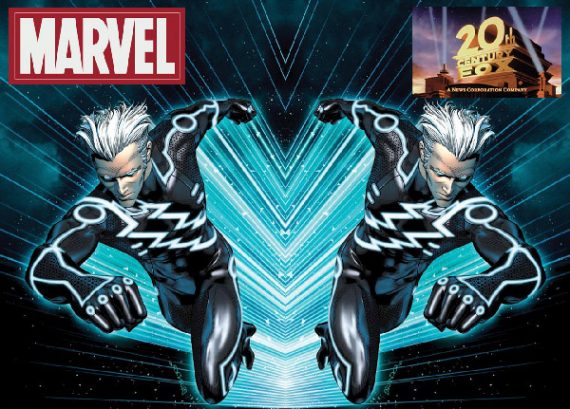 Marvel film fans are currently abuzz about news that the X-Men and Avengers movie franchises are crossing over. The two studios involved – Fox and Disney -on the other hand, appear to be lawyering up for a potentially epic battle. This crisis of finite film characters is a telling tale of the perils of character licensing.
It all started about a month ago, when Joss Whedon let the following tidbit slip about the first draft of his script for Marvel Studio's/Disney's Avengers 2:
 I've got these two characters, two of my favorite characters from the [Avengers]; a brother-sister act. They're in the movie. That's exciting.
When it comes to the Avengers, there are only two characters that fit this bill: Wanda and Pietro Maximoff, aka the Scarlet Witch and Quicksilver. The two mutants joined the Avengers in Avengers #16 (May 1965). Along with Captain America and Hawkeye, Quicksilver and the Scarlet Witch were part of the team's second roster. Together this not-so-fantastic four came to be known as "Cap's Kooky Quartet," true believers!
News that the pair—one a speedster and the other one posessing ill-defined deus ex machina probability warping powers—was met with a general "Cool!" from hard-core fans and "Who?!" from anyone who managed to get a date during Jr High (The author definitely falling into the prior category! – Moping Matt).
Then came the tweet re-tweeted round the geek world.
Thrilled to say #EvanPeters is joining #XMen #DaysOfFuturePast as #Quicksilver.

— Bryan Singer (@BryanSinger) May 24, 2013
(Singer deleted his first tweet about the casting which read ""Before he was an Avenger, he was just a REALLY fast kid. Thrilled to say Evan Peters is joining X-Men: Days Of Future Past as Quicksilver." – 'Nuff Said, Magnanimous Matt!)
That's right, Bryan Singer, past and future X-Men director, announced that his upcoming Fox Studio's film X-Men: Days of Future Past would *also* include Quicksilver. And Singer/Fox's film would be in theaters a year before Avengers 2 hits.
Needless to say, this bombshell was met with a "Oh no he didn't" from hard-core fans and film geeks, and "Who?! What?! Huh?!" from anyone who had managed to get a date during Jr High.
All joking aside, the back-story of why two separate film studios can use the same copyrighted character in two otherwise unconnected films is pretty interesting.
Long before the success of Marvel Studios, or even the Spider-man and X-Men films, a cash-strapped Marvel licensed the movie rights to its characters to anyone willing to pay. The net result was that Sony ended up with Spider-man and Ghost Rider and Fox bought the X-Men, Fantastic Four, and Daredevil. These contracts included language that gave them rights not only to the title characters, but to all related characters, even if those not specifically named in the contracts (for a more in-depth analysis, see this article – Multi-textual Matt).  It's the "related characters" clause that is at the heart of this story.
You see, Quicksilver and the Scarlet Witch premiered as members of The Brotherhood of Evil Mutants in 1964's X-Men #4. The pair would go on to make five appearances in the X-Men book until they left the Brotherhood in X-Men #11, published May 1965 (the same month the pair jumped to the Avengers in the a fore mentioned issue #16!-Meticulous Matt). Since then, the Quicksilver and the Scarlet Witch have been regularly reoccurring characters in both the X-Men and Avengers books. Chances are neither character was specifically mentioned by name in the Fox contract. And while they are surely part of the X-Men books, the two are equally part of the Avenger books as well. Hence, they currently belong to both studios. Case closed, right?
Wrong.
While the general understanding of both studios, not to mention their uncanny legal teams, is that both studios can use the characters, the specifics of their use are  more convoluted. While the Fox contract apparently doesn't specifically grant the studio exclusive license for the Scarlet Witch and Quicksilver characters, it does give them sole rights to the character of Magneto and the use of the term mutant. Not only are Quicksilver and Scarlet Witch mutants, but they are the children of Magneto. The net result is that neither of these facts can be referenced in Whedon's film without the permission of Fox Studios. On the other hand, Fox can't mention anything about either character's time in Avengers in their film without permission from Marvel.
It isn't unheard of for this type of permission to be granted. For example, Sony "loaned" the character of the Kingpin to Fox for their 2003 Daredevil film. And some have suggested Quicksilver showing up in both films is an attempt to "unify" Marvel films. However, the facts of this case point to this being a pissing match between two studios.
First, Marvel has made it clear that it wants the rights to its characters back. However, as long as Sony and Fox keep making films with those characters, they retain the rights. This, by the way, is why you can expect a Spider-man or X-Men film every three years regardless of how poorly the previous one did. If either company halts development for too long, as Fox did with Daredevil, the characters revert to Marvel.
Secondly, Singer's tweets indicate that Quicksilver was a late edition to his film. X-Men: Days of Future Past began filming on April 15. Whedon dropped his Quicksilver and Scarlet Witch hints, since officially confirmed by the man himself, roughly a week later. Industry insiders point out that films as big as X-Men rarely start shooting without everyone cast. Singer has indicated that Quicksilver will only be in a single action sequence. Given that Quicksilver's power is rather generic—there are countless Marvel mutants with super-speed—the general opinion is that Fox has requested this character be added to the film to remind Marvel Studio's they own the mutant half of him.
How Marvel/Disney will react remains to be seen. Like the best of comic-books stories, this one remains to be continued. Excelsior!

(Feature Image courtesy of CHUD).