Your State's Highest Paid Public Employee Is Probably A Coach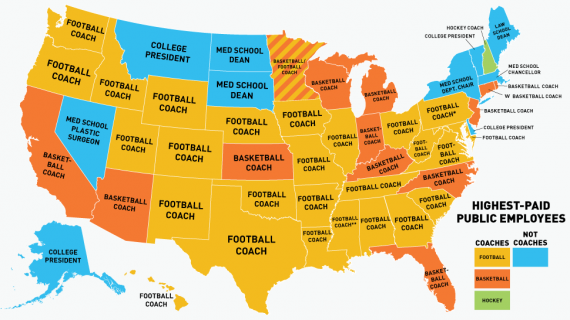 The odds are that the highest paid public employee is either a football or basketball coach:
You may have heard that the highest-paid employee in each state is usually the football coach at the largest state school. This is actually a gross mischaracterization: Sometimes it is the basketball coach.

Based on data drawn from media reports and state salary databases, the ranks of the highest-paid active public employees include 27 football coaches, 13 basketball coaches, one hockey coach, and 10 dorks who aren't even in charge of a team.
As the article goes on to note, of course, in most cases those high-priced coaching salaries are paid out of the revenue generated by the school's athletic program rather than tax dollars. Nonetheless, it does say something about what society actually values, doesn't it?