John Madden, 1936-2021
The Hall of Fame coach and legendary broadcaster is dead at 85.
ESPN/AP ("NFL Hall of Fame coach, broadcasting icon John Madden dies at 85"):
John Madden, the Hall of Fame coach-turned-broadcaster whose exuberant calls combined with simple explanations provided a weekly soundtrack to NFL games for three decades, died Tuesday morning, the NFL said. He was 85.

The league said he died unexpectedly and did not detail a cause.

Madden gained fame in a decadelong stint as the coach of the renegade Oakland Raiders, making it to seven AFC title games and winning the Super Bowl following the 1976 season. He compiled a 103-32-7 regular-season record, and his .759 winning percentage is the best among NFL coaches with more than 100 games.

"Few individuals meant as much to the growth and popularity of professional football as Coach Madden, whose impact on the game both on and off the field was immeasurable," the Raiders said in a statement, hours before team owner Mark Davis lit the Al Davis Torch in honor of Madden, the first person to ever light the torch on Oct. 16, 2011.

"Tonight I light the torch in honor of and tribute to John Madden and Al Davis, who declared that the fire that burns the brightest in the Raiders Organization is the will to win," Mark Davis said.

It was Madden's work after retiring from coaching at age 42 that made him truly a household name. He educated a football nation with his use of the telestrator on broadcasts; entertained millions with his interjections of "Boom!" and "Doink!" throughout games; was an omnipresent pitchman selling restaurants, hardware stores and beer; and became the face of Madden NFL Football, one of the most successful sports video games of all time.

"Today, we lost a hero. John Madden was synonymous with the sport of football for more than 50 years," EA Sports, the brand behind the Madden franchise, said in a statement. "His knowledge of the game was second only to his love for it, and his appreciation for everyone that stepped on the gridiron. A humble champion, a willing teacher, and forever a coach. Our hearts and sympathies go out to John's family, friends, and millions of fans. He will be greatly missed, always remembered, and never forgotten."

Madden was the preeminent television sports analyst for most of his three decades calling games, winning an unprecedented 16 Emmy Awards for outstanding sports analyst/personality and covering 11 Super Bowls for four networks from 1979 to 2009.

"People always ask, 'Are you a coach or a broadcaster or a video game guy?'" Madden said when was elected to the Pro Football Hall of Fame in 2006. "I'm a coach, always been a coach."

It was a sentiment echoed by Hall of Fame president Jim Porter in his statement Tuesday night.

"He was first and foremost a coach," Porter said. "He was a coach on the field, a coach in the broadcast booth and a coach in life.

"The Hall of Fame will forever guard Coach Madden's legacy. The Hall of Fame flag will be flown at half-staff in his memory."

Madden started his broadcasting career at CBS after leaving coaching in great part because of his fear of flying. He and Pat Summerall became the network's top announcing duo. Madden then helped give Fox credibility as a major network when he moved there in 1994, and he went on to call prime-time games at ABC and NBC before retiring after the Pittsburgh Steelers' thrilling 27-23 win over the Arizona Cardinals in the 2009 Super Bowl.

"John Madden was an iconic figure, transitioning from a successful coach to one of the most impactful and distinctive broadcasters in history, across all genres. His love of football was only matched by the fans' admiration for him. He will forever be synonymous with the game," said James Pitaro, chairman of ESPN and sports content for The Walt Disney Company.
NYT ("John Madden, Face and Voice of the N.F.L. on the Field and in the Broadcast Booth, Dies at 85"):
John Madden, the Hall of Fame coach who became one of America's most recognizable ambassadors of professional football, reaching millions, and generations, from the broadcast booth and through the popular video game that bears his name, died on Tuesday. He was 85.

The National Football League announced his death in a statement that didn't include the cause. He died at his home in Pleasanton, Calif., his agent, Sandy Montag, said.

In his irrepressible way, and with his distinctive voice, Madden left an imprint on the sport on par with titans like George Halas, Paul Brown and his coaching idol, Vince Lombardi. Madden's influence, steeped in Everyman sensibilities and studded with wild gesticulations and paroxysms of onomatopoeia — wham! doink! whoosh! — made the N.F.L. more interesting, more relevant and more fun for over 40 years.

"John Madden is as important as anybody in the history of football," Al Michaels, his broadcast partner from 2002 through 2008 with ABC and NBC, said in an interview in 2013. "Tell me somebody who did all of the things that John did, and did them over this long a period of time."

Madden retired from coaching the Oakland Raiders in 1979, at age 42 and with a Super Bowl victory to his credit, but he turned the second act of his life into an encore, a Rabelaisian emissary sent from the corner bar to demystify the mysteries of football for the common fan and, in the process, revolutionize sports broadcasting.

Rising to prominence in an era of football commentating that hewed mostly toward a conservative, fairly straightforward approach, Madden's accessible parsing of X's and O's added nuance and depth, and also a degree of sophistication that delighted an audience that in some cases tuned in just for him.

Fastidious in his preparation, Madden introduced what is now a standard exercise in the craft — observing practices, studying game film and interviewing coaches and players on Fridays and Saturdays. Come Sundays, he would distill that information into bursts of animated, cogent and often prescient analysis, diagraming plays with a Telestrator, an electronic stylus (whose scribbles and squiggles reflected its handler's often rumpled appearance) that showed why which players went where.

Madden spent his first 15 years in broadcasting at CBS, starting in 1979. There he introduced his Thanksgiving tradition of bestowing a turducken — a turkey stuffed with duck stuffed with chicken — to the winning team. But the three other major networks all came to employ him because, at one point or another, they all needed him.

Fox snagged him in the mid-1990s to establish credibility for its fledgling sports division. ABC followed in 2002, to boost the sagging fortunes of "Monday Night Football." NBC hired him when it regained football in 2006 — because, as Dick Ebersol, then the chairman of NBC Universal Sports, said: "He's the best analyst in the history of sports. He's able to cut through from people my age, who remembered him as a coach, all the way to 12-year-olds."
WaPo ("John Madden, NFL Hall of Famer and video game icon, dies at 85"):
John Madden, a towering figure in professional football as a Super Bowl-winning coach, a legendary broadcaster and a video game icon, died Dec. 28 at age 85.

The NFL announced Madden's death, saying only that he died "unexpectedly" Tuesday. The league did not cite a cause of death.

"Nobody loved football more than Coach," NFL Commissioner Roger Goodell said in the league's written announcement. "He was football. He was an incredible sounding board to me and so many others. There will never be another John Madden, and we will forever be indebted to him for all he did to make football and the NFL what it is today."

Madden was a beloved and pioneering figure who was instrumental in establishing the NFL as the nation's most popular and prosperous pro sports league.

"I am not aware of anyone who has made a more meaningful impact on the National Football League than John Madden, and I know of no one who loved the game more," Dallas Cowboys owner Jerry Jones said in a written statement. "When I think of a person of sports who is worthy of the term, 'larger than life,' I have always thought of John. And I always will."

[…]

To an entire generation of video game aficionados, he was most notable as the face of the immensely popular "Madden NFL Football" franchise. The video game became so entrenched in popular culture that even current NFL players sometimes are obsessed with their player ratings in the game.

"It is impossible to hyperbolize what John Madden meant to generations of NFL fans," NFL Players Association spokesman George Atallah wrote on Twitter. "Literally, his name became synonymous with the game of football."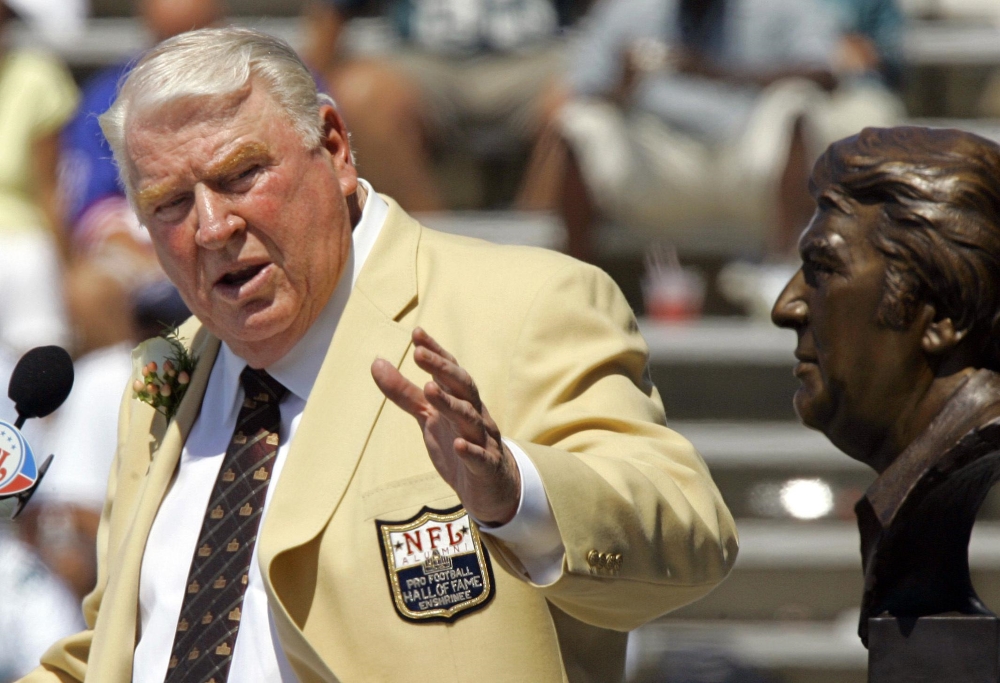 Madden retired from the Raiders and started at CBS the same year that I started watching the NFL regularly. Because I was a fan of the Dallas Cowboys and CBS—and later Fox—had the rights to the conference they play in, Madden and Pat Summerall were for years the narrators for my team. They took me from Roger Staubach's last year through the just-misses of the Danny White era and from Tom Landry's final years to the glory days of Jimmy Johnson and the three Super Bowl teams of the 1990s.
Toward the end of his broadcasting career, as so often becomes the case, Madden became something of a caricature of himself. But because I got in on the ground floor, the Booms! and Doinks! and telestrator and turducken seemed like a normal part of calling a football game, not some wild innovation.
I'm not sure Madden (or Jimmy Johnson or Bill Cowhert) coached long enough or had enough success to truly warrant being inducted into the Hall of Fame on that alone. But there's no doubt that, combined with decades of contributions to the game afterward, that they belong. And, as so many said in the tributes above, there's probably no figure in the history of the game that did more to popularize it with fans than Madden.