Jon Gruden 'Resigns' After Racist, Sexist, Homophobic Emails Revealed
A spectacular fall for a man who has been at the center of the football world for three decades.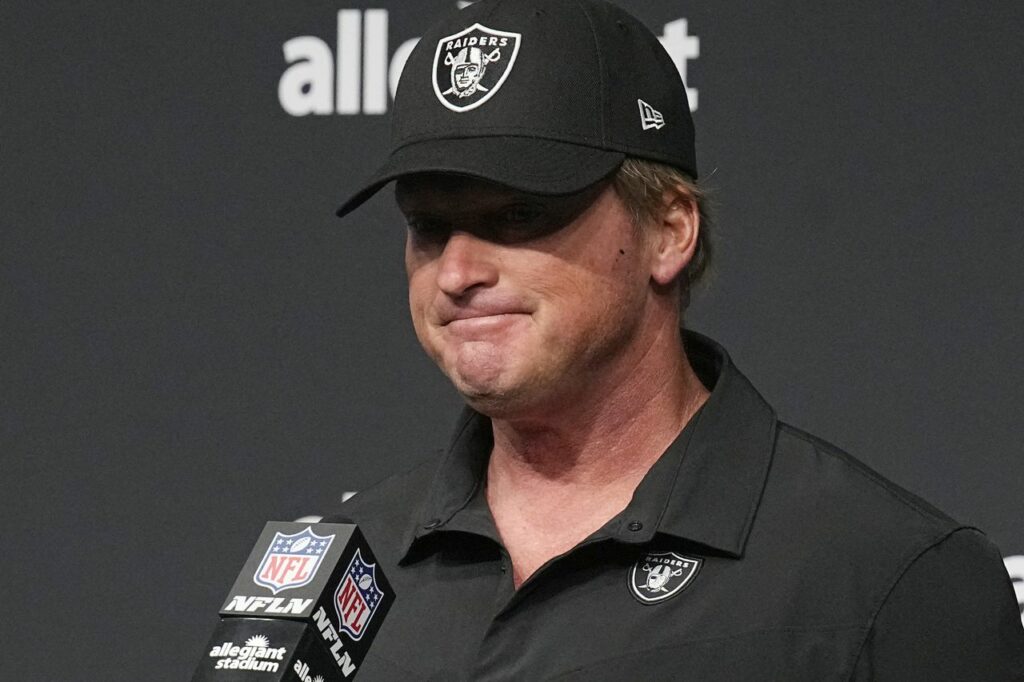 The Los Angeles Raiders head coach is out after embarrassing revelations from emails that he sent to various NFL officials during his long tenure as an ESPN commentator. Given their nature, it was untenable that he could have remained in his position or return to the broadcasting booth.
New York Times ("Raiders Coach Resigns After Homophobic and Misogynistic Emails"):
Jon Gruden stepped down Monday as the coach of the Las Vegas Raiders football team hours after The New York Times detailed emails in which he had made homophobic and misogynistic remarks, following an earlier report of racist statements about a union leader.

His resignation was a striking departure from the football league for a coach who had won a Super Bowl, been a marquee analyst on ESPN and returned to the N.F.L. in 2018 to lead the resurgent Raiders, which he had coached years before.

"I have resigned as Head Coach of the Las Vegas Raiders," he said on Twitter in a statement issued by the team. "I love the Raiders and do not want to be a distraction. Thank you to all the players, coaches, staff, and fans of Raider Nation. I'm sorry, I never meant to hurt anyone."

Mark Davis, the owner of the Raiders, said in a statement that he had accepted the resignation. Rich Bisaccia, the Raiders' special teams coordinator, was elevated to interim head coach, the team said.

Gruden's departure came after a New York Times report that N.F.L. officials, as part of a separate workplace misconduct investigation that did not directly involve him, found that Gruden had casually and frequently unleashed misogynistic and homophobic language over several years to denigrate people around the game and to mock some of the league's momentous changes.

He denounced the emergence of women as referees, the drafting of a gay player and the tolerance of players protesting during the playing of the national anthem, according to emails reviewed by The Times.

Gruden's messages were sent to Bruce Allen, the former president of the Washington Football Team, and others, while he was working for ESPN as a color analyst during "Monday Night Football." In the emails, Gruden called the league's commissioner, Roger Goodell, a "faggot" and a "clueless anti football pussy" and said that Goodell should not have pressured Jeff Fisher, then the coach of the Rams, to draft "queers," a reference to Michael Sam, a gay player chosen by the team in 2014.

In numerous emails during a seven-year period ending in early 2018, Gruden criticized Goodell and the league for trying to reduce concussions and said that Eric Reid, a player who had demonstrated during the playing of the national anthem, should be fired. In several instances, Gruden used a homophobic slur to refer to Goodell and offensive language to describe some N.F.L. owners, coaches and journalists who cover the league.
The report continues quite a bit longer and includes several more examples from the emails. In addition to the slurs, Gruden and Allen (who had been GM of the Tampa Bay Buccaneers when Gruden was that team's head coach) shared topless photos of Washington Redskins cheerleaders that, one presumes, were not taken consensually.
The casual homophobia and sexism hardly surprise me coming from a 58-year-old Catholic ex-jock from Indiana. Like it or not, it has long been part of locker room culture. The repeated racial slurs, however, are rather shocking. Gruden's father was also a football coach, so he's been around Black players his whole life. Because he was something of a wunderkind, he rose rapidly through the coaching ranks and got his first shot to be the head coach of the Raiders at 34.
That Gruden had to go is not at issue. But, as Judy Battista rightly notes, the fact that he felt that he could constantly put these thoughts into emails to others around the League is telling.
Gruden is hardly the only person in the NFL who thinks and talks that way. He is merely one of the most high-profile and well-compensated, and certainly one of the dumbest, for putting it all in writing.

"I love the Raiders and do not want to be a distraction," Gruden wrote in a statement Monday night. "Thank you to all the players, coaches, staff, and fans of Raider Nation. I'm sorry, I never meant to hurt anyone."

That, of course, is laughable. Gruden didn't mean to hurt anybody because he wasn't even thinking of anybody but himself, his frat-like circle of friends, and their amusement. The rest — minorities, women, gay players — were collateral damage.
In fairness to Gruden, he thought he was making these remarks privately between friends. He was presumably careful not to say these things around women and minorities—or others who might be offended and report his conduct.
Gruden's behavior and how it came to light casts a considerable cloud over the league's efforts toward diversity. Those who have hired the female game officials he reportedly denounced, who supported player protests of racial injustice, who applauded Carl Nassib (a Raider, no less) when he became the NFL's first openly gay active player – those people in the NFL have tried hard to rid the league of its good-old-boy ways. But Gruden was one of the most popular broadcasters on ESPN's Monday Night Football among those in the NFL before he returned to being one of the league's star coaches. These emails, which spanned years, until he made his triumphant return to the Raiders, undermine it all.

Most striking about this entire episode was Gruden's casual use of language that the league wants you to think is now verboten in its meeting rooms. Gruden's use of a racial trope when he criticized NFL Players Association leader DeMaurice Smith, as first reported by the Wall Street Journal, seemed so unremarkable to him that he claimed over the weekend to not even remember sending such an email. That he felt comfortable enough using that language and so much more that he put it in writing — that he put it in writing to a long-time Washington team executive — says plenty about the atmosphere in which Gruden operated. He never expected to be caught, of course, and the fact that he used the language so freely says he knew it was acceptable to his audience.

Those "Inspire Change" messages in the stadiums ring a little more hollow right now, don't they?
So, again, it really depends. While I am quite sure that Gruden and Allen (who is no longer connected to the League) are far from the only people associated with the NFL who harbor such thoughts, they're the only ones directly implicated by these email exchanges. The only others noted in the above-cited NYT report were outsiders:
Some of the emails between Gruden and Allen also included businessmen friends, Ed Droste, the co-founder of Hooters; Jim McVay, an executive who has run the Outback Bowl, annually held in Tampa, Fla.; and Nick Reader, the founder of PDQ Restaurants, a Tampa-based fried chicken franchise.
But let's not kid ourselves. While one would like to think racism is a rarity in a league whose players have long been majority-Black, Gruden and Allen weren't the only ones. And sexism and, certainly, homophobia are almost surely rampant. Then again, that's why Goodell and company have initiatives trying to stamp out these behaviors.
Gruden would likely have continued to get away with it were it not for another good old boy, Dan Synder, the owner of the team formerly known as the Redskins:
Gruden's emails were in the NFL's — and then the Raiders' — hands because they were captured during the investigation into workplace conditions at the Washington Football Team. Bruce Allen, a former top team executive, used his company email in his exchanges with Gruden, the Times reported. Once the workplace investigation was completed, a source said, the league was told it should review about 650,000 emails that the law firm had uncovered. A team of senior league executives have been doing that for the past few months. Finally, last week, their findings were presented to Commissioner Roger Goodell. The Raiders knew of them for at least three days while the league waited for them to handle the burgeoning crisis — with Gruden coaching on Sunday and making ill-advised comments all along. Finally, with more emails coming to light on Monday evening, Gruden resigned.

The workplace conduct investigation yielded a $10 million fine for the WFT and an agreement that owner Daniel Snyder would stay away from running the team for an unspecified period of time. But there was no written report from the investigation. Attorney Beth Wilkinson, who led the probe, delivered her findings orally to the league, the league saying it was to protect the women who had come forward.

Given the content of the sliver of emails that were connected to Gruden, you'd have to be pretty naïve not to believe that what Wilkinson found connected to the Washington Football Team and the toxic environment Snyder allowed there was at least as troubling as, and potentially worse than, Gruden's reported remarks. We might never know that — Snyder's emails didn't leak — but remember that the recipient of Gruden's emails, Allen, apparently felt comfortable enough receiving Gruden's vitriol that he let them arrive on his company email at Snyder's team. Men like Allen are the ones who hire coaches and other executives. They are the ones responsible for diversifying the ranks of NFL decision-makers.
So, again, while that's likely we don't know that for sure. Bruce Allen is the son of long-ago Redskins coach George (Herbert) Allen and the brother of former Virginia Governor and US Senator George (Felix) Allen, he of macaca fame. That Gruden felt comfortable sharing racist tropes with him is hardly shocking. Absent further revelations, we really have no direct evidence that the racial attitudes, in particular, are widespread among League executives. (Again, I'd be surprised if Gruden's views on women and gays weren't the norm.)
Remember that power structure, and what the reported content of Gruden's emails revealed about the thinking within it, the next time the hiring cycle begins or an employee alleges workplace harassment. Gruden isn't alone in his thinking; his just came to light, to devastating effect. But there are others who think and talk like Gruden, and some of them have influential jobs, too. Some of them are likely hitting delete tonight. The damage all of them have done for years can't be undone that easily.
Given how much trouble the US military has had in changing its culture along these lines, I suspect it'll take decades for the NFL to be in alignment with its expressed values. We're unlikely to ever have women players, unless the nature of the sport changes radically. We're starting to see women as coaches and referees but, since the route to both of these professions is usually as a player, they're going to have a tough time getting the experience and earning respect from the players.