10-Term Congressman William Lacy Clay Ousted
Yet another incumbent has lost his primary contest.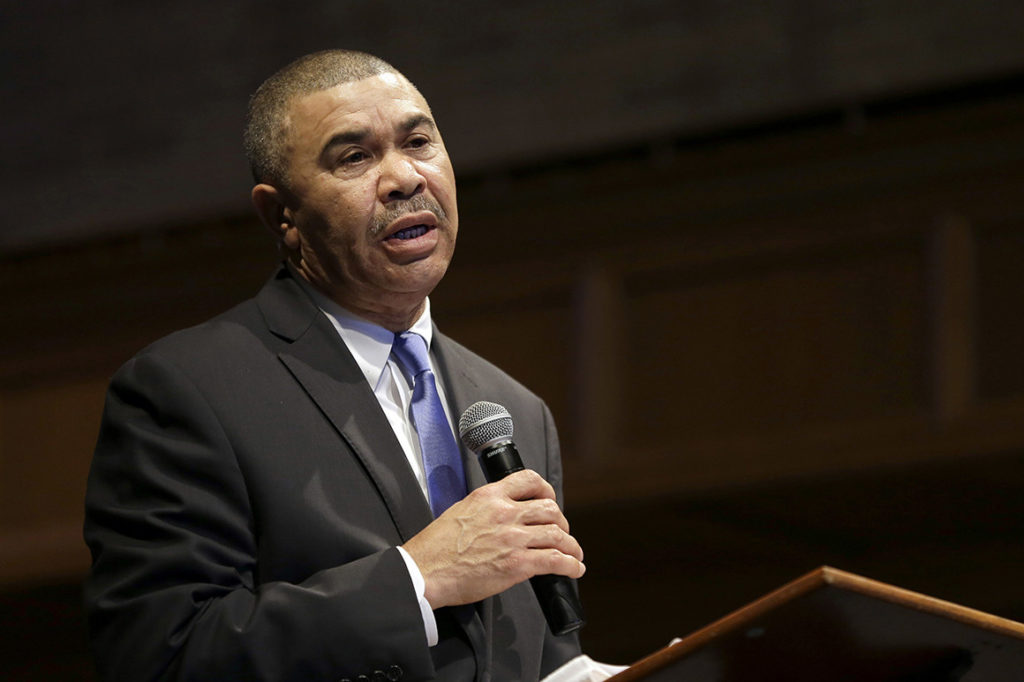 WaPo ("Longtime Rep. William Lacy Clay loses Democratic primary in Missouri"):
Rep. William Lacy Clay lost the Democratic primary in Missouri on Tuesday night, falling to Cori Bush, an activist who entered politics after the Ferguson protests in 2014 and tapped into the recent energy of the Black Lives Matter movement to upset the 10-term congressman.

The Associated Press projected Bush as the winner in the St. Louis-based district.

"We've been called radicals, terrorists," Bush told supporters in St. Louis. "We've been dismissed as an impossible fringe movement. But now, we are a multiracial, multiethnic, multigenerational, multifaith mass movement."

Bush, a 44-year old nurse and pastor, had never run for office before the Ferguson protests after the fatal shooting of unarmed Black teenager Michael Brown by Darren Wilson, a White police officer. She made a bid for state Senate, then turned her attention to Clay, whose family had held a safe seat from St. Louis since 1969. For the 2018 Democratic primary race, she raised less than $150,000 and, despite a late burst of attention after Alexandria Ocasio-Cortez ousted a longtime congressman in a Democratic primary in New York, she lost by 20 points.

But Bush remained deeply involved in direct action and liberal politics, becoming a surrogate for the Bernie Sanders presidential campaign and getting featured in "Knock Down the House," a Netflix documentary about Justice Democrats and its project to replace moderate members of Congress with grass-roots activists.

Ahead of Tuesday's primary, Bush more than tripled her fundraising, even while contracting covid-19 and growing deeply involved in the protests that followed the killing of George Floyd in Minneapolis police custody. At campaign events, she would talk about surviving the novel coronavirus pandemic and enduring physical harm as protests were broken up and demonstrators were tear-gassed.

[…]

Clay, whose only previous primary challenge came when he and a former colleague were forced into the same district, was slow to respond to Bush. According to the Federal Election Commission, he spent less than $600,000 on the race, and his final mail advertising was largely negative, accusing Bush of being irresponsible with her finances and working closely with critics of Israel.

By that point, Bush and allies had spent plenty of money defining him, with Justice Democrats and another liberal group, Fight Corporate Monopolies, buying ads that accused the incumbent of voting for big corporations on behalf of his donors.
POLITICO ("Progressive challenger Cori Bush beats Rep. Lacy Clay in primary") adds:
Liberal challenger Cori Bush defeated Rep. Lacy Clay (D-Mo.) in a primary for his St. Louis-based House seat on Tuesday — a huge win for the left and a seismic loss for the Congressional Black Caucus, which has tried to snuff out challenges from younger candidates.

Bush's victory came two years after her first challenge to Clay, which the incumbent won by 20 percentage points. But this cycle, Bush's campaign was better funded and had more outside help from a wide array of surrogates including Sen. Bernie Sanders (I-Vt.) and the Justice Democrats, the group that helped elect Rep. Alexandria Ocasio-Cortez (D-N.Y.).

[…]

For the left, the outcome is proof that they could translate the momentum from their wins earlier this month in the New York primaries into a victory in the heartland of the country. But it will also further intensify the feud between liberals and CBC leaders, who have forcefully decried challenges against their members.

The Black Caucus had successfully defended two other incumbents from progressive opponents earlier this year: Reps. Joyce Beatty (D-Ohio) and Yvette Clarke (D-N.Y.). CBC members rallied around Clay, hoping to use this primary as another chance to ward off future challenges.

But Bush, who participated in the 2014 protests in Ferguson, Mo., after the police shooting of an unarmed black man, made her activism the centerpiece of her 2020 campaign.

"We've been called radicals, terrorists. We've been dismissed as an impossible fringe movement," she said during a victory speech Tuesday night. "But now we are a multi-racial, multi-ethnic, multi-generational, multi-faith mass movement united in demanding change, in demanding accountability, in demanding that our police, our government, our country recognize that Black lives do indeed matter."

Clay is the seventh incumbent to fall in the 2020 cycle — and the second one on Tuesday after Rep. Steve Watkins (R-Kan.) got trounced by his GOP challenger. Bush's win represents the end of an era; The Clay family has held Missouri's 1st District since 1969. Clay was first elected in 2000, succeeding his father, former Rep. Bill Clay (D-Mo.), a co-founder of the Black Caucus.

Bush rode a wave of progressive enthusiasm generated by wins in the New York primaries where Jamaal Bowman, a middle-school principal backed by Justice Democrats, ousted House Foreign Affairs Chairman Eliot Engel (D-N.Y.), and two other progressives won open seats in the city and its suburbs.
The relative moderate Roger Marshall beating extremist firebrand Kris Kobach is the exception in this cycle and, indeed, the last decade or so of American politics. This race, on the other hand, is more typical: more extremist candidates with bolder views knocking off incumbents with a go along, get along mindset.
In addition to seemingly not having his finger on the pulse of his community during the #BlackLivesMatter reckoning, Clay seems to have simply been lazy and complacent here. He took victory for granted and barely bothered to campaign to keep the seat that he likely viewed as his birthright.
In one sense, the Democrats are now doing what Bill Buckley long advocated for Republicans: nominating the most staunch ideologue that's electable in a given locality. The Democrats are going to hold this seat regardless of who they nominate. They might as well go ultra-progressive.
But, of course, that mindset makes governing more difficult. As inspiring as a Bernie Sanders or Alexandria Ocasio-Cortez may be on the stump, they seldom have much success in putting together a governing coalition.
As the Republicans found when the Tea Party wave took over their congressional delegation, legislating requires compromise. Yet, compromise is tantamount to treason to the devout.