12 Killed In Shooting At Virginia Beach Municipal Complex
A dozen people died late yesterday in a workplace shooting at the Virginia Beach Municipal Center.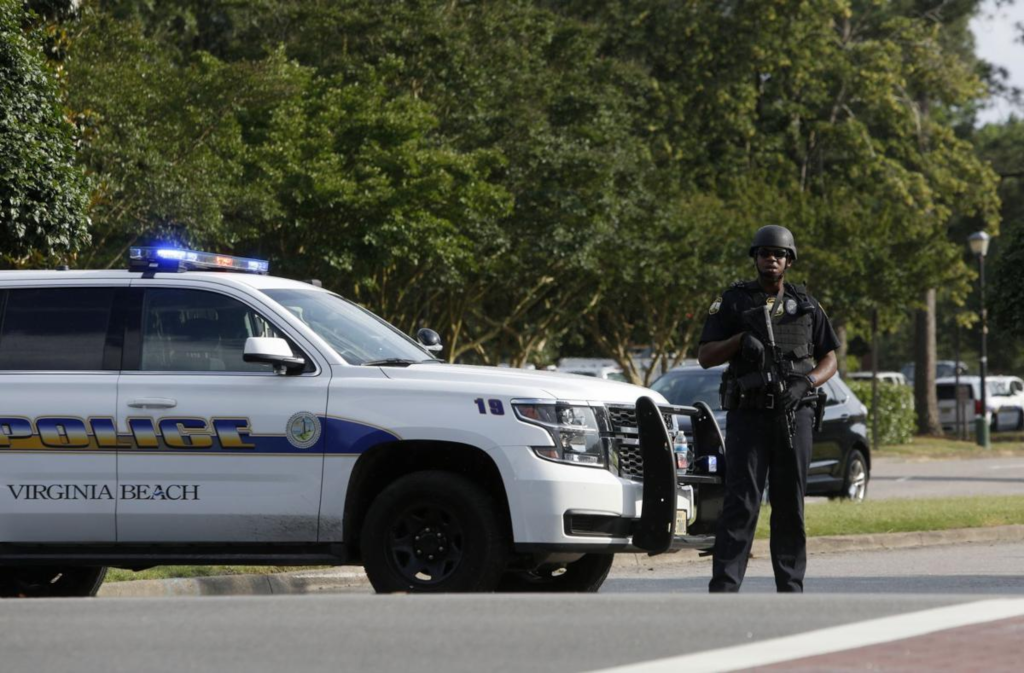 Late yesterday afternoon, twelve people were killed and many others injured by a shooter who appears to have been a disgruntled employee:
VIRGINIA BEACH, Va. — A municipal building in Virginia Beach, Va., was turned into a scene of carnage on Friday afternoon after a longtime public utilities employee began firing indiscriminately at his co-workers with a handgun, the authorities said, killing a dozen people and injuring several others before dying after an extended shootout with the police.


It had been nearing closing time in an office offering some of the most mundane functions of city government, such as paying water bills and applying for building permits, when the employee began stalking through several floors firing at his colleagues, the authorities said.


The loud bursts of gunfire sent workers scrambling and barricading their office doors.


Zand Bakhtiari, 28, who works on the first floor of the city building where the shooting happened, looked out his window about 4 p.m. and saw people screaming and running. "I thought they were running to the scene of a bad car accident," he said in a telephone interview late Friday.


At that point, he had not heard any gunfire. But right after that, his boss, who had just left, called in an order to shelter in place: There was an active shooter. Mr. Bakhtiari and others in his office shut the door and got down.


He then heard 50 to 60 gunshots. "It was a lot of shots," he said. Five or 10 minutes later, a police SWAT team came and led them out.

The identities of the victims were not immediately released nor was the motive of the attack. One of those injured was a police officer, who was saved by his bulletproof vest, said Chief James A. Cervera of the Virginia Beach Police Department, who said at an evening news conference that the scene could "best be described as a war zone."


Bodies were found on all three floors of the building, the chief said. One of the deceased was discovered outside in a car.


He called the shooting a "devastating incident" that "none of us want to be here talking about," adding that it was "going to change the lives of a number of families in our city."


Chief Cervera said the gunman, whom he declined to name, was carrying a .45-caliber handgun, with several extended magazines. He had a suppressor on the weapon to muffle the sound, the chief said. The gunman was wounded after an exchange of fire with the police, who later issued first aid on him. But he succumbed to his injuries.

The shooting took place shortly after 4 p.m. within the sprawling Virginia Beach Municipal Center, a campus of city offices and agencies, including the Police Department. The attack unfolded on multiple floors in Building No. 2, which includes offices for planning and public works, among others, and is adjacent to City Hall. At the scene, bystanders fled for safety and officers converged in large numbers.


"This is the most devastating day in the history of Virginia Beach," Mayor Bobby Dyer said at an evening news conference.


"The people involved are our friends, co-workers, neighbors, colleagues," he continued before his voice trailed off and he bowed his head.

(…)

"This day will not define Virginia Beach," a City Council member, Aaron Rouse, said at the news conference. "We will show the strength of our city."


Another Council member, Barbara Henley, told The Virginian-Pilotthat she had been pulling up to City Hall when she heard police sirens and saw police cars. After initially thinking it was an accident, she heard a male voice shout "Get down!" and saw people scattering.


"I was scared to death," she said.


All over Virginia Beach, residents were trying to process such horror on what had been the close to a normal week. "Pleasantville is no more," said June P. Kates, a former teacher and resident of Virginia Beach who lives in a retirement community nearby. She said she had been to the municipal center many times.


"It's so sad. It's just so sad," she said. "I just think it's the saddest thing I can imagine."


Eerily, the police had scheduled a community workshop for Saturday morning on how to prepare for a mass shooting. The "active threat citizens defense" event had 36 people scheduled to attend, according to the department's Facebook page.


"Having to face an armed individual with bad intentions is every person's worst nightmare. You can't stop crazy, you can only respond to it," said a brochure for the workshop published by the local ABC News affiliate.
More from The Virginian-Pilot:
A longtime city employee shot and killed 12 people and injured at least four others after opening fire Friday afternoon in the public works building, making it the country's deadliest mass shooting this year.
Police said officers killed the man, whom they did not name, after he fired at them in the city's scenic Municipal Center in Princess Anne, a campus of about 30 brick Colonial-style buildings.

The four injured were all in surgery Friday, Police Chief James Cervera said during a news conference a couple of hours after the massacre.
One officer was shot during the exchange but was saved by his bulletproof vest, the chief said.


"This is the most devastating day in the history of Virginia Beach," Mayor Bobby Dyer said in the news conference. "The people involved are our friends, co-workers, neighbors and colleagues."

Friday's rampage is believed to be the worst mass killing in Virginia Beach's history. Prior to this week, a shooting on June 30, 1994, at the Witchduck Inn held that distinction: Four people — the business owner, two employees and a patron — were shot to death at the restaurant. It also came on the heels of a shooting in Chesapeake's Holly Cove community over Memorial Day weekend that left one dead and nine others injured.


In the U.S., it is the deadliest attack since the November 2018 shooting at Borderline Bar & Grill in California, when 12 people were killed.

The gunfire in Virginia Beach began shortly after 4 p.m. as workers were preparing to leave for the weekend. The shooting occurred in building 2, next to City Hall near the intersection of Nimmo Parkway and Princess Anne Boulevard. The planning, public utilities, public works departments and others are located there. The three-story brick building on Courthouse Drive houses about 400 workers.


Many of the employees work out of small office spaces along long hallways. The doors are typically unlocked and open to the public.


The shooter on Friday was a current employee of the public utilities department, Cervera said. He came armed with a .45-caliber handgun with a sound suppressor on it and shot one victim in a vehicle outside before entering the building. The rest were shot inside.


Cervera said police found victims on every floor of the building.
Four officers responded, found the gunman almost immediately and then initiated what became a long gunfight with the suspect, Cervera said. After an officer shot the suspect, they administered first aid.

Virginia Beach police are investigating with help from the FBI and state police, he said. They're still working to identify victims and contact family members. They're also still working to notify the suspect's next of kin. Once that is done, Cervera said, his department plans to name the suspect only once out of respect for the victims.


Cervera said the city offices now resemble a "war zone."
Later reports identified the shooter as DeWayne Craddock, a 40-year-old man who has been employed by the City of Virginia Beach for at least fifteen years. Initially, it was reported that he had been fired recently but that does not appear to have been the case. He reportedly carried out the shooting with .45-caliber handgun and was equipped with multiple high-capacity magazines which were either utilized during the attack.
I've been to the Municipal Complex where this shooting took place. It is a sprawling complex that includes pretty much all of the city offices including the Police Department and the city's Courthouse as well as other city-related buildings. It is a sprawling complex with several buildings each one of which has multiple entrances. To get into the Courthouse at least, one must pass through metal detectors. Since he was still employed with the city, Craddock had a security pass so he was apparently able to get past whatever security may have been in place in the building where the shooting took place. It's fortunate, though, that police were able to stop him when they did because he could have caused even more carnage had he gained access to other parts of the complex.
At the moment at least it is unknown what the motive for the attack may have been, although the fact that the shooter had recently been fired is obviously a starting point for any such inquiry. Also unknown is how the shooter may have obtained the gun and magazines that were used in the attack, although given Virginia's rather loose regulation of guns and handguns particularly it's likely that all of the implements used in the crime were obtained legally since it does not appear the Craddock had a criminal record of any kind. Also yet to be answered is the question of whether or not there were any warning signs of this attack or whether Craddock had any mental health issues that might have been a warning that he could be a danger to himself or others.
In any case, as is typically the case in these situations, this incident is likely to lead to yet another round of focusing on the nation's gun laws even though its unclear if any such laws could have prevented this shooting at all.
Update: Authorities have identified the twelve people killed in the shooting, all but one of whom were employees of the City of Virginia Beach.
This post was updated to reflect information communicated by authorities during a Saturday morning press conference.