President Obama's Troubling Justification For Targeted Killings
The Obama Administration has given us a peek at its legal arguments for targeted killings and they are troubling to say the least.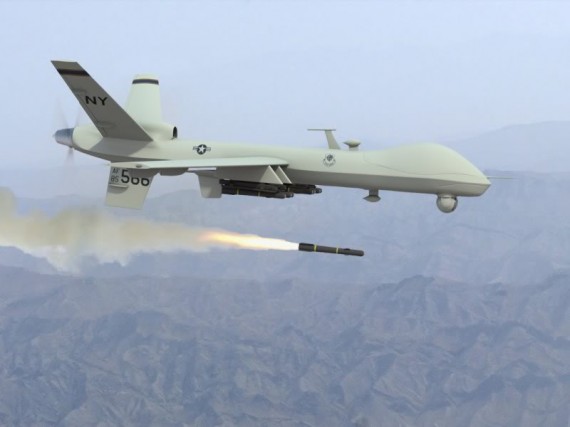 For years now, various media organizations and the ACLU have attempted to force the Obama Administration to reveal the legal justification behind the targeting of American citizens overseas accused of committing terrorist acts, or cooperating with those who do. This phenomenon first started with the killing of Anwar al-Awlaki via a drone strike in Yemen, a targeted assassination that the Administration carried out after resisting efforts to require them to provide some sort of proof in a court of law to support the conclusions that led to the signing of al-Awaki's death warrant. Since then, we've learned about the existence of Presidential "kill lists" and a tight circle of national security advisers who are charged with making the decision of who should be targeted by American drones. Throughout all of this, the Administration has repeatedly claimed "national security" in response to any request to reveal the criteria it uses to determine when a person, most especially an American citizen, would be targeted under this policy. Now, though, we have a report from NBC News that details at least some of these criteria, and it's enough to raise a serious set of concerns:
A confidential Justice Department memo concludes that the U.S. government can order the killing of American citizens if they are believed to be "senior operational leaders" of al-Qaida or "an associated force" — even if there is no intelligence indicating they are engaged in an active plot to attack the U.S.

The 16-page memo, a copy of which was obtained by NBC News, provides new details about the legal reasoning behind one of the Obama administration's most secretive and controversial polices: its dramatically increased use of drone strikes against al-Qaida suspects, including those aimed at American citizens, such as the  September 2011 strike in Yemen that killed alleged al-Qaida operatives Anwar al-Awlaki and Samir Khan. Both were U.S. citizens who had never been indicted by the U.S. government nor charged with any crimes.

The secrecy surrounding such strikes is fast emerging as a central issue in this week's hearing of White House counterterrorism adviser John Brennan, a key architect of the drone campaign, to be CIA director.  Brennan was the first administration official to publicly acknowledge drone strikes in a speech last year, calling them "consistent with the inherent right of self-defense." In a separate talk at the Northwestern University Law School in March, Attorney General Eric Holder specifically endorsed the constitutionality of targeted killings of Americans, saying they could be justified if government officials determine the target poses  "an imminent threat of violent attack."

But the confidential Justice Department "white paper" introduces a more expansive definition of self-defense or imminent attack than described  by Brennan or Holder in their public speeches.  It refers, for example, to what it calls a "broader concept of imminence" than actual intelligence about any ongoing plot against the U.S. homeland.

"The condition that an operational  leader present an 'imminent' threat of violent attack against the United States does not require the United States to have clear evidence that a specific attack on U.S. persons and interests will take place in the immediate future," the memo states.

Instead, it says,  an "informed, high-level" official of the U.S. government may determine that the targeted American  has been "recently" involved in "activities" posing a threat of a violent attack and "there is  no evidence suggesting that he has renounced or abandoned such activities." The memo does not define "recently" or "activities."

As in Holder's speech, the confidential memo lays out a three-part test that would make targeted killings of American lawful:  In addition to the suspect being an imminent threat, capture of the target must be "infeasible, and the strike must be conducted according to "law of war principles." But the memo elaborates on some of these factors in ways that go beyond what the attorney general said publicly. For example, it states that U.S. officials may consider whether an attempted capture of a suspect  would pose an "undue risk" to U.S. personnel involved in such an operation. If so, U.S. officials could determine that the capture operation of the targeted American would not be feasible, making it lawful for the U.S. government to order a killing instead, the memo concludes.
Obviously, the biggest concern here is the fact that the memo presents a fairly broadly open-ended definition of what an "imminent" attack actually is. It certainly doesn't have the same meaning that it does in general conversation. This seems especially true given the fact that the al-Awlaki killing occurred nearly two years after the terrorist attack he was accused of masterminding, the 2009 "Underwear Bomber" attack. If we're talking about the plot to apparently send bombs disguised as toner cartridges into the United States from Yemen, the killing took place a years after the alleged threat. Since we have never been privy to any of the evidence that the Administration supposedly had against him, it's hard to see how he was the kind of "imminent" threat that ordinary use of the word would suggest or why it wouldn't have been just as acceptable to capture him and bring him back to the United States for trial.
Ron Fournier points out many of the questions that arise from these memo:
1. Where does this slippery slope end? If  killing Americans with no due process is OK when their alleged crime is consorting with al-Qaida, it's not a huge intellectual leap to give government officials the same judge-and-jury authority over other heinous acts such as mass murder, drug-trafficking and y pornography.

2. Shouldn't there be a higher standard? In the torture debate, many Americans seemed to buy the concept that extreme measures might be necessary to prevent an imminent attack against the U.S. Should the standard be higher for torture than murder?

3. What makes a targeting killing lawful? Holder told the public months ago that killing Americans can be justified if "capture is not feasible." But the memo gives more leeway to government officials, condoning the killing of an American if U.S. troops would be put at risk in an attempted capture, for example. Why the double-speak?

4. Why the secrecy? Obama promised to run the most transparent administration of modern times, and in many ways he's kept the pledge. But not on this life-and-death issue. A group of 11 senators, led by Democrat Ron Wyden of Oregon, have urged Obama to release all Justice Department memos on targeting killings. There are many more, and more important, documents than the Isikoff memo that need exposure. The public deserves to know why its president, without due process or visibility, is issuing death sentences to alleged terrorists, some of them Americans. They learned today that the public statements of administration officials on this matter can't be trusted.
Based on an initial reading of the memo (which is available as a PDF file), it seems pretty clear that the Administration is attempting to make it appear that their policy limits the President's authority when, in reality, it greatly expanding it. By defining "imminence" so loosely, as well as the other qualifications that are put on the decision of whether or not to target someone for killing, they have managed to vastly expand the powers of the Presidency just as President George W. Bush did during his time in office.  This is of concern for two reasons.
First, as I've said in other posts regarding this matter, the idea that the President can decide on his own when an American citizen can be targeted for assassination by means of a secret process which American courts cannot review is a profoundly disturbing one. Who's to say that this some rule can't be used to target someone in the United States, or in a foreign country that, if requested, would be more than likely to assist us in arrest of such a suspect? Once you concede the idea that a President has the right to order the death of an American citizen without trial or any other form of due process, you've opened the floodgates to all kinds of potential problems.
This leads us to the second concern, which is the fact that it is the nature of these powers, once assumed by the President, to only expand. Democrats were highly critical of the manner in which George W. Bush asserted all kinds of Presidential powers in the wake of the September 11th attacks and the Iraq War. However, the Obama administration has not only failed to reject any of those assertions of power, they have actually expanded upon them, as this targeted killings memo demonstrates quite aptly. Indeed, in it's effort to block judicial review of the targeting of al-Awlaki, they White House relied upon legal arguments developed during the Bush Administration, including the so-called "state secrets" doctrine. Whoever ends up succeeding Barack Obama in  January 2017, will continue to assert that they too have the authority to target people for killing based on secret proceedings using secret evidence and conducted wholly outside public view, of that there is no doubt. As we have so often done in the past in the area of Presidential powers, we're going down a very dangerous road here and there's no telling where it's going to end.