2012 County-By-County Map Weighted By Population
A pointillist look at the 2012 election results, which does a fairer job of illustrating where, how many, and how people voted in the election
Josh Marshall points us to John Nelson's map of the county-by-county results of the 2012 presidential election. What's different here, though, is rather than simply coloring the land mass bright red or bright blue, as is the norm, Nelson's graphic provides "a pointillist look at the 2012 election results, which does a fairer job of illustrating where, how many, and how people voted in the election."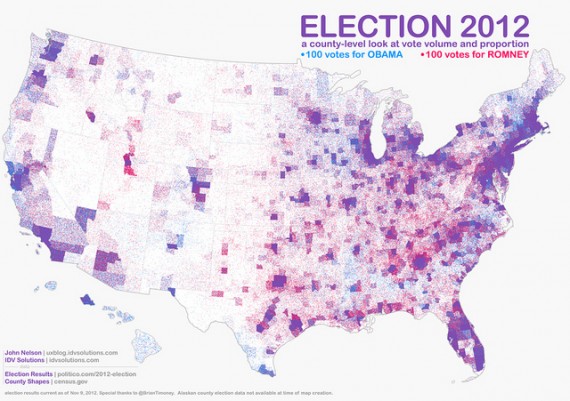 Compare that to this version of the county-by-county map: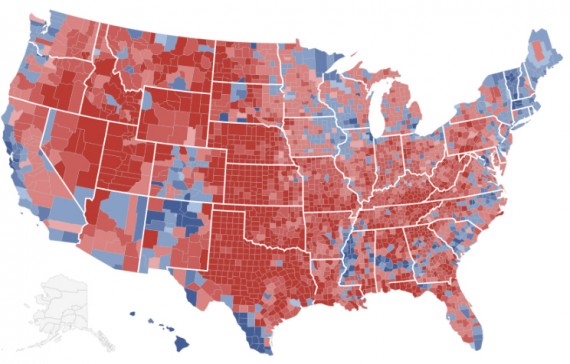 The takeaways from the two maps–which depict identical data–couldn't be more different.
As in the traditional maps, Nelson shows Obama's people clustered on the two coasts while Romney's votes cover a much larger swath of the country. But you'll notice that roughly a third of the country is essentially whited out. That's because hardly anyone lives there in relative terms.
Ultimately, Obama got 62,610,717 votes to Romney's 59,136,717 or 51 percent to 48 percent. While a wide margin by post-1988 standards, it's still a close election. But the notion, prevalent since the 2000 standoff made these maps viral for the first time, that Republicans comprise almost all of America, is simply misleading.