2012 isn't 1980, Either
Comparing Obama to Carter on foreign policy (especially in terms of electoral politics) doesn't make sense.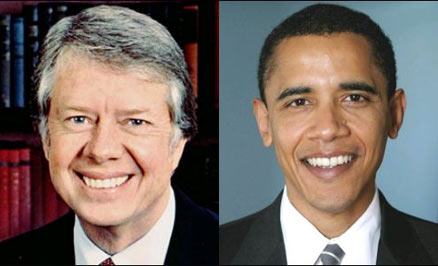 Let me start with a rather obvious disclaimer, but one that probably needs to be made from time to time (and to paraphrase George Will): the future is just exactly the same as the past up and until the point that it isn't. As such, using the past to predict the future is a tenuous exercise at best, especially when we are looking at specific events rather than patterns.
Having said that, people like to draw analogies between one election cycle and another, usually because the person making the analogy likes some aspect of that election (i.e., their candidate/party won) and if they can make some linkage between that election and a current contest it gives them hope for their desired outcome.
Now, just like I argued the other day that 2012 isn't 1994, I think, too, that it isn't 1980 (or, more accurately, Obama isn't Carter).
Specifically I am thinking about a comment in the aforementioned post that stated that Obama was Carter-like in having "a foriegn [sic] policy record that most Americans find weak and distasteful." Now, granted, that is just a blog-reader's comment, but I have seen similar comparisons before.
For example, a quick trip to Googleland provides:
And one can readily find more.
Now, I do think that Obama has vulnerabilities on the economy, which is a generic point of comparison to Carter, although I think that the general structural conditions are different.
However, the foreign policy comparison is problematic on a variety of levels.
Let's consider the areas of foreign policy that Carter faced a great deal of criticism over during his time in office (and I will use the kind of language that critics of Carter would have used at the time):
Losing Nicaragua to communists.
Losing Iran to Islamic extremists.
Giving away the Panama Canal.
America held hostage by the student radicals in Iran who captured the embassy (indeed, night after night, that was what the news stated: "America Held Hostage, Day xx").
Botching the hostage rescue attempt.
Now, I challenge anyone to come up with a comparable list for the current occupant of the White House.
If we get down to basics, the Obama administration's policy on Iraq and Afghanistan (as both James Joyner and I have pointed out on numerous occasions) is pretty much the same as Bush's second term (including the same SecDef). Indeed, Obama has been more aggressive with drone strikes along the AfPak border. There is the successful raid on Osama's compound–which is the polar opposite of Carter's attempted hostage rescue. And on Libya the argument is not that Obama is too weak, but that he is being too aggressive.
Regardless of anything else one may think, I am not sure how this analogy holds.
Essentially, it seems to me that a lot of people have decided that a caricature of Carter is their ideal type Worst President Ever (just like a caricature of Reagan is their Best President Ever) that it therefore is necessary to state Obama=Carter, as if that constitutes analysis. It doesn't.