2016 v. 2020
One of these really isn't like the other.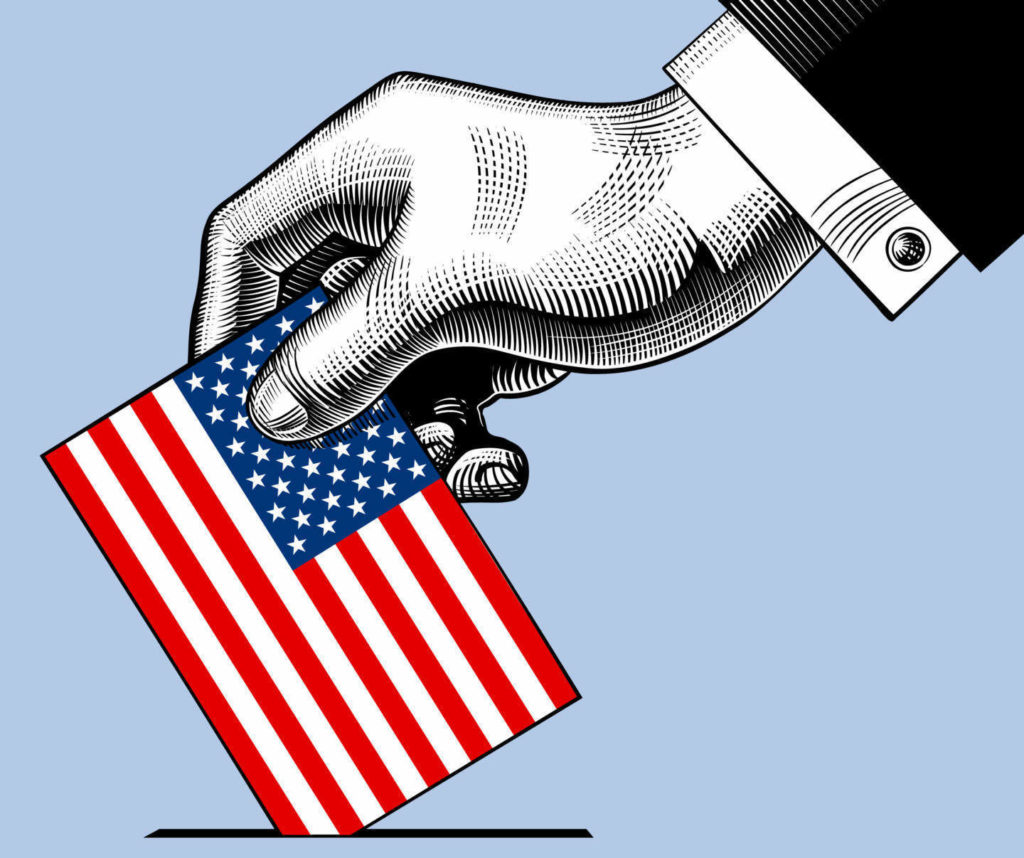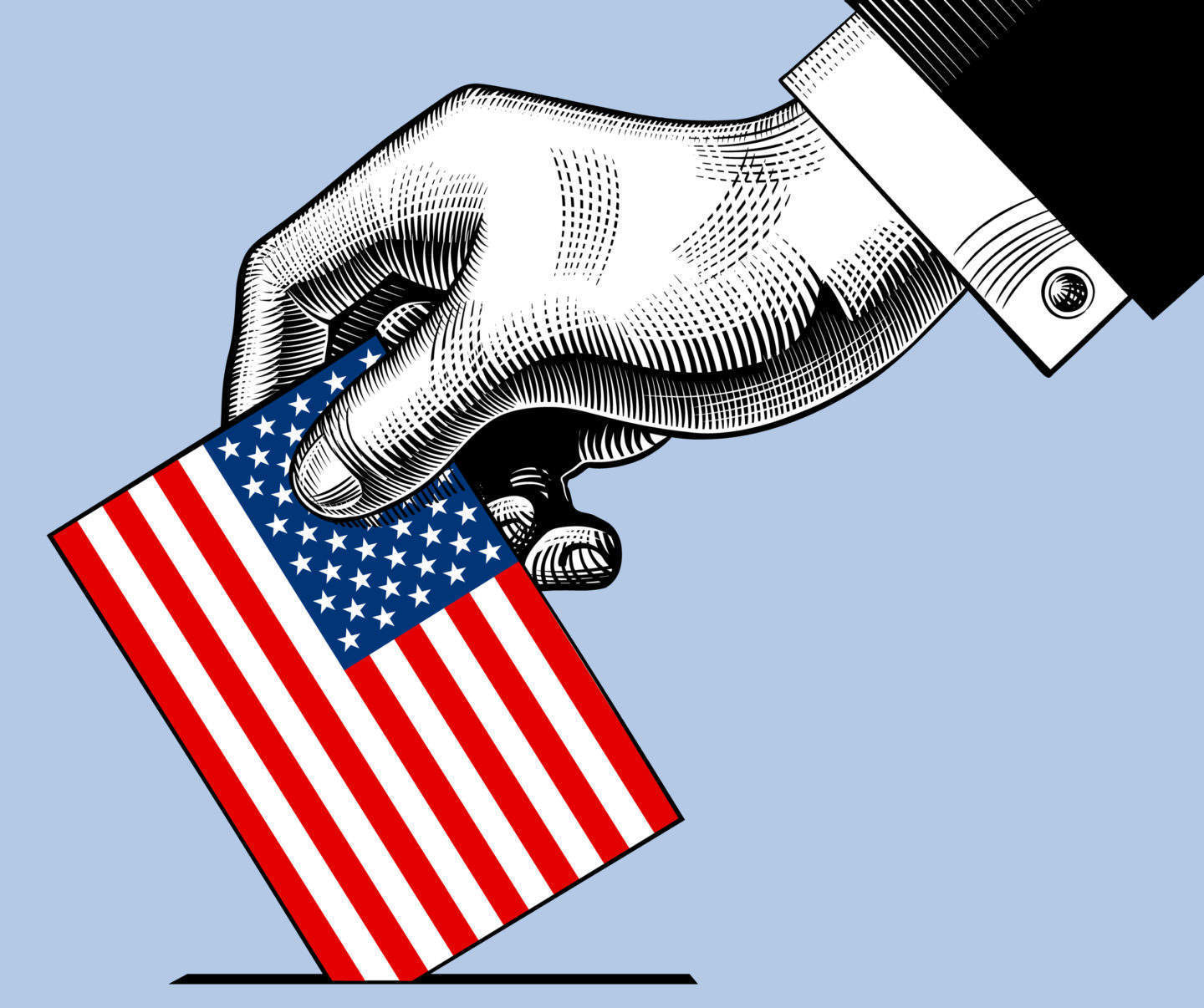 I have seen some chatter on Twitter this week, mostly in response to the CNN poll that I noted yesterday that placed Biden at +16, that the polls had HRC up by double-digits in early October as well (so look out!). This is both true and misleading. As I have noted before, there has been a bought of over-correction in the minds of many over 2016, given that it looked like Clinton was going to beat Trump and, well, we know the rest.
But, of course, 2016 was less about polling failure than it was about a combination of some models failing, under-polling a few key states, and the fact that a lot of people lack a basic understanding of probability.
Regardless, let's look at 2016 and 2020, since these really are different years in terms of polling trends.
Here's RCP 2016 polling average through to Election Day. As I have noted before, the polling average and the actual popular vote outcome was quite close, meaning there was no national-vote polling failure in 2016.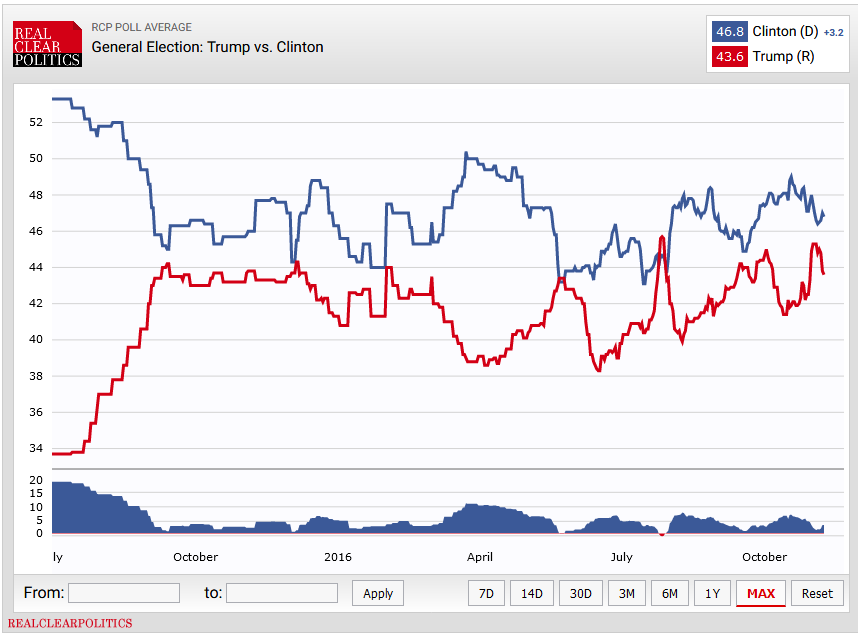 Note two very important things:
Save back in 2015 and briefly in the Spring of 2016, HRC was never above 50%. (Put another way: she was consistently below 50%, often several points below).
Public opinion was volatile.
Still, I agree that anyone looking at these numbers would have assumed HRC was going to win (I thought she was going to win) and certainly in early October 2016, one would have felt pretty good about that outcome (although one would have to note that over the summer Trump did show competitiveness).
Switch to 2020 (which only goes until today, obviously):
Note three things:
Biden has been hovering at, or above, 50% going back to early summer.
The relative stability of public opinion.
Trump not only hasn't lead once, he hasn't gotten all that close (and even when close, it doesn't stick for long).
While the 2020 trends do not guarantee a Biden victory, they do show that something very dramatic would have to happen for us to say anything other than Biden is the objective favorite. (And yes, it could all be wrong, but there is nothing about decades of polling history to suggest these numbers are anything other than accurate).
The fact that Biden is at or above 50% indicates, unlike in 2016, there is not a lot of undecideds or third-party voters who could shift toward Trump (as happened in 2016).
Let's look at the exact same timeframe (9/1-10/7) for both years.
Here's 2016, where again, we see volatility and HRC unable to get over the 50% support level. Although I will note, this date four years ago showed a gap that would make a person on that day pretty confident of a Clinton win.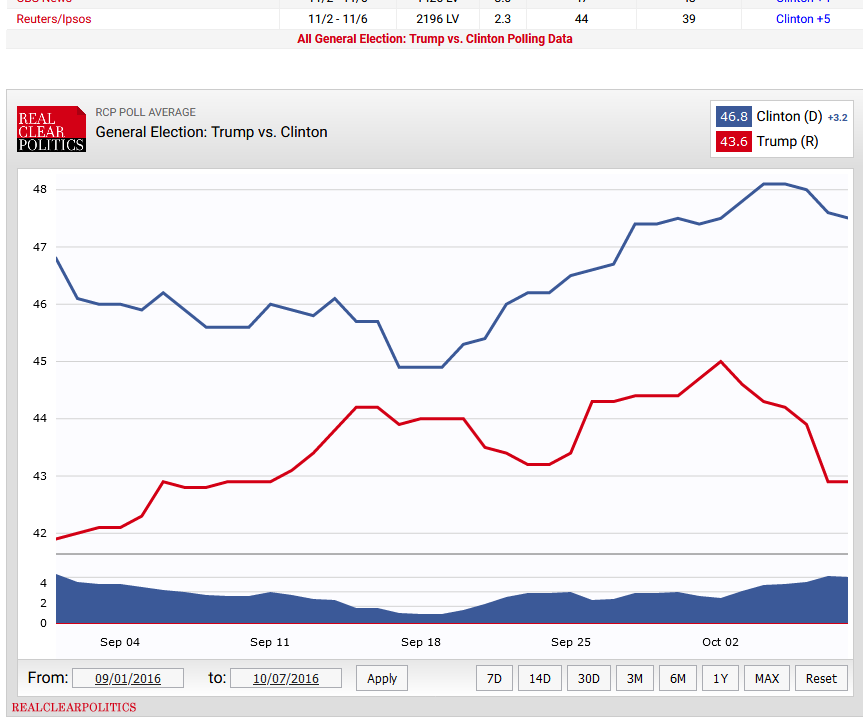 Here's this year, same date range. Again: stability instead of volatility and Biden being no lower than 49% and mostly at or above 50%: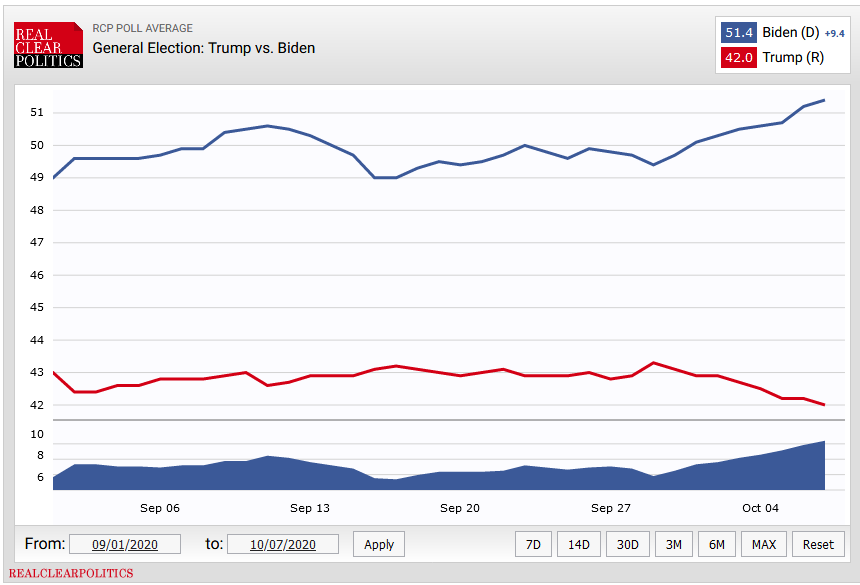 Recognizing the anxiety that many feel about a 2016 repeat, and acknowledging that some could utterly alter the dynamics of the race, the reality is that 2016 and 2020 are very different cycles and should be viewed and discussed as such.