65 Cases Of Pappy Van Winkle Bourbon Go Missing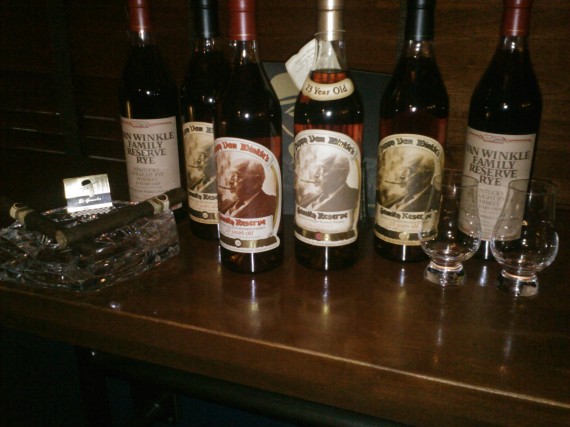 Sixty-five cases of some of the most sought after bourbon in the United States has gone missing:
FRANKFORT, Ky. — America's decade-old romance with Kentucky bourbon, a drink formerly as plebeian as a Chevrolet, has come to this: high-end bar chefs and foodies everywhere have been abuzz since 65 cases of Pappy Van Winkle, one of the nation's most expensive and sought-after bourbons, disappeared from a warehouse here.

The release of small batches of Pappy Van Winkle to bars and retailers each autumn is tracked by connoisseurs who snatch it up as soon as it hits shelves. "We get phone calls from people asking, 'Do you have Pappy in stock?' " said Bill Thomas, owner of the Jack Rose Dining Saloon in Washington, where a two-ounce shot of 20-year-old Pappy Van Winkle costs $65, and the even rarer 23-year-old is $75. "It's the Christmas toy that's been hot now for multiple Christmases."

The disappearance, considered a theft by Sheriff Pat Melton of Franklin County, was reported Tuesday, the sheriff said. He suspects an inside job that took place in the past month or two, after the white-oak barrels, aging on the cooler lower floor of a warehouse, were debunged and the amber bourbon bottled and labeled before the annual deliveries.

Sheriff Melton said the culprit stole 195 bottles in three-bottle cases of Pappy Van Winkle 20 Year, which has a suggested retail price of $130 a bottle, and nine cases of 13-year-old Van Winkle Family Reserve Rye, with a suggested price of $69. The thief had an obvious motive: the secondary market for the scarce whiskey is hot. A single bottle of 20-year-old Pappy, as aficionados know it, sold at Bonham's auction in New York on Sunday for $1,190.

"It's the most complex bourbon you've ever tasted, but it's smooth as silk," said Sean Brock, the owner of Husk Restaurants in Nashville and Charleston, S.C. "That's why people go crazy for it."

The day the theft was reported, Mr. Brock's e-mail and Twitter feed pinged constantly with chatter and speculation about who might have been responsible. He has a theory of his own: "I'm pretty sure it was George Clooney and the boys from 'Ocean's 11.' "

The sheriff said the theft occurred from a locked area in one of the 13 warehouses at the Buffalo Trace Distillery in Frankfort, which makes the Van Winkle brand in partnership with the original family owners. He suspects the thief or thieves smuggled it out a case or two at a time. "I don't think anyone could walk out with 74 cases of bourbon," he said, citing security at the 119-acre distillery.
Who knew there was an underground bourbon market?