Maker's Mark Reducing Alcohol Content To Keep Up With Demand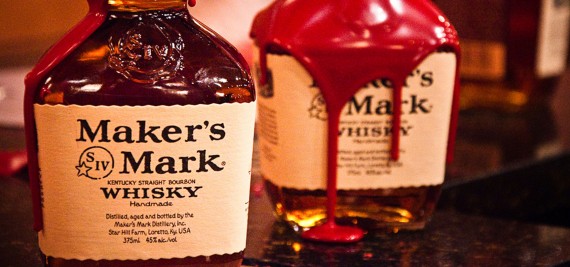 Maker's Mark has seen demand for its bourbon increase so much in recent years that it is finding itself having to temporarily reduce the alcohol content of its product in order to extend its shrinking supply until it can increase production:
Maker's Mark just got a little less stiff. The bourbon brand, known for its bottles sealed with red wax, told customers today that it's reducing the amount of alcohol in the beverage in order to meet rising global demand.

Bourbon, which is a form of American whiskey distilled from corn and other grains, has surged in popularity over the past few years. In its largest market, the United States, bourbon now accounts for 35% of all spirit sales as more Americans have developed a taste for high-end whiskey, which is typically aged in charred white oak barrels for six years or longer. In the 1960s and 1970s, Maker's Mark was famously sold with the slogan, "It tastes expensive…and is."

But international growth is what's driving demand for bourbon makers like Beam Inc., which produces Maker's Mark as well as Jim Beam, a cheaper and more popular bourbon. Beam executives earlier this month said Australia, Germany, and Japan were strong markets. Last year, the company warned it didn't have enough supply to keep up with bourbon demand. It also raised prices.

In an email today to loyal customers, Beam executives said the company had decided that the only way to keep up with demand was to make its bourbon less strong, stretching the current supply. "We've worked carefully to reduce the alcohol by volume (ABV) by just 3%," the email said.

I've reached out to Beam to clarify whether the alcohol is being reduced by 3%, as the email says, or three percentage points, which would be more dramatic. The footer of today's email suggests it's the latter, describing Maker's Mark as a 42% ABV beverage, which is also known as 84 proof; it was previously distilled to 45% ABV, or 90 proof. That would be a 6.7% reduction in the amount of alcohol.

"We have both tasted it extensively, and it's completely consistent with the taste profile our founder/dad/grandfather, Bill Samuels, Sr., created nearly 60 years ago," two of the company's bourbon heirs wrote in the email. "We've also done extensive testing with Maker's Mark drinkers, and they couldn't tell a difference."
The email suggests that this is a temporary change that will only last until they are able to expand their distillery to meet the increase in domestic and worldwide demand. The other option, obviously, would be to raise prices even more to control demand but that poses the risk of driving off loyal customers with the risk that they might not return in the future.
I'm not much of a bourbon drinker myself, but when I do Maker's Mark is a frequent choice. It will be interesting to see what impact these changes actually have on product quality. Quite honestly, I wonder if most people will even notice.