There's No Whisky in this Mouthwash?!
It turns out that the candy flavored booze at the grocery store isn't even bourbon.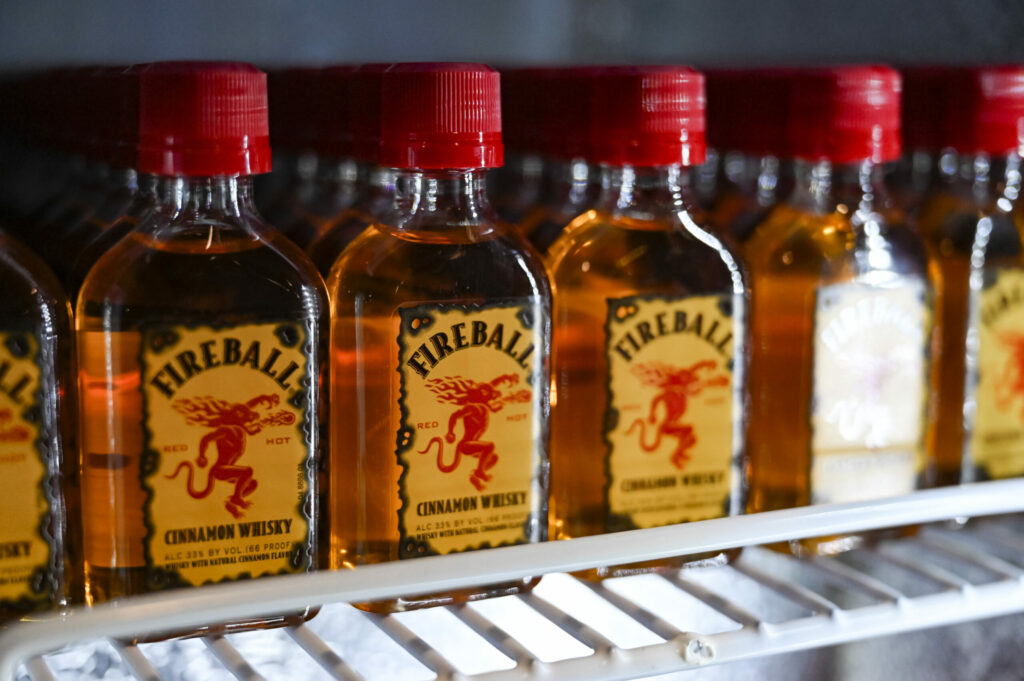 WaPo ("Mini bottles of Fireball aren't actually whiskey, leading to a lawsuit"):
People buying small bottles of Fireball at their local convenience store might be surprised to learn that they're not getting the same as the stuff that comes from the liquor store — and that difference is at the center of a lawsuit in which a customer is suing the maker of both beverages.

"Fireball Cinnamon Whisky," the spicy-hot booze sold in liquor stores, is the drink most people are probably more familiar with. But "Fireball Cinnamon," which is available at grocery stores, gas stations and other places that are not permitted to sell liquor, is something else. The drink, which debuted in 2020, is actually a malt beverage flavored to taste like whiskey; it's sold in small bottles that usually go for 99 cents.

A recent lawsuit filed against Sazerac, which makes both, claims that the convenience-store version is misleading, because the packaging is almost identical to its boozy older sibling, and one would have to read the very fine print on the bottle to know that it wasn't just a smaller version of the popular liquor. "The label misleads consumers into believing it is or contains distilled spirits," according to a class-action lawsuit brought by Anna Marquez, an Illinois woman who claims she purchased the small bottles assuming they contained whiskey.

Malt beverages are made by fermentation and are often categorized with beer and wine (popular examples include Colt 45 and hard seltzers). Distilled spirits, like whiskey, are typically more tightly regulated.
This report and several others I've seen use a stock image of Fireball such as that atop the post. It clearly says "Whisky" right there on the label! So if it doesn't have whisky in it, it must be a scam, right?
It turns out that, no, the convenience store variant has a different label: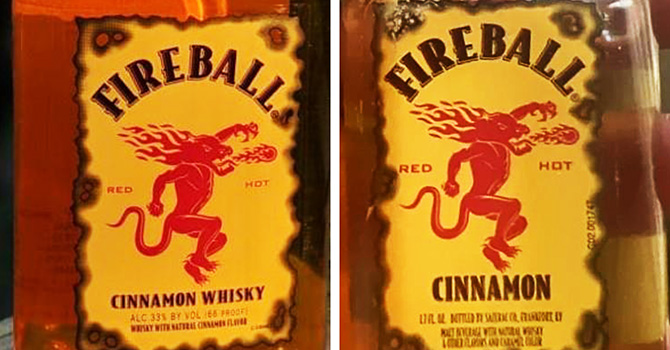 It doesn't say "Whisky" at all. And it says "malt beverage" right there on the front!
I'm actually torn on this one. On the one hand, those of us who live in states where liquor can only be purchased in state-owned stores should know damn well that they're not getting liquor at the Stop N Shop. On the other, Sazerac sure isn't going out of its way to clue consumers in that this isn't the standard "Fireball" product. Indeed, I'd go so far as to say that they're being intentionally deceptive here.
Still, this strikes me as yet another in a long line of frivolous lawsuits of the Barilla pasta isn't even made in Italy! variety. People buying 99 cent bottles of mouthwash-flavored booze aren't typically whisky connoisseurs and the harm suffered here is negligible, indeed.
Even worse, they're not even making the defensible claim that the near-identical labels are confusing. Rather:
The lawsuit takes issue with the way the malt-beverage version's label describes its ingredients: "Malt Beverage With Natural Whisky & Other Flavors and Carmel Color." The lawsuit calls this a "clever turn of phrase" meant to trick consumers into thinking the drink contains whiskey and not just a whiskey flavoring. Shoppers "will think the Product is a malt beverage with added (1) natural whisky and (2) other flavors," the filing says.
I mean . . . come on.
The filing cited local news stories about the appearance of what seemed to be mini Fireball whiskey bottles in settings where liquor isn't usually sold, underscoring its claim of a common misconception. "You can't buy wine, or any other hard liquor at any stores like this, so why is Fireball OK?" one Hudson Valley radio personality wrote. "Yes it's convenient for Fireball drinkers, but what about vodka drinkers, or bourbon fans, I want to see a Tito's display right next to the Fireball … LOL!"

The lawsuit, which claims the company violated state consumer-fraud statutes, is seeking to cover anyone in Illinois, North Dakota, Wyoming, Idaho, Alaska, Iowa, Mississippi, Arkansas, Kansas, Arizona, South Carolina or Utah who purchased Fireball Cinnamon. It seeks unspecified statutory and punitive damages, although the filing states that the amount would likely be over $5 million.
Here's the thing: to the extent this suit is successful, the only ones getting anything out of it are the lawyers. Those who join the class having suffered the harm of drinking mouthwash-flavored beer rather than mouthwash-flavored diluted whisky will get, what, a few cents each?*
The lawyer representing Marquez and others in her class is Spencer Sheehan, a plaintiff's attorney famous for filing hundreds of class-action lawsuits against food companies. Sheehan is sometimes called the "Vanilla Vigilate" for his litigation over products that contain artificial vanilla and not the real thing. His other cases have included one against Frito-Lay for not using enough real lime juice in its "Hint of Lime" Tostitos and another alleging that Kellogg's strawberry Pop-Tarts contain just as much apple and pear as they do the titular fruit.
These suits give American tort law a bad name. There are consumers suffering genuine harm from shoddy and deceptive business practices. But nobody is buying Pop-Tarts and Tostitos shocked that they're not healthy.
_____________
*UPDATE: Following up on the "Vanilla Vigilate" [sic] link thanks to a comment on another post, I see this:
While Sheehan may argue that he's standing up for the little guy, he's the one who usually gets paid. The $2.6 million settlement with Blue Diamond, for instance, awards $1 per item with proof of purchase and 50 cents per item without to consumers who bought the products between April 15, 2014, and May 17, 2021. According to ATRA, Sheehan's firm could receive as much as $550,000 for its fees from the settlement.