A Basic Observation on Trump (as Candidate and Potential President)
If you think that once elected Trump will be corralled by cooler heads and experts, I would submit to you that this week underscores this will not be the case.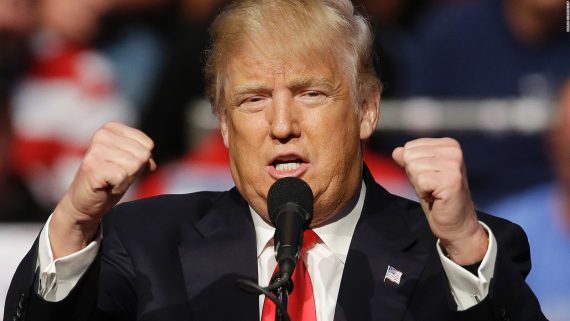 The last several days have underscored something that should have been obvious to everyone paying attention for some time:  Donald J. Trump is not an especially serious or thoughtful individual and, moreover, he is not controllable.  By this I mean:  he is not going to take instruction from experts about his campaign and he is not going to become more sober and serious as we approach Election Day.  This means that he will not magically become amendable to advice if he is sworn in as president.
If you want some evidence, just look at this list.  That is a list of problematic behaviors in roughly 48 hours.  It is a truly stunning list when you look at it all at once even if one was aware of the constituent elements thereof.
Two segments of the Republican electorate need to pay attention to these facts.  These two groups are 1) the people who think once in office Trump can be handled, controlled, or taught, and 2) those who have only being paying half attention and assume that all politicians are a bit kooky and Trump will calm down once in office.
The first group are people who have been paying attention but who don't like Hillary Clinton and who are willing to roll the dice that a President Trump will listen to advisers once in office and govern in a relatively reasonable manner.  These folks typically point to SCOTUS appointments as the reason to vote Trump.  They argue that they know what they are getting with Clinton so are willing to believe that Trump will appoint Scalia clones.  Can anyone watch Trump this week and think that they can have any confidence whatsoever that he is going to make sober, informed decisions about court appointments?  Or that he will listen to advice?
The second groups is probably just now starting to pay attention (and probably won't fully do so for another month).  But if one thinks that Trump is a normal politician in any way, and will therefore govern within normal parameters, one needs to wake up.  It will be interesting to see what his poll numbers look like as this group becomes more and more engaged.
I point all of this out not as any kind of partisan observation. I am noting this because he is clearly demonstrating that he lacks the temperament to be a presidential candidate, let alone president.  This is a very serious situation.  As a piece in Newsweek calls him:  Donald Trump, Party of 1 and notes the following:
It is Trump, after all, who obsessively monitors his media coverage and then lashes out at his critics without reservation or calculation. It is Trump who directs which reporters are thrown out of the press pen or banned from venues entirely. It is Trump who picks fights with his own party out of ego and vengeance, rather than keeping himself trained on Clinton. And it is Trump who declines to give the obligatory tip of the hat to a fallen soldier before taking on his parents' political critiques.
"Empathy is not one of his best qualities," laments the informal adviser, who characterized Trump's public spat with Khizr and Ghazala Khan as "not his finest hour, to say the least."
And as Greg Sargent wrote yesterday:
Trump's pathologically abusive tendencies, his hair-trigger overreaction to criticism and slights both real and imagined, and his mental habit of sorting the world into the strong and the weak — the dominant and the submissive — render him temperamentally unfit for the presidency. He lacks basic knowledge of the world and doesn't appear burdened by any curiosity about the complexities of foreign affairs or domestic policy. He is at worst a genuine bigot and at best a charlatan who has actively sought to stoke reactionary hostility to culturally and demographically evolving America. He is indifferent to the inner workings of the American system and instead promises authoritarian glory..
This is all well and good, I suppose, for a game show host and media figure.  It is not smart for a major party candidate and it is potentially disastrous for a president.
This is not someone who will be taught.  This is not someone who will learn.  This is not someone who will be guided or advised.  So if you think that once elected he will be corralled by cooler heads and experts, I would submit to you that this week underscores this will not be the case.