A Brief History Of Federal Government Shutdowns
History tells us that if there is a shutdown tonight, it will most likely be a short one.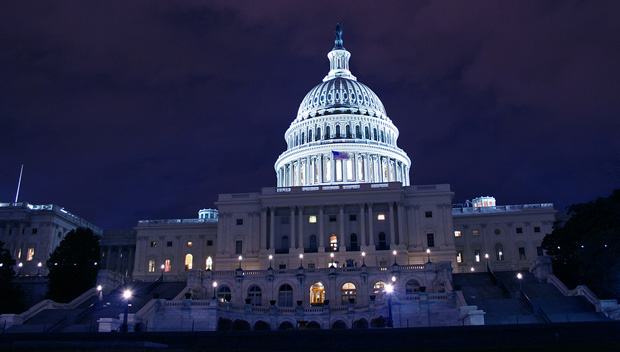 NBC's Pete Williams has a post today listing the government shutdowns of the past, unfortunately the list is largely unreadable thanks to two huge floating ads. So, here it is (all starting times are midnight on the date given):
September 30 to October 11, 1976 (10 days)
September 30 to October 13, 1977 (12 days)
October 31 to November 9, 1977 (8 days)
November 30 to December 9, 1977 (8 days)
September 30 to October 18, 1978 (18 days
September 30 to October 12, 1979 (11 days)
November 20 to November 23, 1981 (2 days)
September 30 to October 2, 1982 (1 day)
December 17 to December 21, 1982 (3 days)
November 10 to November 14, 1983 (3 days)
September 30 to October 3, 1984 (2 days)
October 3 to October 5, 1984 (1 day)
October 16 to October 18, 1986 (1 day)
December 18 to December 20, 1987 (1 day)
October 5 to October 9, 1990 (3 days)
November 13 to November 19, 1995 (5 days)
December 5, 1995 to January 6, 1996 (21 days)
One of the interesting things to note is that, after 1980, the length of shutdowns was usually very short, 2 or 3 days at most. The exceptions to that are the disastrous shutdowns at the end of 1995. The main reason for that is that there was a change in the way a law called the Anti-Deficiency Act was interpreted in this situations (PDF of Congressional Research Service report):
For years, many federal agencies continued to operate during a funding gap, while "minimizing all nonessential operations and obligations, believing that Congress did not intend that agencies close down" while waiting for the enactment of annual appropriations acts or continuing resolutions.11 In 1980 and 1981, however, Attorney General Benjamin R. Civiletti issued two opinions that more strictly interpreted the Antideficiency Act in the context of a funding gap, along with its exceptions.12 The opinions stated that, with some exceptions, the head of an agency could avoid violating the Antideficiency Act only by suspending the agency's operations until the enactment of an appropriation. In the absence of appropriations, exceptions would be allowed only when there is "some reasonable and articulable connection between the function to be
performed and the safety of human life or the protection of property."
Basically then, before Civiletti's opinion, government shutdowns were relatively painless affairs because large numbers of government offices continued to operate. This means there was less pressure on Congress to actually resolve the dispute. Once it became clear that shutting the government down would have real consequences, though, Congress and the White House usually had an incentive to resolve their disputes quickly. The one exception since 1980 involved two competing and contentious personalities.
The lesson for 2011 from all this? Two things, I think.
First, if there is a shutdown it's likely to be a short one. Unlike 1995/96, there don't seem to be the same type of personality conflicts between Boehner/Cantor and Reid/Obama that there were between Gingrich and Clinton. I don't think Boehner really wants a shutdown, but he also has to proceed in these negotiations in a way that isn't going to totally piss off the base. If that means that it will take a one or two day shutdown followed by a deal, then that may be what it will take.
Second, if you want to make government shutdowns less likely (although they are clearly less common now than they were in the 70's and '80s), then the best way to do that is to make a shutdown more painful by restricting even further the government functions that could operate during a shutdown. If Congress and the White House know that they will cause real pain if they don't resolve their disputes, then history suggests that they will make the deal rather than risking the pain and the inevitable political fallout.