A Day Of Glitches For Day One Of Obamacare's Exchange Websites
Day One of the Obamacare online "marketplaces" is proving to be a bit of a bumpy ride.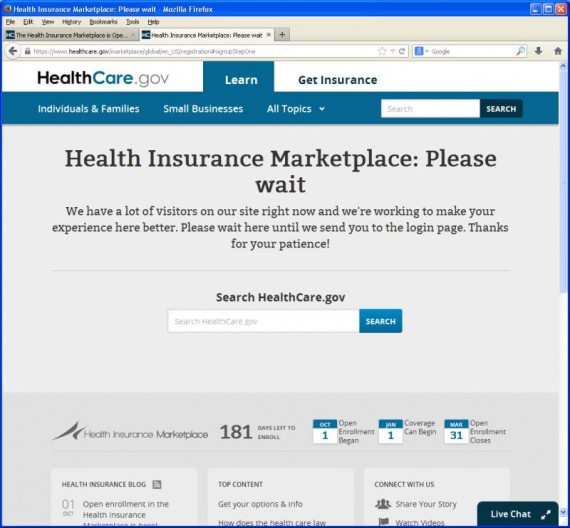 In addition to being Day One of the the first Federal Government shutdown since an era before Google existed, it was also the first day that the health insurance exchanges set up under the Affordable Care Act became available to the public. Under the exchanges, individuals are supposed to be able to logon to designated websites depending on what state they live in, fill out a short form and receive quotes for various health care insurance packages that they would be eligible to purchase, with coverage beginning on January 1st. In the week or so running up to this day, there were reports that the officials behind the exchanges were concerned about the ability of the websites to be up and running on the important first day and, sure enough the day has seen a number of reports of technical glitches of various kinds:
Heavy volume contributed to technical problems and delays that plagued the rollout Tuesday of the online insurance markets at the heart of President Obama's health care law, according to state and federal governments, with officials watching closely for clues to how well the system will work and how many people will take advantage of it.

On Tuesday morning, people trying to shop for coverage at healthcare.gov, the federally run exchange that serves as the marketplace for residents of most states, met with messages citing high traffic and advising, "Please wait here until we send you to the login page" or "The system is down at the moment." A state-run exchange in Maryland also posted a message saying it was "experiencing connectivity issues" and asking visitors to try again later. Other states reported scattered problems.

New York State's exchange began operating at 8 a.m. and received 2 million visits in the first hour and a half, "which far exceeds what we were expecting," said James O'Hare, a spokesman for the state Department of Health. Though some consumers encountered error messages or delays, the site was functioning and processing applications, though how many was not known, he said.

By 9:30 a.m., Kentucky's exchange, which went live at midnight, had received 24,000 visitors and processed more than 1,000 applications, said Gwenda Bond, a spokeswoman for the state's health care agency. "The high volume of traffic is causing a few technical glitches," presenting problems for people who want to apply but not for those who are just browsing, she said.

Most predictions had been for a trickle of new customers at first, rather than a flood, on the online exchanges, where people can shop for competing health plans and see if they qualify for federal subsidies. Polls show that many Americans remain uncertain about the purpose of the exchanges and unconvinced that the law will help them.

It is unclear what the exchanges meant in citing heavy volume; most did not provide numbers, or even return phone calls in the first hours of operation. It is also unclear to what degree problems with the Web sites were due to the kind of technical hurdles that supporters of the program had warned about and that opponents had predicted would demonstrate its unwieldiness.

Federal officials conceded Tuesday that even if volume were low, computer problems would be making it hard for people to shop, compare prices and enroll. The administration has stressed that people can also shop and sign up by phone. But that system, too, ran into first-day troubles, with callers waiting long periods on hold, and operators — just like consumers browsing on their own — unable to use the computer system to view and compare health plans.

At midday on Tuesday, Erin Shields Britt, a spokeswoman for the Department of Health and Human Services, said: "We are thrilled that over one million people visited healthcare.gov in the last day. There were five times more users on the marketplace Web site this morning than have ever been on the Medicare.gov at one time. We have built a dynamic system and expect to speed up the system in the coming hours. Consumers who need help can also contact the call center, use the live chat function, or go to localhelp.healthcare.gov to find an in-person assister in their community."

Kathleen Sebelius, the secretary of health and human services, predicted on Monday that there would be "some glitches."

We will fix them and move on," Ms. Sebelius said. "Is this a sign that the law is flawed and failed? I don't think so."
Washington Examiner's Charlie Spiering documented his own efforts to create a marketplace account, the first step one must go through before getting to the point where you can compare prices of insurance coverage in your state, and how each effort ended in failures that clearly seem to be due to something other than simply heavy traffic at the website. At the same time, though, it does appear that at least some part of the problems that people have been experiencing can be attributed to high traffic volume, something that isn't necessarily an unfamiliar problem for a website on launch day, or on the day that a particularly popular product becomes available (think Ticketmaster on the morning that tickets to a popular performer's concert become available). Even the most sophisticated server farm in the world can melt under heavy demand hitting simultaneously and, to some extent, that appears to what happened earlier today. Nonetheless, there do appear to be some technical problems on the sites that perhaps suggest that some more rigorous pre-launch testing might have been able to resolve. The ironic thing, of course, is that many of the people capable of dealing with these problems have been sent home because of the government shutdown. In any case, one expects that these glitches will be ironed out and, given the fact that the target day for coverage is three months away it would seem that there is more than enough time to fix these problems.
Understandably, these glitches at the exchange websites have been seized upon by conservatives as objects of snark and, in some cases, as supposed evidence that the entire structure of the PPACA is flawed. Perhaps there's something to that. With three years to prepare, one would have thought that HHS would have been in far better shape to deal with Day One problems than it actually is, even taking the shutdown into account. Additionally, some of the anecdotal reports I've heard from people who managed to make it through the registration process to the "plan comparison" part of the site seem to indicate that the cost of insurance offered isn't going to be much better than it would have been yesterday trying to purchase an individual plan. Granted, some of these people may end up being eligible for the income based subsidies that the PPACA will offer when January rolls around, but even then it doesn't appear that the idea that insurance premiums are going to be significantly lower for most Americans under the PPACA is going to turn out to be true.
As I speak the President is making a Rose Garden speech about the roll out of the exchanges, while also speaking about the shutdown. He has mentioned the glitches, but attributes them to both high volume and to the fact that new technology products sometimes have glitches, citing the security issues that plagued the recent release of iOS 7 s an example. Indeed, the same day that these marketplace websites are having technical issues, the roll out of Grand Theft Auto V's online edition is being hampered by technical issues that appear to be related to heavy demand on the very same day. It may turn out that most of the problems the marketplace websites are experiencing today will fade away in the coming days and weeks. Nonetheless, I have to think that Huffington Post reporter Sam Stein makes an excellent point in this Tweet:
Looks like the health care website glitches are a real issue. imagine if the political world was focused on that and not a shutdown.

— Sam Stein (@samsteinhp) October 1, 2013
Indeed. You might even say House Republicans and people like Ted Cruz did the White House a big favor by pushing this story off the front pages.