A Disappointing March Jobs Report
After starting the year with two good months, the jobs report for March was quite disappointing.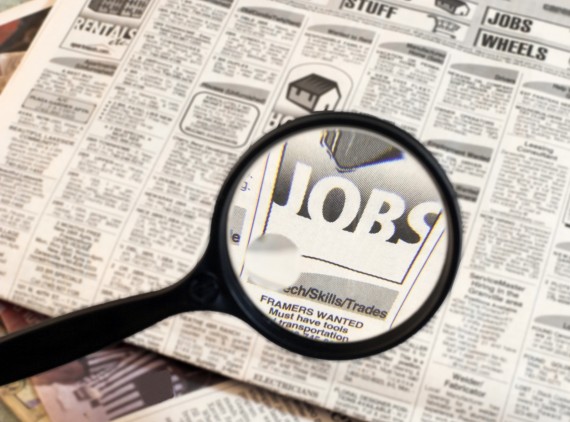 After the jobs reports for January and February, it seemed as though 2017's jobs market was moving along quite steadily. Today, however, the Bureau of Labor Statistics revealed a number for March that fell far short of projections:
The unemployment rate declined to 4.5 percent in March, and total nonfarm payroll employment edged up by 98,000, the U.S. Bureau of Labor Statistics reported today. Employment increased in professional and business services and in mining, while retail trade lost jobs.

The unemployment rate decreased by 0.2 percentage point to 4.5 percent in March, and the number of unemployed persons declined by 326,000 to 7.2 million. Both measures were down over the year. (See table A-1.)Among the major worker groups, the unemployment rates for adult women (4.0 percent), Whites (3.9 percent), and Hispanics (5.1 percent) declined in March. The jobless rates for adult men (4.3 percent), teenagers (13.7 percent), Blacks (8.0 percent), and Asians (3.3 percent) showed little or no change. (See tables A-1, A-2, and A-3.)

In March, the number of persons unemployed less than 5 weeks declined by 232,000 to 2.3 million. The number of long-term unemployed (those jobless for 27 weeks or more) was little changed over the month at 1.7 million and accounted for 23.3 percent of the unemployed. Over the past 12 months, the number of long-term unemployed was down by 526,000. (See table A-12.)

The labor force participation rate remained at 63.0 percent in March, and the employment-population ratio, at 60.1 percent, changed little. The employment-population ratio has edged up over the year, while the labor force participation rate has shown no clear trend. (See table A-1.)

(…)

Total nonfarm payroll employment edged up by 98,000 in March, following gains of 219,000 in February and 216,000 in January. Over the month, employment growth occurred in professional and business services (+56,000) and in mining (+11,000), while retail trade lost jobs (-30,000). (See table B-1.)

In March, employment in professional and business services rose by 56,000, about in line with the average monthly gain over the prior 12 months. Over the month, job gains occurred in services to buildings and dwellings (+17,000) and in architectural and engineering services (+7,000).

Mining added 11,000 jobs in March, with most of the gain occurring in support activities for mining (+9,000). Mining employment has risen by 35,000 since reaching a recent low in October 2016.

In March, employment continued to trend up in health care (+14,000), with job gains in hospitals (+9,000) and outpatient care centers (+6,000). In the first 3 months of this year, health care added an average of 20,000 jobs per month, compared with an average monthly gain of 32,000 in 2016.

Employment in financial activities continued to trend up in March (+9,000) and has increased by 178,000 over the past 12 months.

Construction employment changed little in March (+6,000), following a gain of 59,000 in February. Employment in  construction has been trending up since late last summer, largely among specialty trade contractors and in residential building.

Retail trade lost 30,000 jobs in March. Employment in general merchandise stores declined by 35,000 in March and has declined by 89,000 since a recent high in October 2016.

Employment in other major industries, including manufacturing, wholesale trade, transportation and warehousing, information, leisure and hospitality, and government, showed little or no change over the month.
Additionally, the Bureau reported that the jobs report for January was revised downward from +238,000 to +216,000, thus wiping out an upward revision that was noted last month, and that the number for February was revised downward from 235,000 to 219,000, making the net downward revisions for both month -38,000. This makes the total number of jobs created so far in 2017, pending further revisions,  533,000 for an average of +178,000 per month, which of course is also the average for the first three months of this year. Understandably, this is well below what the average was when we were just factoring the relatively strong numbers from January and February into the calculation, and the big question will be whether this number represents a one-month hiccup that can be blamed at least in part on winter weather at the start of the month, as some analysts are doing this morning, or whether it represents a broader slowdown in the jobs market that could have an impact elsewhere in the economy or could indicate that we've reached a point of "full employment" where additional job gains are going to be much harder to come by.
Looking behind the immediate numbers, the picture is rather mixed. On the good side, the top line unemployment number dropped from 4.7% to 4.5% and the broader U-6 measure of unemployment fell from 9.2% to 8.7%, the lowest level since December 2007. At the same time, as noted above, the labor-force participation rate and total population of employed persons were both largely uncharged, suggesting some tightening in the jobs market. Additionally, the average number of hours worked in a week was unchanged for the broader economy while average hourly earnings increased by 5 cents. Over the past year, average hourly earnings have increased by 68 cents, representing a 2.7% increase in hourly earnings.
To some extent, these numbers seem a bit like an anomaly given other recent news that, along with the employment reports for January and February, seemed to indicate that the economy in the new year was relatively strong. For example, recent reports showed that consumer confidence reached a new high in March which, as Ed Morrissey notes, makes the report's showing of a sharp drop in retail jobs seem curious, although it could mean that increased confidence isn't necessarily translating into increased consumer spending. As The New York Times notes,, the big question going forward is whether this is a one-off abberation that will correct itself when we see the April report next month:
Hiring in March was expected to drop after the monthly gains of more than 200,000 in the two previous months, but this was the weakest showing for the economy in nearly a year. Although it represents just one month's data, it will raise questions about whether improving business sentiment is actually translating into any meaningful action by employers.

On the other hand, at 4.5 percent in March, the unemployment rate is at its lowest point since May 2007, marking a milestone in the long road back from the Great Recession.

The robust numbers in January and February led some analysts to conclude that the economy was benefiting from a "Trump bump" after President Trump's election, but hard data to support that argument has been scarce.

A month ago, Sean Spicer, the White House press secretary, claimed credit for the increased job creation on Mr. Trump's behalf, saying it was a result of "the surge in economic confidence and optimism that has been inspired since his election."

The latest report will only add to the debate over whether so-called soft data, like stronger sentiment among businesses, is actually prompting companies to hire more workers. March's data suggests it isn't, as does the 38,000 downward revision in estimated job creation in February and March.

"It was a disappointing report with no silver lining in the details," said Rob Martin, an economist at Barclays. "Service-sector employment weakeness points to a substantial slowdown in activity."

The headline number for hiring and the unemployment rate are derived from separate surveys by the Bureau of Labor Statistics, one of establishments, the other of households. Although the two tend to converge over time, they can vary widely from month to month, and March was one of those times.

So while businesses showed an anemic gain of 98,000 jobs in terms of payrolls, households reported a 472,000 increase in employment, without any fall in labor participation. That explains why the unemployment rate could fall by 0.2 percentage point, even as the headline number for job creation fell way short of expectations.
On the whole then, what we've got here is a very disappointing report for March, but what's unclear is whether we're looking at a one-off bad month or the start of a new trend where we start seeing lower jobs growth and continued jobs loss in areas such as retail, which continues to be adversely impacted as more and more consumers switch to online shopping rather than visiting bricks and mortar establishments. It's also unclear what this means for the economy as a whole, and we won't get our first sense of that until we see the initial estimate of the first quarter Gross Domestic Product. At that point, we should have a better idea of where the economy is headed for now.