February Jobs Report Is Good, But Hardly Great
The first Jobs Report for the first full month of the Trump Presidency is out, but it's nothing to write home about.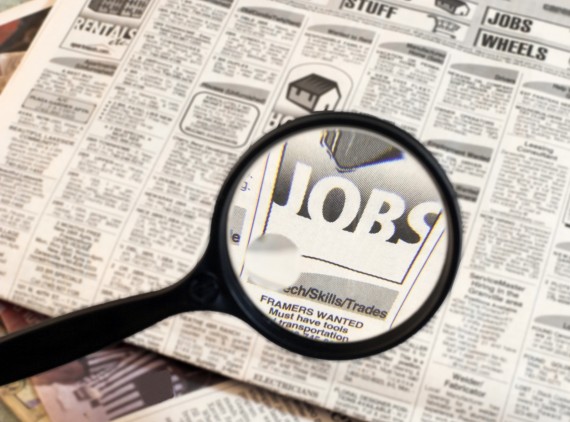 The first Jobs Report to cover a full month in the which the Trump Administration was in power continued to show steady, if not entirely impressive, jobs growth that nonetheless would appear to guarantee that we'll see another interest rate increase from the Federal Reserve Board:
Total nonfarm payroll employment increased by 235,000 in February, and the unemployment rate was little changed at 4.7 percent, the U.S. Bureau of Labor Statistics reported today. Employment gains occurred in construction, private educational services, manufacturing, health care, and mining.

The number of unemployed persons, at 7.5 million, changed little in February. The unemployment rate, at 4.7 percent, was little changed over the month but was down from 4.9 percent a year earlier. (See table A-1.)

Among the major worker groups, the unemployment rate decreased for Whites to 4.1 percent in February, while the jobless rates for adult men (4.3 percent),  adult women (4.3 percent), teenagers (15.0 percent), Blacks (8.1 percent), Asians (3.4 percent), and Hispanics (5.6 percent) showed little or no change. (See tables A-1, A-2, and A-3.)

The number of long-term unemployed (those jobless for 27 weeks or more) was essentially unchanged at 1.8 million in February and accounted for 23.8 percent of the unemployed. Over the year, the number of long-term unemployed was down by 358,000. (See table A-12.)

In February, the labor force participation rate, at 63.0 percent, and the employment-population ratio, at 60.0 percent, showed little change. (See table A-1.)

The number of persons employed part time for economic reasons (sometimes referred to as involuntary part-time workers) was little changed at 5.7 million in February. These individuals, who would have preferred full-time employment, were working part time because their hours had been cut back or because they were unable to find full-time jobs. (See table A-8.)

(…)

Total nonfarm payroll employment increased by 235,000 in February. Job gains occurred in construction, private educational services, manufacturing, health care, and mining. (See table B-1.)

In February, construction employment increased by 58,000, with gains in specialty trade contractors (+36,000) and in heavy and civil engineering construction (+15,000). Construction has added 177,000 jobs over the past 6 months.

Employment in private educational services rose by 29,000 in February, following little change in the prior month (-5,000). Over the year, employment in the industry has grown by 105,000.

Manufacturing added 28,000 jobs in February. Employment rose in food manufacturing (+9,000) and machinery (+7,000) but fell in transportation equipment (-6,000). Over the past 3 months, manufacturing has added 57,000 jobs.

Health care employment rose by 27,000 in February, with a job gain in ambulatory health care services (+18,000). Over the year, health care has added an average of 30,000 jobs per month.

Employment in mining increased by 8,000 in February, with most of the gain occurring in support activities for mining (+6,000). Mining employment has risen by 20,000 since reaching a recent low in October 2016.

Employment in professional and business services continued to trend up in February (+37,000). The industry has added 597,000 jobs over the year.

Retail trade employment edged down in February (-26,000), following a gain of 40,000 in the prior month. Over the month, job losses occurred in general merchandise stores (-19,000); sporting goods, hobby, book, and music stores (-9,000); and electronics and appliance stores (-8,000).

Employment in other major industries, including wholesale trade, transportation and warehousing, information, financial activities, leisure and hospitality, and government, showed little or no change over the month.
Additionally, the Bureau of Labor Statistics reported that the jobs number for December was revised downward from +157,000 to +155,000 and January was revised upward from +227,000 to +238,000, making for a net adjustment for those to months +9,000. This means that for the past three months, jobs growth has averaged a somewhat respectable 209,333 (rounded) per month, which represents an increase from the three-month average we saw last month thanks mostly to the strong numbers for January and February. For 2016 as a whole, though, the total jobs created number dropped from +2,116,000 to +2,114,000 new jobs for the twelve month period from January to December 2016. This represents a monthly average for the final year of President Obama's Presidency of 176,166 (rounded) For the still relatively new year of 2017, we stand at 473,000 new jobs to date, for an average of 236,500 new jobs for the first two months of the year. Looking deeper into the report, the long-term unemployment rate and employment participation rates were essentially unchanged once again in February suggesting that there remains a significant portion of the population that has essentially given up on finding work. Beyond the jobs numbers, the average workweek was unchanged for the economy as a whole as well as specific sectors such as manufacturing and production. However, the BLS did report that average hourly earnings did tick up slightly in February following a similar increase in January, meaning there was at least some extra money in workers' pockets last month although admittedly likely not enough to have an impact on economic growth.
The New York Times summarizes the reports and ponders what it means for Federal Reserve policy going forward:
Employers added 235,000 workers to their payrolls in February, the government reported on Friday, a hefty gain that clears the path for the Federal Reserve to raise its benchmark interest rate when it meets next week.

The official jobless rate fell to 4.7 percent while average hourly earnings grew by 0.2 percent in a report that overlaps with President Trump's first full month in office.

"They're ready to go," said Diane Swonk, founder and chief executive of DS Economics, referring to the central bank's expected vote next week to raise rates from their historically low levels. "They're clear as cellophane on this."

Economists had been anticipating a gain of about 200,000 jobs for the month. Over the past three months, including revisions announced Friday, monthly job growth has averaged 209,000.

Although pockets of the labor market remain weak, the official jobless rate is near what the central bank considers full employment — a threshold where, in theory at least, everyone who wants a job at the going rate can find one.

At the same time, jobless claims are at a 44-year low, the stock market is surging, and consumer spending is growing, bolstering the case for those who argue the economy is strong enough to withstand a rate increase.

Recruiters and employers complain that qualified workers are scarce, pushing them to raise wages, strengthen benefits and offer cushier amenities at the office. "There is a war for talent," said Lauren Griffin, senior vice president at Adecco Staffing USA. "We've got people in orientation classes and they get up and leave because they're contacted about another job that might be more money."

Even lower-skill workers in some sectors are finding themselves in more demand. The year-over-year wage gains for store managers and cashiers, for example, were twice the national average, said Andrew Chamberlain, chief economist at Glassdoor, a career website.

Bigger paychecks are something that most Americans, after years of stagnant wage growth, are particularly eager to see. The Federal Reserve, too, has been waiting for an increase, but it is also wary of wages rising too fast. The board's members want to head off incipient inflation and so have begun to slowly raise rates, which makes borrowing and risk-taking more expensive. At the same time, the Fed wants to avoid putting the brakes on job hiring, especially since the benefits of the eight-year-old recovery have been so unevenly distributed.

Balancing those two goals is tricky.

A broader measure of unemployment — which includes the millions of Americans who have given up looking for work altogether or are working part time but would prefer full-time jobs — is roughly double the official unemployment figure.

Re-engaging men and women who have dropped out of the labor force remains a challenge. The share of the population that is employed is bigger than it was in the recession's immediate aftermath, but it is still below the more than 63 percent that it had been cruising at in mid-2007.
Contrary to what you might hear today, this number really doesn't tell us much about the economic impact of the Trump Presidency. For one thing, February was the first full month that Trump was in office, this is hardly sufficient time to judge a handful of economic data and proclaim any kind of trend. Additionally, to a large degree, much of what happened in February is likely a continuation of trends that began in the Obama Administration and are simply continuing forward. This would seem to be especially true since neither Trump nor Congress has really done anything in the past fifty days that could be said to have had an immediate impact on the economy. It's true, of course, that the stock market has been in a very bullish phase since Trump's election and that it has hit several record highs in the past several weeks alone. To some extent, you could argue that part of the reason for this uptick in the markets is due to optimism that the new Administration will enact policies favorable to the bottom lines of American business, but there are also other reasons why the stock market has been going up, including the fact that it is the best place for investors to stockpile cash if they want a higher rate of return than you'll get from simply sticking it in a bank or resorting to the safety of government bonds, which come with the price of historically low-interest rates. Finally, of course, there's the elusive factor of market psychology, which can turn on a dime. Once that happens, which it inevitably will at some point, the market will head into the correction that is inevitable at some point. In other words, there's really no measure out there right now upon which to judge the economic impact of the Trump Presidency to date.
As the Times notes, these basically positive number likely mean that we will see another interest-rate increase when the Federal Reserve Board meets later this month. This shouldn't come as a complete surprise, of course. When the Fed increased rates in December for the first time in a year it essentially telegraphed its intention to engage in similar increases in the coming year on at least a quarterly basis as long as the economic data justified taking that action. Additionally, it was just last week that Fed Chairwoman Janet Yellen dropped another strong hint to Wall Street that a rate hike was the likely outcome of the board's March meeting later this month. With this relatively positive jobs report and other economic data indicating a solid, albeit nowhere near overheating, economy going forward we can expect that the Fed will once again raise rates by a modest amount later this month. This increase, along with whatever policies the Trump Administration implements, will have a huge impact on the future course of the economy and the jobs market.