A "Fashion Trend" That Should Die Before It Comes To Life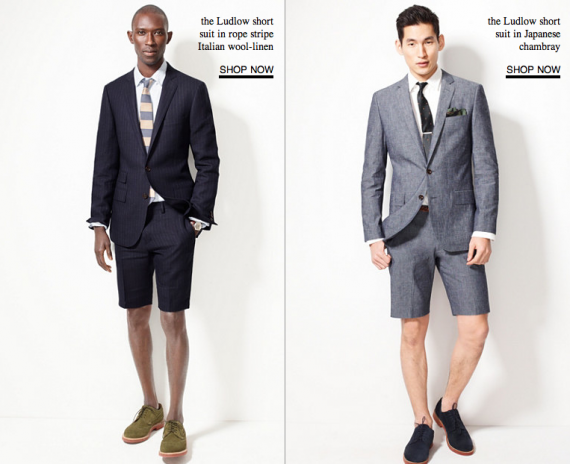 Hayley Peterson at Business Insider tells us — or is that warns us? —- about the dawn of a new fashion trend:
Retailers are starting to push a new trend in menswear: the short suit.

The ensemble looks like a regular suit from the waist up, with a sport coat over a button-down shirt and sometimes a tie or bowtie. Instead of trousers, however, the suit's bottoms are cropped at the knee.

J. Crew, Topman, Asos, and Barneys are among the retailers selling the short suit this season. They may be taking cues from fashion icon Pharrell Williams, who donned tuxedo shorts to the Academy Awards earlier this year.

"It's definitely having a moment, particularly with younger guys," Jon Patrick, the creative director at menswear company J.Hilburn, told Businessweek.

J. Crew is offering four different kinds of short suits that cost about $400.

"We have wanted to make a suit short for a long time but knew it had to be just right for it to look good," reads the product description for one of the suits. "We would like to finally introduce you to the Ludlow short. It has an old-school country club vibe (more 'Gatsby,' less 'Caddyshack') and is almost guaranteed to win the battle for best-dressed at nearly every summer occasion."
Two of the J. Crew offerings can be seen above, but perhaps the strangest of all is this $850 ensemble (marked down from $1,425) available at Barney's

Jonathan Capehart comments:
I'm worried about the abuse this fashion trend will suffer. I'm talking about those needlessly adventurous souls who will slap any old pair of shorts with any old blazer to make folks think they're along for the ride. Heaven help us when said souls put on shorts that are cut so high you'd swear they were from the hand towels section of Bed Bath and Beyond. And you just know someone is going to throw on some flip-flops with it, which would compound the horror and send me off the deep end.

Unless your boss is Anna Wintour or fashion-forward Rep. Aaron Schock (R-Ill.), don't even think of showing up at the office in one of those short suits. To slap on a short suit is to join what @shortcomment called on my Twitter feed "a new menswear category" he dubbed "Business Casualty." We finally got men to move away from the atrocity that was "casual Fridays." Let's not backslide, fellas.
I believe I can speak for all of us, regardless of race, religion, gender, political ideology, or choice of favorite beverage in stating that this trend must be destroyed before it actually becomes a thing.