A few words about Charlottesville…
We mourn Charlottesville because Donald J. Trump, the President of the United States, made clear in no uncertain terms that in his mind there was little distinction between those in Charlottesville who pursued the un-American "values" of soil, blood, and racial dominance and those who pursued the ideals of the American Constitution.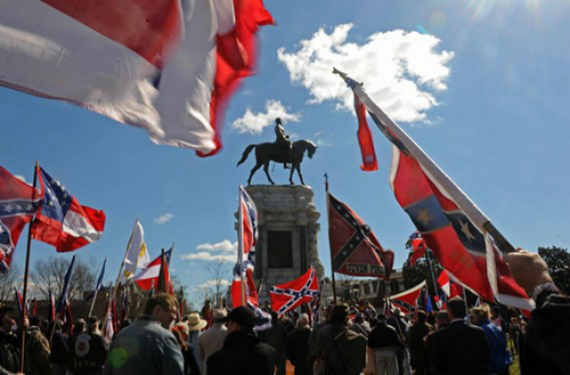 My hometown of Rome, Georgia has an organization called "Turn Your Back on Hate" which is committed to confronting  anger, bigotry, ignorance, and violence, but peacefully and in solidarity with all persons of good will, drawing on the message of love and justice.   I was honored to be invited to speak, along with several other members of my little city, at a community-wide candlelight Vigil for Charlottesville.  Here is what I said:

"Our nation, like every nation, is defined both by ideals and by lived experiences.
Our ideals can shape who we are today by allowing us to envision who we can be tomorrow. But our ideals only have power when we commit ourselves to them.
Therefore the question before us tonight is whether we are willing to recognize our shortcomings and to continue the slow hard work with other good-hearted persons of fashioning ourselves more fully, if imperfectly, into the people we wish to be.
At our best we really can work together to close the gap between our experiences and our most noble ideals.
Consider the Civil Rights Movement.
In the 1960s, inspiring leaders, exemplified in the person of Dr. Martin Luther King, Jr., persuaded a majority of whites that the contrast between America's ideals–as enshrined in the Declaration of Independence, the amended Constitution, and, to many, the Bible–and the reality of life as experienced by our nation's minority citizens was shameful and indefensible.
The reality of segregation made a mockery of our ideals.
Our civil rights leaders held up a mirror to white Americans and asked them whether their actions and laws and attitudes were consistent with their own self-proclaimed ideals. In effect, what they asked white Americans was this: are you a hypocrites…or are you a liar?
The crucial insight of the Civil Rights movement was that one can either love the Declaration of Independence or one can love segregation–one or the other, not both.
Segregation existed either because White Americans did not actually love the principles they claimed to hold, or because they loved them in theory but failed them in practice.
Thankfully, the Civil Rights movement nudged white Americans to take the nation's ideals more seriously and to recognize how the nation had fallen woefully short of the mark for millions of Americans.
That decision to honor our ideals was not inevitable. White majorities could have rejected the ideals articulated in our Founding documents. They had done so before. One such time was the 1860s, and one such place was the Confederacy. At that time Confederate leaders decided that men are not created equal and that slavery was not an evil to be eliminated but a positive good to be defended, protected, nourished and celebrated.
That decision ranks among our nation's most shameful moments.
Now fast forward to 2017.
Fast forward to Charlottesville.
Tonight we gather together to mourn Charlottesville.
We mourn Charlottesville:
–because an innocent life was lost and dozens of others were injured by an act of bigoted rage.
We mourn Charlottesville:
–because hundreds of overly delicate and triggered young men whose feelings had apparently been hurt real bad by social progress came to Charlottesville to lash out at all those who would dare threaten their assumptions of natural superiority.
And lastly we mourn Charlottesville:
–because Charlottesville reminds us yet again that our journey as a people almost always entails a step back for every two steps forward.
How do we respond tonight?
It is time once again to acknowledge the gap between our ideals and our lived experiences, and to reaffirm the ideals of Love and Justice that bind us together regardless of our race, gender, sexual orientation, or origin of birth.
The lust for power and privilege is intoxicating and therefore Love and Justice will always stand opposed.
I pray this evening that our nation is not entering into a moral eclipse in which the light of love and justice is obscured by the shadow of hatred and prejudice.
I pray we remember that whether our days going forward will remain illuminated by the universal ideals of love and justice fought for–and died for–by Martin Luther King, Jr., is a decision finally left up to ourselves.
Lastly, I pray that we allow the memory of Charlottesville–like Orlando before it, and New York City, and Oklahoma City, and Selma, and like so many other places touched by evil at war with right–to stir us to live up to our best ideals, to the better angels of our nature.